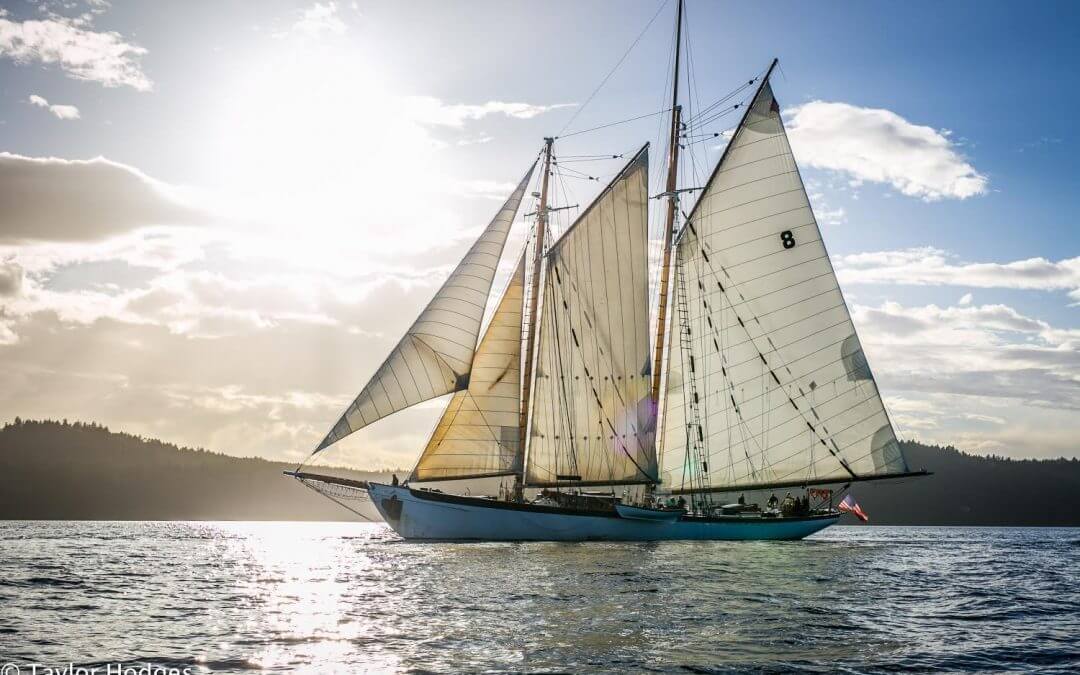 Our 124 National Monuments inspire visitors with snippets of experiential learning. Originally intended to preserve prehistoric Indian grounds and artifacts, the program now preserves historical landmarks and prehistoric structures with a scientific interest to the public.
Purely Historical Sites
These National Monuments include such famous landmarks as Fort Sumter and Little Bighorn.  But I found the smaller, more obscure monuments just as fascinating.
Pipe Springs, Arizona, was originally home to Puebloans and Paiute Indians. A Paiute tour guide describes the land before and after the Mormon pioneers as well as the area today.
The César Chavez National Monument, once a home, is now a beautiful museum. It served as the headquarters of the United Farm Workers of America. In a peaceful Southern California setting, you can learn all about Chavez and the struggles of farm workers.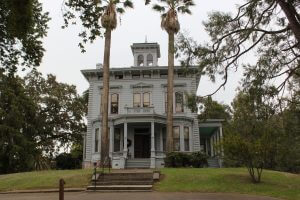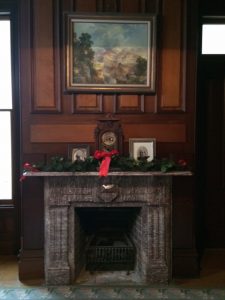 If writing doesn't come easy to you, a visit to the John Muir House in Martinez, California, will convince you to persist. Muir hated to write, and yet his persuasive scientific essays preserved our national treasures and lands.
 Scientific Monuments
Throughout 2016, the National Parks Centennial, this blog has described how America's Fossil Beds have enlightened me on global warming. Anyone unsure about the concept should visit a fossil bed today.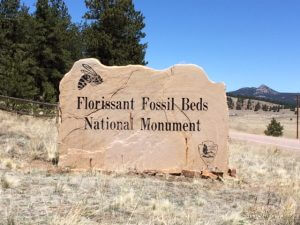 Florissant Fossil Beds will educate you on plant life in prehistoric Colorado.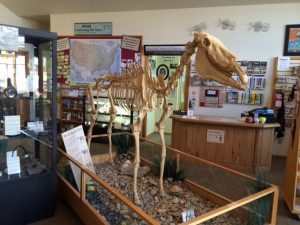 At Hagerman Fossil Beds in Idaho, you will learn about the fascinating history of Pliocene-Epoch horses.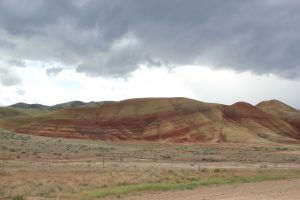 John Day Fossil Beds has three separate locations. One is the Painted Hills (in photo), which provide information on the history of climate in this region of Oregon. Other locations educate you about plant life.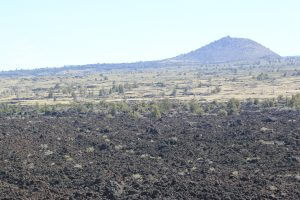 Lava Beds in northern California connect the dots between earthquakes, volcanic eruptions, and the fascinating phenomenon of lava tubes. While exploring, you can also learn some Native American history through the Modoc Tribe.
Some of the Monuments are just plain beautiful.
Grand Staircase-Escalante near Zion National Park, Utah, was set aside because of its ancient, untrammeled landscape.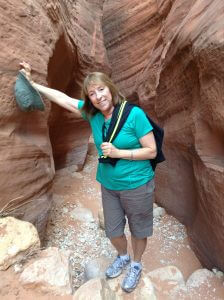 It is marked by cliffs, including Vermillion Cliffs and Chocolate Cliffs, as well as canyons, slot canyons, and grottos carved out by the Escalante River.
Muir Woods in the Bay Area is a majestic, old growth redwood forest, spared from logging.
San Juan Islands National Monument consists of 450 islands and rocks in Northwest Washington. In 2013 President Obama said, "The protection of these lands… will maintain their historical and cultural significance and enhance their unique and varied natural and scientific resources for the benefit of all Americans."
This is one of the more expansive monuments. A great way to get around is aboard the Zodiac, which leaves from the Bellingham Cruise Terminal. It invites passengers to experience "history, excitement, and romance"—everything from Orcas to the Pig War — while cruising on this historic schooner through one of our newest National Monuments, the San Juan Islands.
The National Monuments program gives you 124 interesting moments in history and nature to enjoy. What a gift. What a country.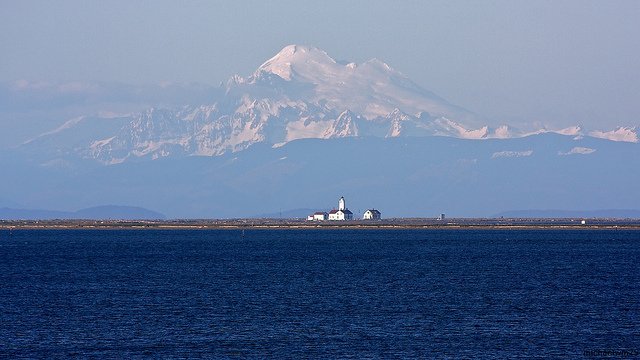 Before winter sneaks up on me, I'm trying to take in as much fall drama as possible. So with friends I headed out to the Olympic Peninsula, bordered by the Pacific Ocean, the Straits of Juan de Fuca, and the Hood Canal.
The Olympic Peninsula is known for its temperate climate, existing as it does in the rain shadow of the Olympic Mountains. With a rich internationally recognized biosphere, its old growth forests also make it a World Heritage Site.
This year we set up base camp along the northern route 101 at Port Angeles, where we picked up friends arriving on a ferry from Victoria, British Columbia. To orient ourselves, we first stopped at the Olympic National Park Visitor Center .
Just southwest of Port Angeles is Hurricane Ridge, named for the storms that howl through there in the winter. Easily accessed at 5,242 feet, several scenic trails offer beautiful vistas of the Olympic Mountains. On the way down, you get a grand view across the Strait of Juan de Fuca to Victoria, B. C. and across Puget Sound to Mount Baker.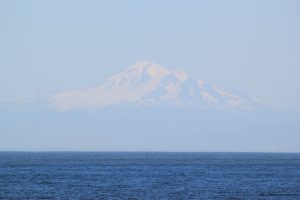 Further west, tucked into the Olympic Mountains, is Lake Crescent, twelve miles long and more than 600 feet at its deepest area.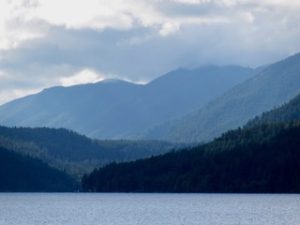 Along the beach are beautiful vistas across turquoise water.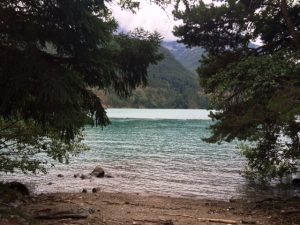 Many people enjoy boating on this most serene lake.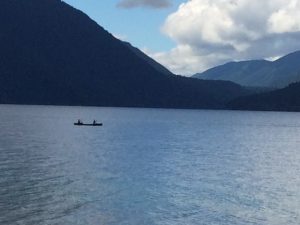 But kids also enjoy the swimming.
Behind the lodge you'll find the bridge to one of the many waterfall hikes in the Olympic National Park. Click here for a trail map.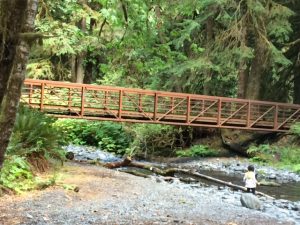 We hiked the 1.2 mile trail to Marymere Falls, a 90-foot waterfall. Some of us went down to the base.
Others of us looked on from above.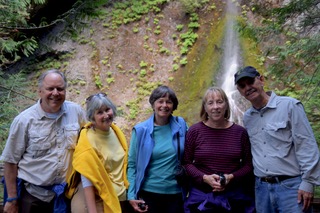 To rest after the steep climb, we hung out at the lodge.
Like most of the National Park Lodges, the building is historic, the scenery is beautiful, and the food and rooms are so-so.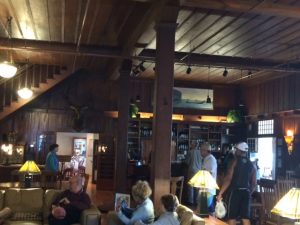 We have stayed overnight at Lake Crescent Lodge in the past, and that is why we got a hotel in Port Angeles and why we went back there to enjoy dinner at the Kokopelli Grill, a chic restaurant offering local seafood and other items with Southwest flavors.
In the northwest corner of the peninsula is Neah Bay on the Makah Indian Reservation. The Makahs are one of eleven tribes on the peninsula and make headlines every now and then when defending their whaling rights as a cultural tradition.
Accessed from the western end of the peninsula, the mossy Hoh Rain Forest offers three easy hikes on trails with signposts explaining such phenomena as nurse logs and everything else special to this habitat.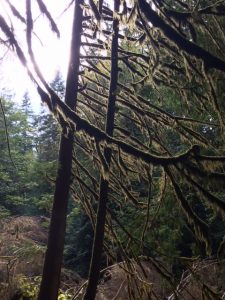 Heading back to Port Angeles, you can stop in Forks, the town where Stephanie Meyers based her famous Twilight Saga.
Our group of travelers was a little more mature than a Twilight crowd so more interested in heading for Sequim to search for the home of Joe Rantz of Boys in the Boat fame. Though his home no longer stands, we experienced his habitat and imagined him fishing and logging in order to support himself when his parents walked out on him as a fifteen-year-old.
My favorite Sequim (pronounced squim) hike is at Dungeness Bay, the same name as the famous Dungeness crab.
Covered in artistically shaped driftwood, Dungeness Spit is a narrow stretch of beach that extends five miles into the Strait of Juan de Fuca.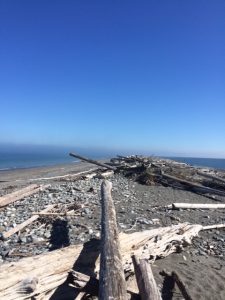 Declared a National Wildlife Reserve in 1915, the Dungeness Spit is home to many species of  shorebirds and migratory waterfowl, as well as harbor seals. As we sat on some drift logs, a bald eagle and a peregrine falcon hunted from above.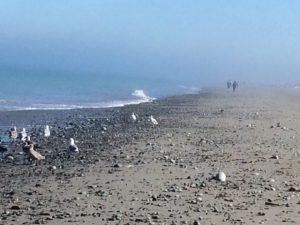 The first time we came, we followed a whale who was returning to sea after accidently coming in too close to shore and getting confused by this long sand dune.
At the end of the spit is the Dungeness Lighthouse, built in 1857. Once only open for trips to the signal tower, now tourists may overnight in renovated rooms. I was determined to book a stay, but it is already full until 2018. Must be really cool.
Sequim is also famous for lavender farms and its July Lavender Festival.
About a half mile before reaching the ferry in Port Townsend, stop at Washington's best fish and chips joint, Sea J's. And then, if you have time, stroll through the historic city of Port Townsend, or catch the famous wooden boat festival every September.
We found a lot to love on the Olympic Peninsula, and you will too, from hiking, camping, boating, swimming, birding, and flowers to literary tours, history, dining, or even wine tasting.
---
Feature Photo courtesy of Michael W. Murphy, "New Dungeness Lighthouse," Creative Commons
I have been to Nairobi and Mombasa a few times and regret never making the short hop across the water to the island archipelago of Zanzibar. I was so happy when my son and his wife went for me last week. Here's how to book a vacation full of healing color and tropical sunrises across soothing waters.
Zanzibar beaches are resplendent in every color you long to see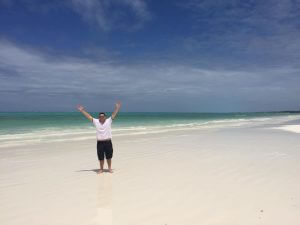 Escape the craziness of today's world and relax in an environment that feels tame, natural, and real.  In the Indian Ocean just off the coast of Tanzania, Zanzibar has some of the most beautiful beaches you will ever see. "I can't get enough," my son wrote on his second day in Paje.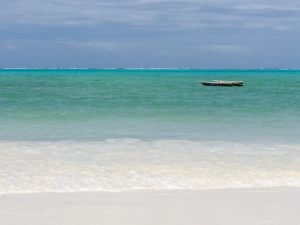 At low tide you can walk out on the white sand. And seemingly walk forever. The view is stunning, the atmosphere soothing.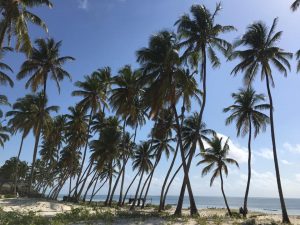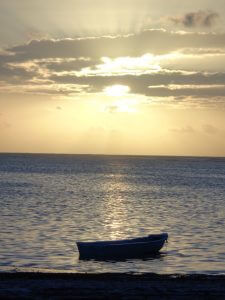 Two approaches to swimming with the dolphins
For many, swimming with dolphins is the highlight of a Zanzibar vacation, and there seems to be two ways you can go about organizing your outing.
First, you can book a reputable company to take you out in the safety of a dhow at dawn when there are no other snorkelers, and the dolphins are calm.
Or … you can be so excited about the experience that you jump in a flimsy boat on the beach with a 16-year-old captain and his eight-year-old brother as first mate. They race past many other boats to the head of a pod in the middle of the bay, where the captain shouts, "Okay, Mama, Papa, jump!" Only then do you realize there's no life jackets.
In either case, you will see plenty of dolphins, and as my son said, "Being that close in the wild is frickin' awesome." The advantage of planning is that you can see them when there's not so many of you.
Regular snorkeling in this area is less desirable. Chumbe Island has a coral park, but even there  Indian Ocean waters tend to be cloudy. Our family found the same less-than-desirable snorkeling off the coast of Mombasa years ago.
Zanzibar accommodations range from small guesthouses to large resorts
Clean, tidy villages line the east coast of Unguja Island. Paje is a beach community with a variety of accommodations, and my kids tried two different ones.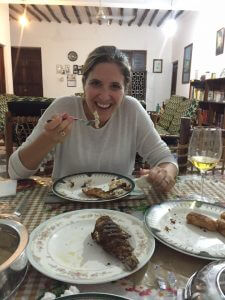 To get to know the locals, stay in a guesthouse. It comes with a cook, and if you love seafood, you'll be in heaven.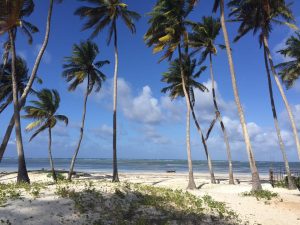 If you love long walks on empty beaches, well there's a slice of heaven, too.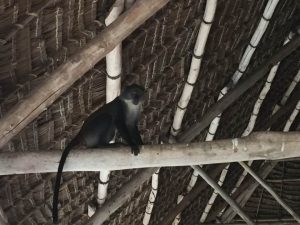 If you think monkeys are a lot of fun, you're in for a treat.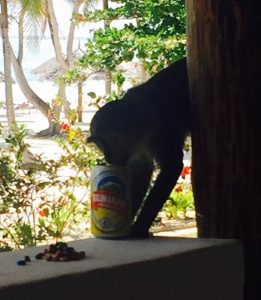 The red colobus monkeys entertain visitors to Zanzibar and can't resist some juicy papaya for breakfast.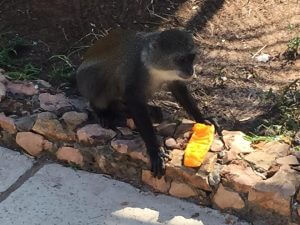 Here are some village kids playing on the beach.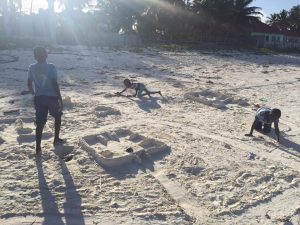 Mixing with the locals is especially interesting if you visit Zanzibar during Eid al-Adha. Zanzibar's Islamic culture follows all traditions. Based on the Old Testament/Koranic story about Abraham (Ibrahim) and his son, Eid al-Adha is a holiday about sacrifice and sharing. In the village, you can watch the locals prepare the cow that they will share for the Eid meal.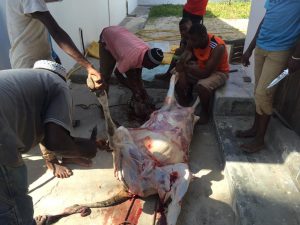 After the village, my son and his wife tried the Dongwe Club Resort, whose website invites you to "a tropical dream with Italian tastes and tradition." My son took a while to adjust. He expected to keep hearing "Jambo, bwana," but instead the greeting was "Ciao."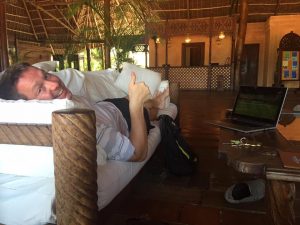 Unlike the guesthouse, resorts have wifi, for those who really cannot forego Sunday football. Unlike the guesthouse, the Dongwe also has a pool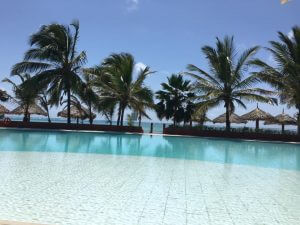 with a bar,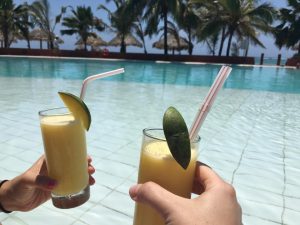 and a pier.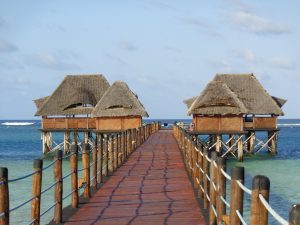 And a lovely setting for couples massage.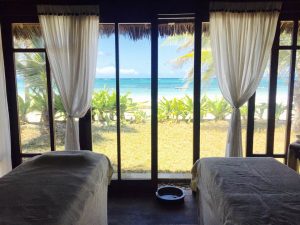 As my daughter-in-law said, "Zanzibar, where have you been all my life?"
Exotic restaurants with delicious local food
One night my kids went out—to sea—for dinner. Click on this link: The Rock, to see how spectacular this tiny island restaurant looks in daylight. At low tide, you can actually wade out there.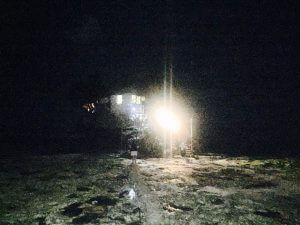 The menu, of course, offers wonderful seafood. My son, who lost his tolerance for looking a fish in the eye while eating him, ordered a steak.
Tours throughout Zanzibar reveal its melange of cultures
Zanzibar, aka the Spice Islands, produces much of the world's cloves. Touring a spice farm is entertaining and informative. Afterward, you can eat local foods with Zanzibari spices or buy the spices themselves, cloves, nutmeg, cinnamon and pepper—a lot cheaper than buying them in the U.S.
A walking tour of Stone Town, the old district of Zanzibar City, introduces you to a typical Swahili trading town. But you will also feel the presence of empires past: the Portuguese, Arabs, and Brits. The tour takes you past the Emerson Spice Hotel, "which consists of three adjoining World Heritage buildings in the Kasbah" [market].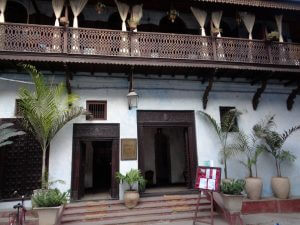 The main building is a restored merchant's house.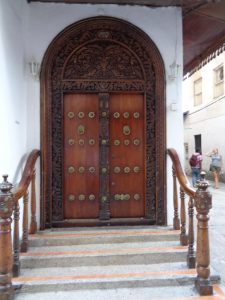 The tour takes you past a lot of beautiful architecture, much with a Portuguese feel, and then past the boyhood home of Freddie Mercury, lead singer of Queen . The tour also takes you through the market with its fresh fruits and vegetables, and its exotic foods.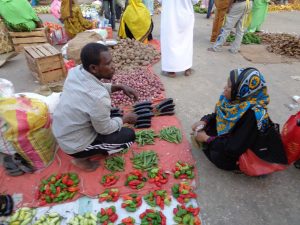 I guess this pizza cuisine would be considered fusion?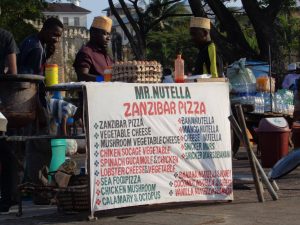 And the added bonus of visiting during Eid was people watching, as they parade through town, past Mr. Nutella, in their holiday finest.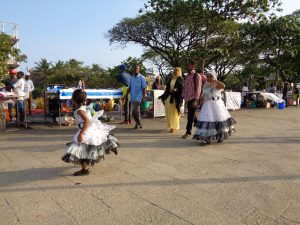 No matter what your travel style is: beaches, snorkeling, history, culture, food, or just relaxing, you can satisfy your desires in Zanzibar.