Before winter sneaks up on me, I'm trying to take in as much fall drama as possible. So with friends I headed out to the Olympic Peninsula, bordered by the Pacific Ocean, the Straits of Juan de Fuca, and the Hood Canal.
The Olympic Peninsula is known for its temperate climate, existing as it does in the rain shadow of the Olympic Mountains. With a rich internationally recognized biosphere, its old growth forests also make it a World Heritage Site.
This year we set up base camp along the northern route 101 at Port Angeles, where we picked up friends arriving on a ferry from Victoria, British Columbia. To orient ourselves, we first stopped at the Olympic National Park Visitor Center .
Just southwest of Port Angeles is Hurricane Ridge, named for the storms that howl through there in the winter. Easily accessed at 5,242 feet, several scenic trails offer beautiful vistas of the Olympic Mountains. On the way down, you get a grand view across the Strait of Juan de Fuca to Victoria, B. C. and across Puget Sound to Mount Baker.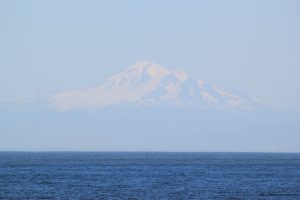 Further west, tucked into the Olympic Mountains, is Lake Crescent, twelve miles long and more than 600 feet at its deepest area.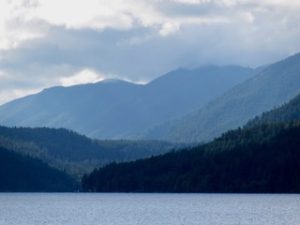 Along the beach are beautiful vistas across turquoise water.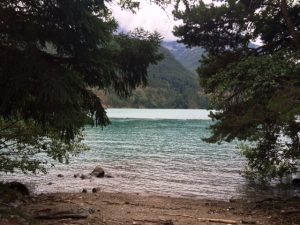 Many people enjoy boating on this most serene lake.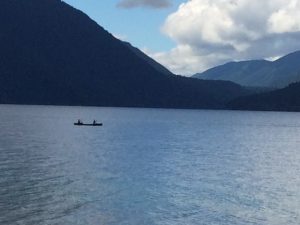 But kids also enjoy the swimming.
Behind the lodge you'll find the bridge to one of the many waterfall hikes in the Olympic National Park. Click here for a trail map.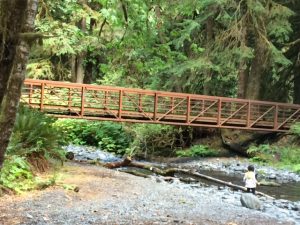 We hiked the 1.2 mile trail to Marymere Falls, a 90-foot waterfall. Some of us went down to the base.
Others of us looked on from above.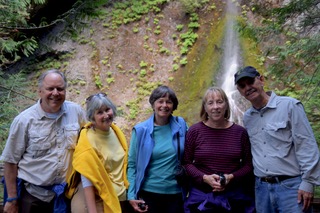 To rest after the steep climb, we hung out at the lodge.
Like most of the National Park Lodges, the building is historic, the scenery is beautiful, and the food and rooms are so-so.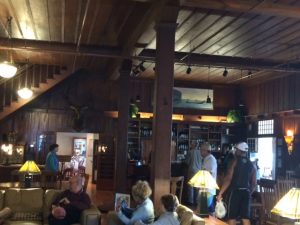 We have stayed overnight at Lake Crescent Lodge in the past, and that is why we got a hotel in Port Angeles and why we went back there to enjoy dinner at the Kokopelli Grill, a chic restaurant offering local seafood and other items with Southwest flavors.
In the northwest corner of the peninsula is Neah Bay on the Makah Indian Reservation. The Makahs are one of eleven tribes on the peninsula and make headlines every now and then when defending their whaling rights as a cultural tradition.
Accessed from the western end of the peninsula, the mossy Hoh Rain Forest offers three easy hikes on trails with signposts explaining such phenomena as nurse logs and everything else special to this habitat.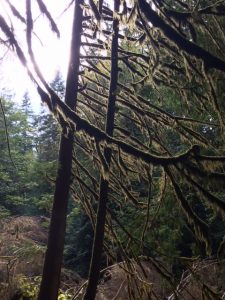 Heading back to Port Angeles, you can stop in Forks, the town where Stephanie Meyers based her famous Twilight Saga.
Our group of travelers was a little more mature than a Twilight crowd so more interested in heading for Sequim to search for the home of Joe Rantz of Boys in the Boat fame. Though his home no longer stands, we experienced his habitat and imagined him fishing and logging in order to support himself when his parents walked out on him as a fifteen-year-old.
My favorite Sequim (pronounced squim) hike is at Dungeness Bay, the same name as the famous Dungeness crab.
Covered in artistically shaped driftwood, Dungeness Spit is a narrow stretch of beach that extends five miles into the Strait of Juan de Fuca.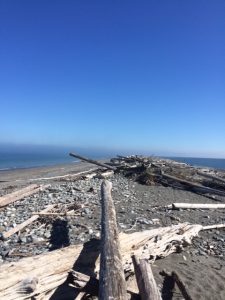 Declared a National Wildlife Reserve in 1915, the Dungeness Spit is home to many species of  shorebirds and migratory waterfowl, as well as harbor seals. As we sat on some drift logs, a bald eagle and a peregrine falcon hunted from above.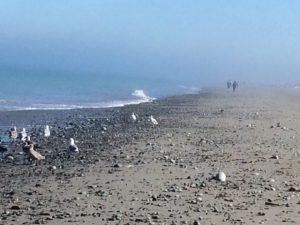 The first time we came, we followed a whale who was returning to sea after accidently coming in too close to shore and getting confused by this long sand dune.
At the end of the spit is the Dungeness Lighthouse, built in 1857. Once only open for trips to the signal tower, now tourists may overnight in renovated rooms. I was determined to book a stay, but it is already full until 2018. Must be really cool.
Sequim is also famous for lavender farms and its July Lavender Festival.
About a half mile before reaching the ferry in Port Townsend, stop at Washington's best fish and chips joint, Sea J's. And then, if you have time, stroll through the historic city of Port Townsend, or catch the famous wooden boat festival every September.
We found a lot to love on the Olympic Peninsula, and you will too, from hiking, camping, boating, swimming, birding, and flowers to literary tours, history, dining, or even wine tasting.
---
Feature Photo courtesy of Michael W. Murphy, "New Dungeness Lighthouse," Creative Commons