If you must travel during the Covid-19 pandemic, look for hotels that follow strict CDC guidelines: 25% occupancy, extreme disinfecting practices, rooms left vacant for at least 24 hours between occupancies.
Recently my husband and I drove from Scottsdale to Denver. My pre-trip research surprised me. Chain hotels en route were more expensive than usual—probably due to reduced occupancy and extra cleaning—while some historic hotels were suddenly affordable. So, we thought, let's not only stay safe from the pandemic, but learn some history, too.
We booked historic Harvey Houses (circa 1876-1967). Fred Harvey partnered with the Atchison, Topeka and Santa Fe Railroad to develop railway-stop restaurants and then hotels with a reputation for high standards, fine dining, and excellent service, provided by well-trained waitresses called Harvey Girls.
La Fonda on the Plaza is Covid-19-Sensitive
Our half-way rest point was La Fonda on the Plaza, a classic Pueblo-style hotel in downtown Santa Fe.
In 1922, La Fonda (The Inn) was resurrected as a Harvey House. Architect Mary Colter designed Harvey Houses in an historical revivalist style that reflected a reverence for Southwest Native American tribes.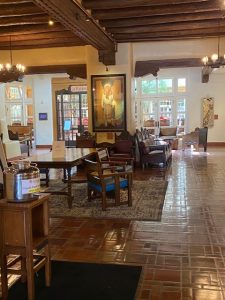 La Fonda is known for its original décor in the lobby,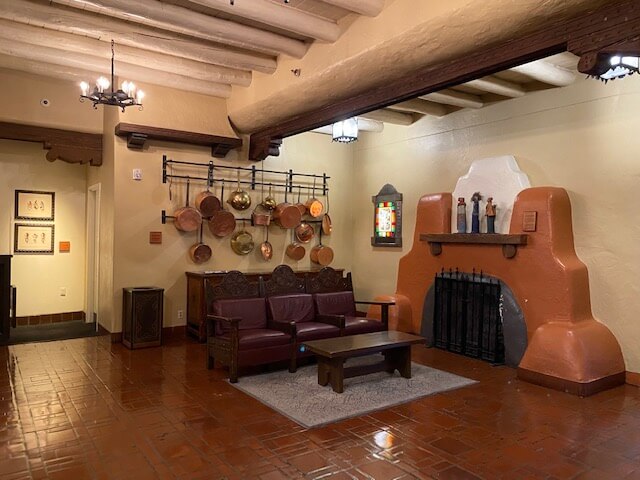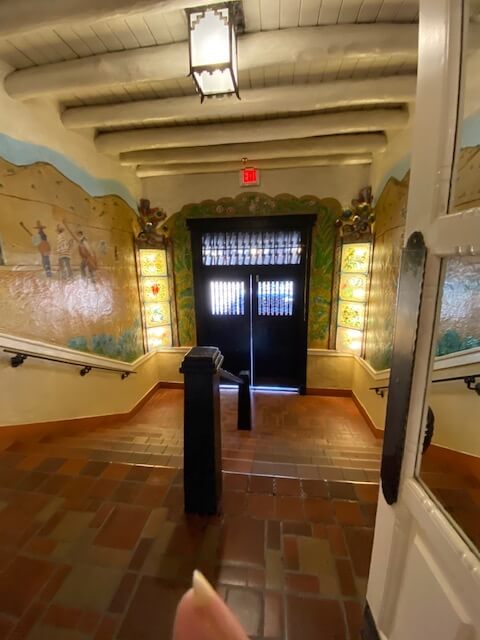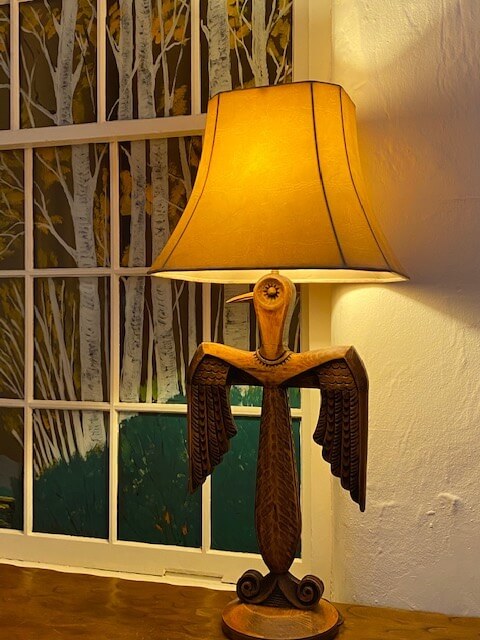 and for hand-painted headboards in the comfortable bedrooms.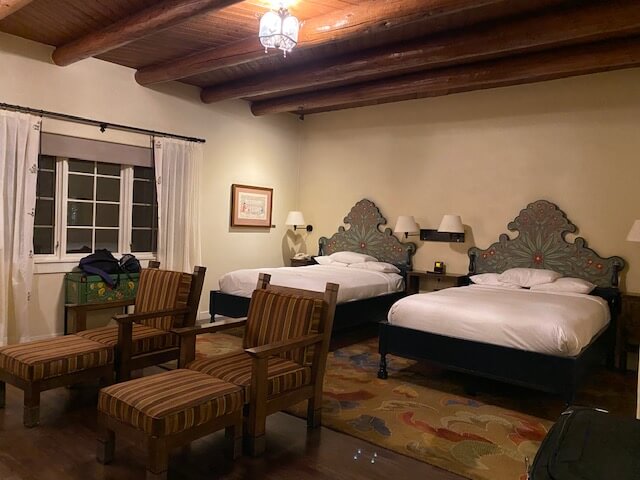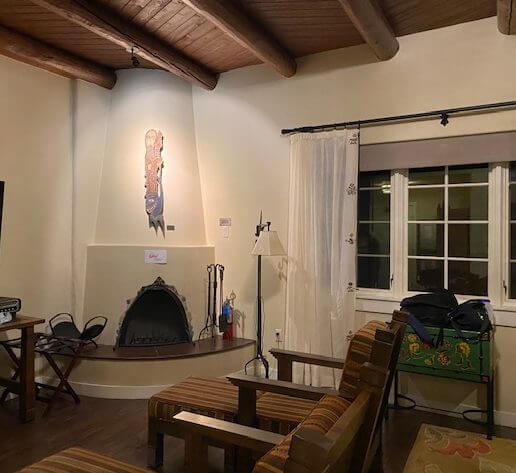 Few of Santa Fe's famous restaurants were open, except for curbside service, so we enjoyed La Fonda's rooftop terrace with views of the town and the mountains.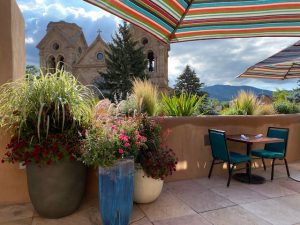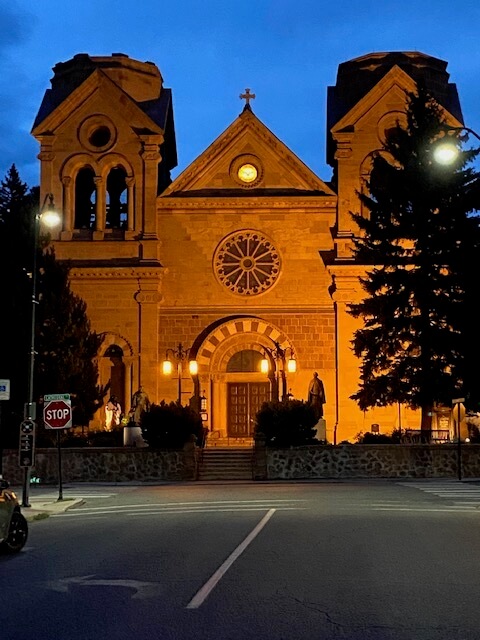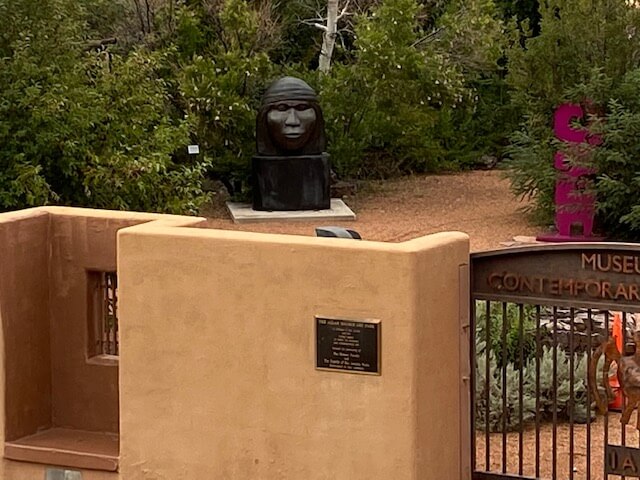 The good news: La Fonda has chargers for electric cars. The other news: Mask rule violations in New Mexico come with fines.
La Posada is stringent about Covid-19 rules
On the way home, we stayed at another Harvey House, not only on the railroad line but also on Route 66.
La Posada (The Resting Place) was refurbished in 1930 and is situated on a large landscaped property in Winslow, Arizona, one block from the famous "Corner." It, too, is an Adobe-stle structure with a red tile roof and lovely gardens between the wings.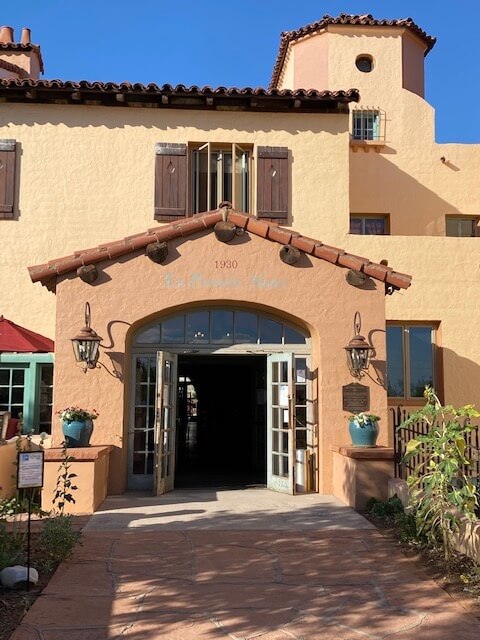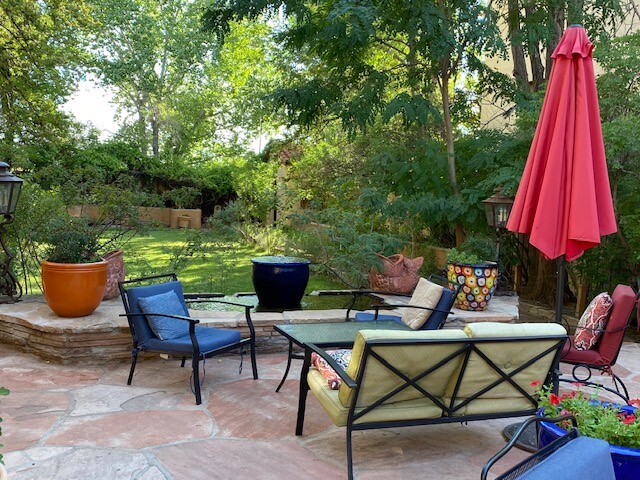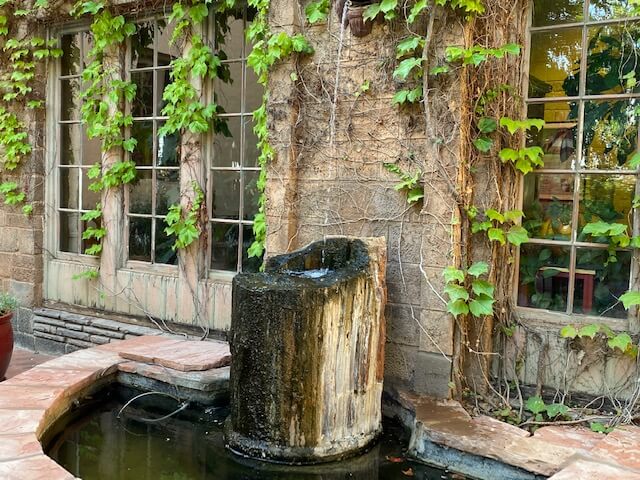 You need more than overnight to absorb all the hotel history. It starts in the Trading Post. While you register, you can admire a museum of local art, much for purchase.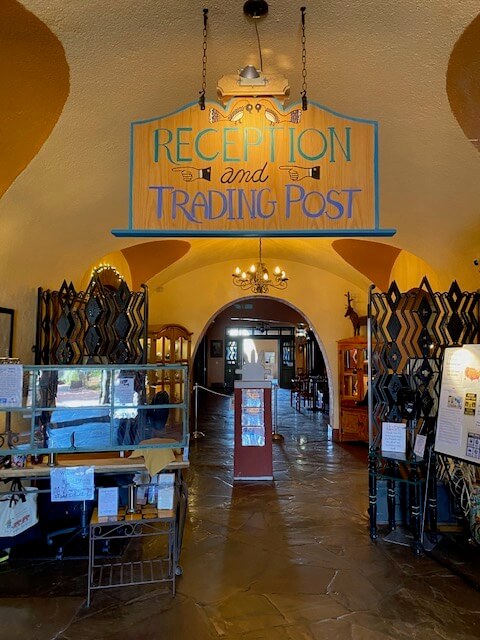 Then you focus on the hallway decor, replica headboards from La Fonda.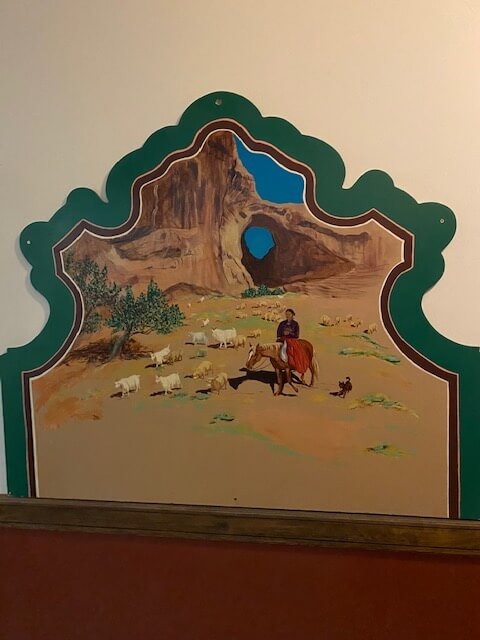 By each of the 54 doorways, you will find a biography of someone who stayed in that room, from Amelia Earhart, Einstein, and FDR to Howard Hughes, Jackson Browne, and the Doublemint Twins. This was outside our room: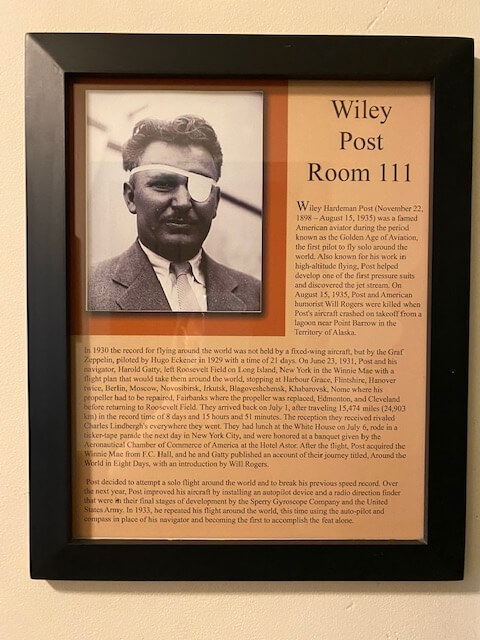 On another day you can peruse the art gallery in the ballroom. We saw an exhibit of America's first ladies by Tina Mion.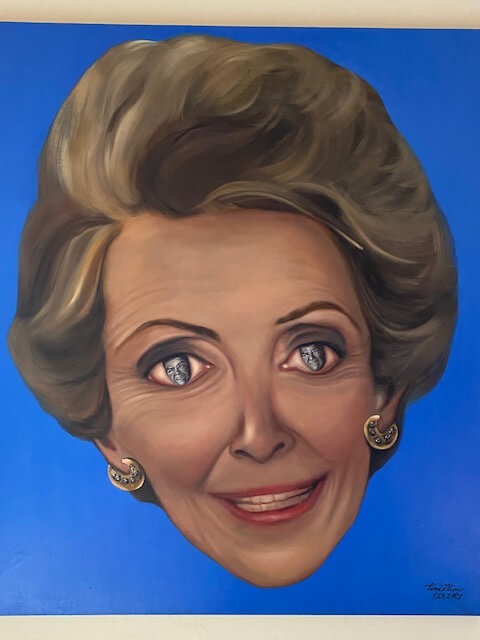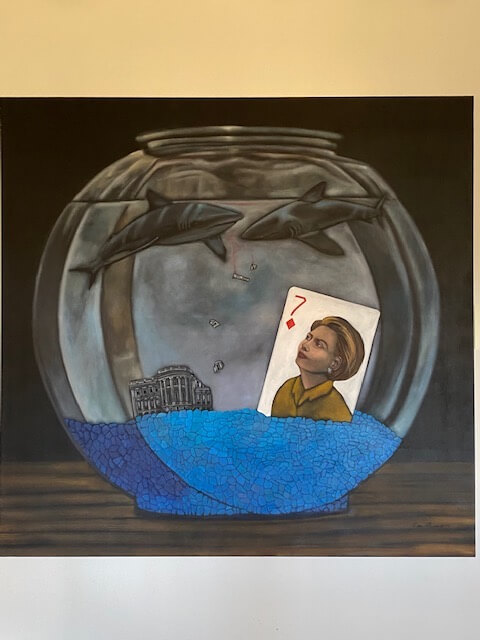 The good news is the excellent food.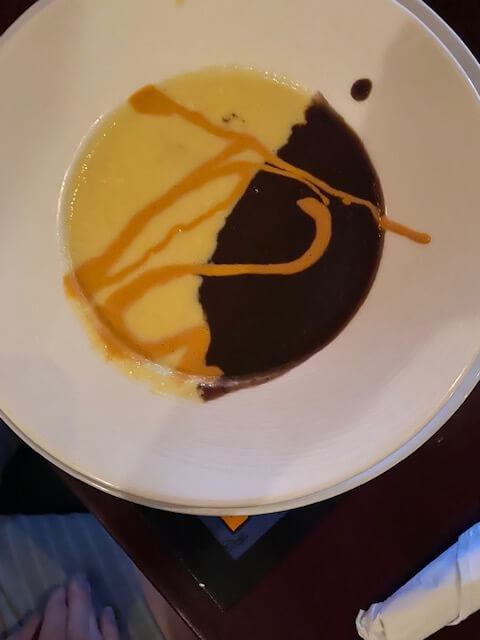 The other news is the indoor restaurant—but with social distancing.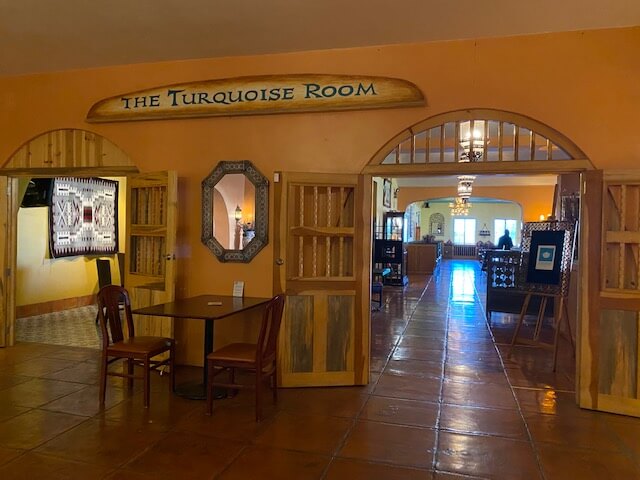 And for a fun outdoor activity, you can "get your kicks on Route 66" by "standing on a corner in Winslow, Arizona."