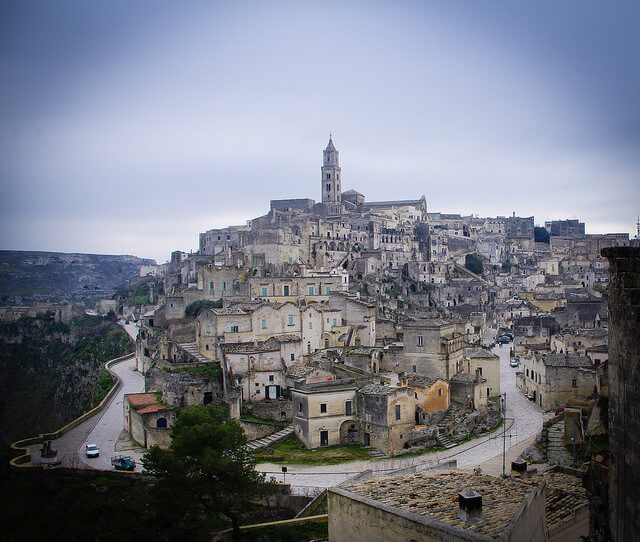 How many of your friends come home from Italy and rave about Matera? It wouldn't have been on Guest Blogger Helen Henry's itinerary if a friend hadn't suggested it. And now she and husband, Hank, are telling everyone, "You have to see Matera."
Matera is a fascinating ancient stone city.
Aside from Petra in Jordan, Matera is the oldest continuously inhabited settlement in history.  Known as "la Città Sotterranea" (the Subterranean City), Matera has an historical center called "Sassi," a word, like Petra, which translates as stone.
During the Paleolithic period (@15,000 BC) people of Matera used Iron and Bronze-Age tools to dig homes from the sand-colored volcanic limestone, called tufa. The construction technique is described as "architecture in negative," i.e. the process not of building, but of removing matter from the rock.
Matera's living conditions were harsh for centuries. Life was compact, tough, and unhealthy. Until the 1950s, families lived in cave homes without running water and electricity. Malaria was a huge problem, as was the 50 % infant mortality rate. Worse yet, large families shared small cave dwellings with their donkeys and chickens. It wasn't until 1952 that Italy passed a law forcing Matera's dwellers out of the Sassi, resulting in the resettlement of 15,000 people.
What remains are layers of rustic, monochromatic dwellings that climb the hillsides of Matera.
Miles of narrow stairways, and grooved cobblestones wind through the historic area of dwellings and "rupestrian" (cave art) churches. Frescoes at various levels of restoration decorate the walls of some 150 churches.
With its slippery stone stairs, Matera is not for people with weak knees or hips.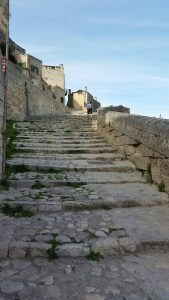 In 1993 the area was declared a UNESCO World Heritage site. Its popularity has led to the conversion of old dwellings into new restaurants and boutique hotels. We stayed at the Caveoso Hotel, which features a few "cave" rooms but most with windows and even a few outdoor terraces.
The breakfast room gave me the feel of cave living, but being claustrophobic, I preferred my room with the view from its narrow terrace, looking out at the rupestrian church of Madonna di Idris.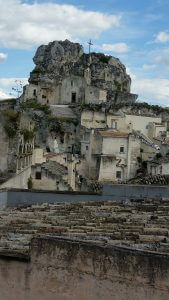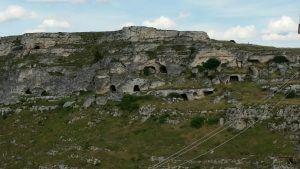 We also had views of the paths and caves in a small ravine called La Gravina, which is part of the 7000-hectare Murgia Materana Nature Reserve, where flocks of swallows and swifts dart through the air.
One three-hour hike took us down to the stream, across the suspension bridge, and up the other side with views of the old city and peeks into caves where we could see carved niches and mangers.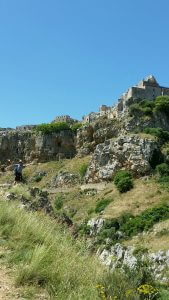 The return trip was followed by a lovely rustic lunch of beer, local soup of potatoes, beans, lentils and "grass peas," something like black-eyed peas without the black eyes. And the best bruschetta of our trip!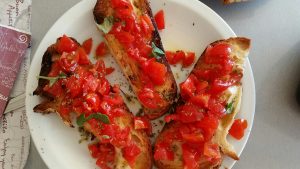 Getting to Matera
From the Naples train station, we boarded a comfortable "Flix Bus" and for four and a half hours rode through acres of wheat, olive trees, and wind farms. Finding out if Matera had more than one stop required some Italian, which we didn't have. Because we were not able to question the driver, we ended up dragging our bags for an hour to get to the Caveoso Hotel. But at least we can say we saw modern Matera on our quest for the Sassi.
If you want a preview of Matera's Sassi, watch Mel Gibson's 2004 film, The Passion of Christ, which was shot in Matera. But then put the old city on your travel list. It's hard to find such a unique blend of man's relationship with history and nature.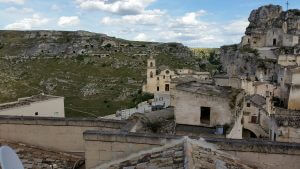 ---
Feature photo from Flickr, by Ben K. The old Mountain Town of Matera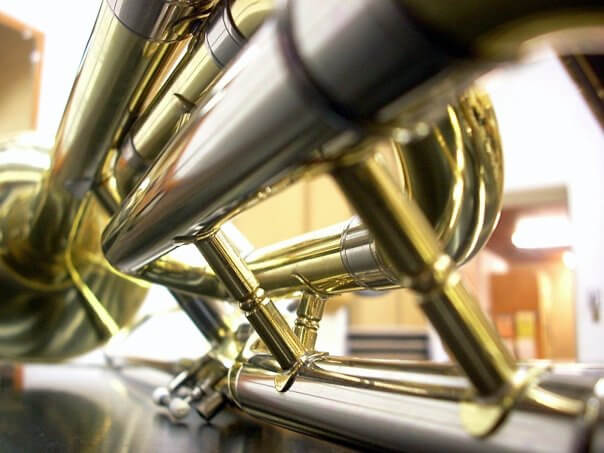 What paints a more idyllic picture of America than summer, brass bands, and free outdoor concerts? Below, Guest Blogger, Dave Hermetet, will have you running to mark your calendar.
Great American Brass Band Festival
If it's the first weekend of June, it must be the Great American Brass Band Festival in Danville, Kentucky.  2016 marks the 27th running of this free four-day festival celebrating brass band music in all its many forms. This year's theme was Harry James, and the Headliners included four trumpeters–Phil Smith, Vince DiMartino, Gabriel DiMartino, and Rodney Marsalis–plus trombone player, Wycliffe Gordon.
Thursday at the GABBF: Brass, Bourbon, and Tea
Because Danville is situated near the end of the famous Bourbon Trail, the festival begins with a Bourbon and Brass Distillery tour running all day Thursday. This is your chance to pick up a rare $250 bottle of Pappy Van Winkle Bourbon, prized by many but consumed by few.
Abstainers can find  a Chautauqua Tea Party held at a local church in late afternoon.
The first evening features a brass band concert during the gallery hop and a swing dance at the library if you're "In the Mood."
Friday at the GABBF: Jammin' on the Square
Another distillery tour starts on Friday morning before music begins at noon on Constitution Square.  Mid afternoon opens the jam session, a blast for any brass instrument player, amateur or professional.  This year, a New Orleans Jazz band led the session and invited other musicians to take turns soloing on famous Dixieland tunes, such as "Basin Street Blues."
At 5:00 a New Orleans band leads the audience in a traditional New Orleans "second line" parade from Constitution Square to Weisinger Park.  The band starts with a slow, somber, dirge, "Just a Closer Walk with Thee" (first line), before breaking into a rollicking "second line" Dixieland tune with the audience dancing behind the band. The parade ends at the courthouse, which served as the Union Headquarters and field hospital for the Battle of Perryville in October of 1862.
Friday evening ends with performances at Weisinger Park, the Shaker Village (8 miles north of Danville), and the Beaumont Inn in Harrodsburg, the oldest city in Kentucky.  From the airport south of town, hot air balloons launch in the evening, weather permitting.
You won't go hungry. Food and drink vendors line Main St. and Constitution Square.  They move to The Centre College campus for Saturday and Sunday.  Food includes BBQ and many Cajun staples.
Saturday at the GABBF: The Great Parade and More Brass
Saturday begins bright and early with concerts and then an 11:00 AM parade. Past parade grand marshals have included John Phillip Sousa III, Doc Severinsen, and Vincent DiMartino.  Every year the parade includes the Circle City Sidewalk Stompers  clown band, as well as other bands, old cars, Shriners, horses, and dancers.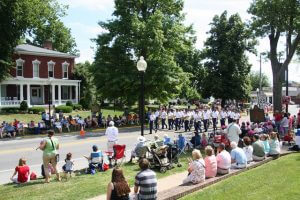 After the parade, music continues until 11 PM, first at Weisinger Park and then on the main stage of Centre College.
Sunday at the GABBF: Battle of the Bands and the Grand Finale
Sunday begins with a brass music church service followed by concerts until 4:00 PM. This year a "Battle of the Bands" pitted a Confederate reenactment band, Saxton's Coronets from Kentucky, against the Union's Wildcat Regiment Band from Home, Pennsylvania.  Both bands played authentic period instruments and wore full Civil War uniforms, Confederates in Red, Union in Blue. Spoiler alert: The battle ended in a draw.

This year's finale featured one the of the best bands on the planet, the US Army Band, Pershing's Own,  from Washington, DC.  They played every style of music from classical and patriotic to opera and show tunes. The band included two outstanding vocal soloists. They ended the festival with "Stars and Stripes Forever," complete with a four-piccolo solo.
Here are some tips if you plan to attend next year:
June weather is iffy. Be prepared for anything.
Most venues require that you bring your own chair.  
Book your hotel early if you want to stay within a 30 mile radius.
If one of the bands plays "My Old Kentucky Home," it is customary to stand.
If someone asks you if the correct pronunciation of Kentucky's capital  is "Louie-ville" or "Lewis-ville," the correct answer is "Frankfort."
Danville went wet only 8 years ago after nearly 80 years of being a dry city.  After all, Carrie Nation did grow up just outside Danville.
Even though this unbelievable festival is free, I don't mind selling you tickets if you prefer to pay.
The Urgency
As Dave says, hotel rooms go fast, so book early.
---
The feature photo was taken by Jennifer Lafayette and is available on creativecommons.com/flickr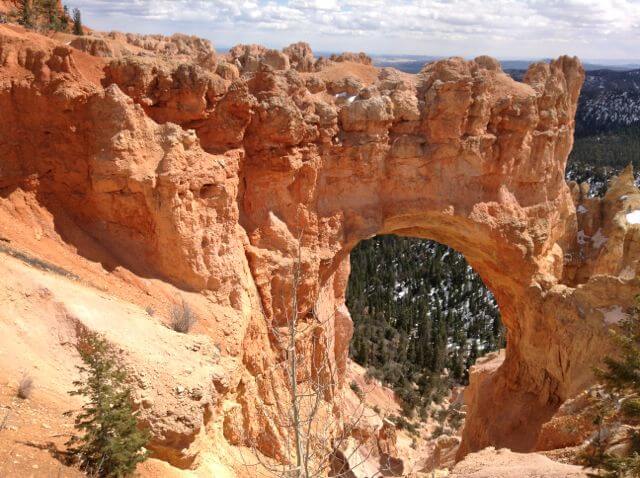 Utah should be on every nature lover's bucket list. The rock formations, the colors, the weather, the hiking. Nothing like it anywhere else in the United States.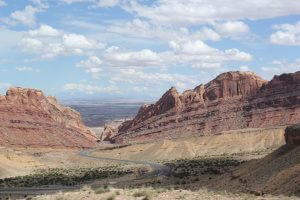 And there's more than the national parks to enjoy. Just driving along I 70 is magnificent. We spent hours pulling off the road on our way to the actual National Parks near Moab.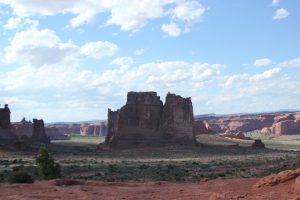 When people are asked why they seek out the National Parks, many say they like the solitude. National parks are huge. Usually you can separate yourself from the masses to quietly ponder the wonders of nature. But not right now. That's why I advise you to wait until the crowds dissipate. Until you can experience the true feel of the place and know what attracted the pioneers 100 years ago. Until you can see features like Old Faithful (not in Utah but on our trip) without viewing them through a forest of selfie sticks.
Around the tenth of May, Arches and Canyonlands were starting to get crowded. It was hard to get a photo free of tourists. Okay, I admit that these tourists didn't ruin too much of my photo, but if I'd gone this week, I wouldn't have gotten a good photo at all.
If you must see Utah now, plan your viewing and hiking for dawn or dusk.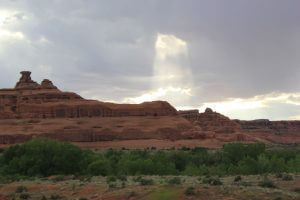 Even in early May it was getting hard to drive along Arches' narrow road without suffering the whims of the RV driver four vehicles ahead. So on day two we decided to combat this and visit from five o'clock to sunset. The red rocks are stunning at in the evening.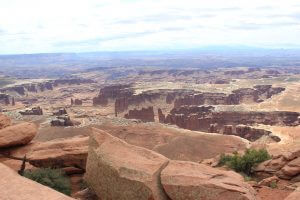 On day three, we arose very early and drove to Canyonlands, not that far from Moab. We were able to get a good feel for the park before the first ranger talk at 10:30.
Closer to Memorial Day, the crowds were beyond my toleration, and they're just going to get worse now that Memorial Day has kicked off the summer travel season.
Between the lower gas prices and the recently booming economy of China, which sends plane-loads of new tourists every day, summer travel routes in Utah will be jammed. Plus the hotel costs have already skyrocketed. On May 22 we easily found a hotel for $101. On Memorial Day, Trip Advisor sent us a blurb about hotels in the same town, and they're all booked right now at inflated prices.
If you must see Utah in the summer, book attractions early.
Certain special events book up early. If you're going to the Grand Staircase-Escalante area on the Utah/Arizona border, and you've always dreamed of walking The Wave (photo above), too bad. It's booked through September. One thing you can do is go to the Tourist Office in Kanab, Utah. Enter the drawing for cancellations and hope to be one of the six or seven lucky people out of 60 who show up at 9:00 a.m.
Even Spring Break time in Utah can better than summer.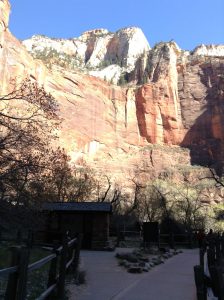 Two years ago I visited the southern Utah parks in March. The timing was perfect. We could still find parking at the trail heads, like this one in Zion.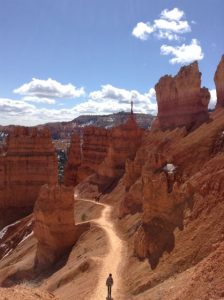 The paths were clear, like this one in Bryce.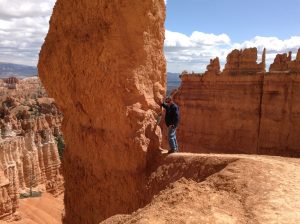 If you were crazy, you could walk out on a cliff without fear of being pushed off.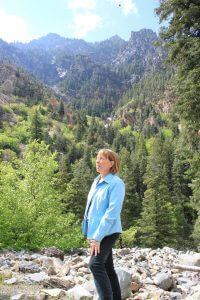 You could stop and listen.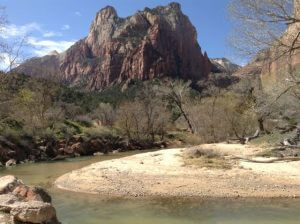 You could hear the water running in the canyons.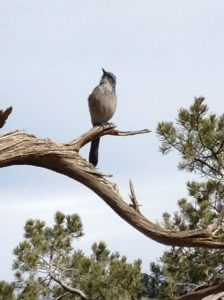 You could hear the birds chirping in the trees. Jays were everywhere.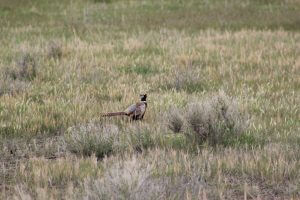 You could stop and watch the wildlife without some unsuspecting and noisy person scaring it away.
Mind you, it wasn't all perfect. The upper reaches of Bryce were rather cold and windy, but the beauty was still wide open.
The Urgency
Today I urge you to be patient. To plan a visit that gives you the optimum Utah Park experience.