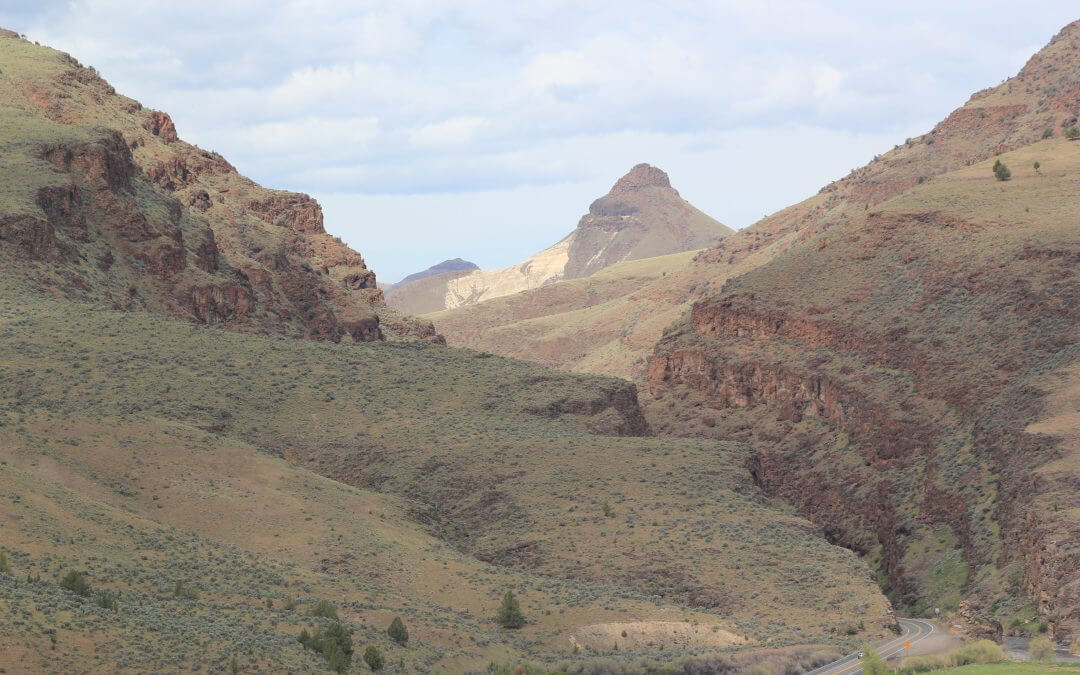 Until this month fossils never interested me. It's probably the math. Hard to conceptualize the time frame of any era that ends in zoic, like mesozoic or cenozoic. Once the numbers go beyond a million, I'm done.
But my husband and I kept our pledge to honor The National Parks Centennial. On this trip we did not bypass any National Park or Monument, even though our route landed us at three different fossil beds.
Yet, I have to confess that my attitude changed. You don't need math to be intrigued by the fact that zebra-like horses, camels, and llamas once roamed the forests of Idaho. You don't need numbers to conceptualize the meaning of pre-ice age. And you don't need complicated calculations to understand that global warming is indeed a trend, but this time it's more concerning than in times past.
Hagerman Fossil Beds contained the largest concentration of fossilized horses.
In 1929, Smithsonian ran the excavation of Hagerman, Idaho and unearthed 105 vertebrate species. The most important find was hundreds of individual Pliocene-Epoch horses at all different stages of life. These are the ancestors of America's beloved modern horse. Tremendous floods had washed away full herds and left them buried in sediment and ash for millions of years. Excuse me if I don't remember the exact date.
While  fossils of mammals explain their adaptations and evolution, fossils of birds show that they have remained pretty much the same. Easily-identified bird fossils render information about Idaho's prehistoric climate and ecology. The presence of cormorants indicate that the region had open water, herons indicate wetlands, and birds of prey indicate trees. Fossils of ibis, which no longer inhabit Idaho, suggest a much warmer climate.
John Day Fossil Beds reveal the history of hundreds of plants and some mammals.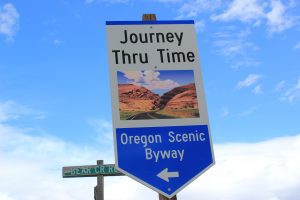 We started at the first of three John Day fossil sites, called Painted Hills, and enjoyed nature's artistic touch.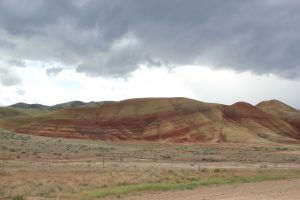 The red bands indicate soils deposited during wetter, warmer times. Blue-green, yellow, and tan bands represent cooler, drier times. Here, if you want, you can forget the numbers and just take in the beauty of the colorful patterns woven by history.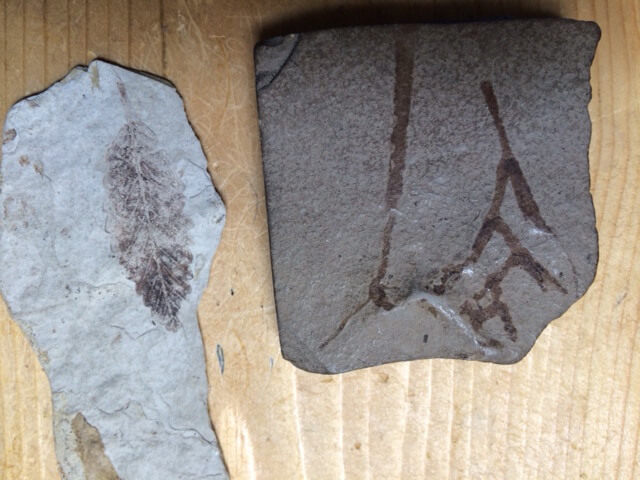 Surprisingly, the Clarno site, with fossils of over 200 plants, reveals that Oregon once had a sub-tropical forest. There are still so many fossils here, preserved in volcanic ash, that the public can visit a 33 million-year-old lake and collect their own leaf fossils.
The Visitor Center, called the Thomas Condon Paleontology Center, at Sheep Rock, offers displays, a fascinating  film, and a working archaeology lab, with real fossils. It is open to the public on Fridays.
Florissant Fossil Beds in Colorado explain the problems of global warming.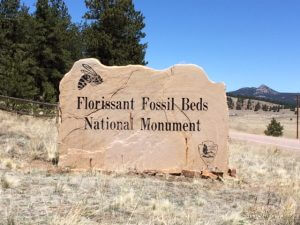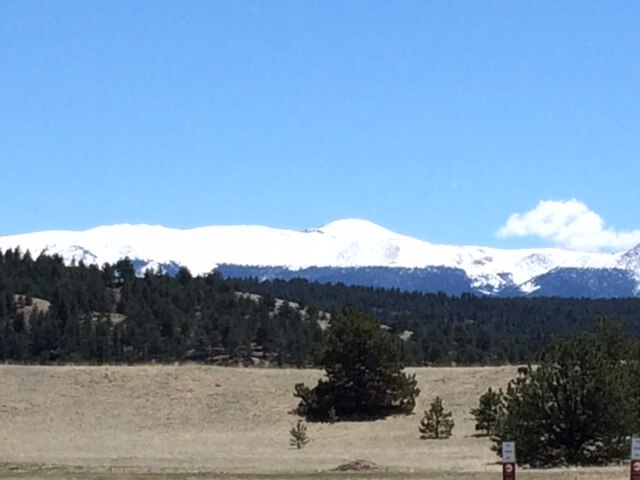 Here, below Pike's Peak, volcanoes preserved many insects. Florissant has the most butterfly fossils in the world. What shocked me were the fossils of the tsetse fly. Today the dreaded tsetse is only common to tropical Africa, so you have to wonder how different central Colorado was 36 million years ago.
Climatologists use these insect fossils to examine climate fluctuations, noting how gradual changes—over millions of years— allowed species to adapt. They also note that our current climate changes are accelerated, way more rapid than ever before, which begs some questions. How many infectious insect species will move north as our planet warms? How many of our species will be lost before they have time to adapt?
These three fossil beds have given me a new awareness of my country and my world, which, I hope, will make me a better steward of the environment.
That's why you slam on the brakes when you see any brown National Parks sign, trusting that the place wouldn't be part of the NPS if it weren't cool.
---
Go to the Facebook link below to read more information and see more pictures.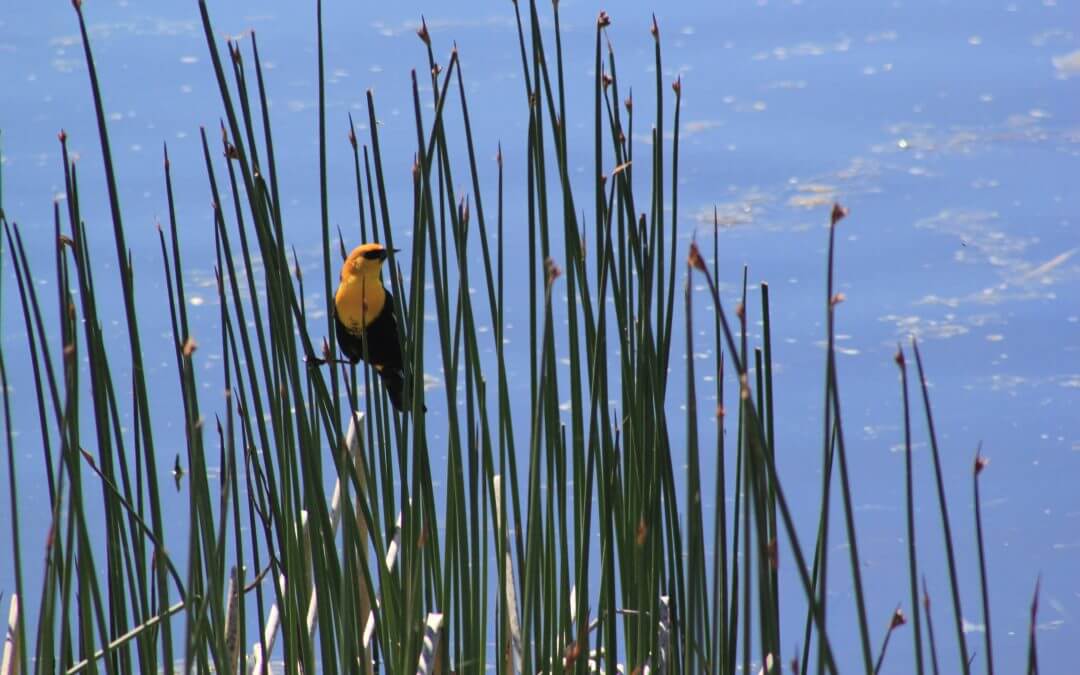 Waterfowl breeding season in Southern Oregon is a colorful affair. Lots of locals are in mating mode this month. Others fly in just for the occasion.
Last week my friends and I drove in for the occasion and parked our suitcases at the Running Y Ranch, a beautiful golf resort on Klamath Lake.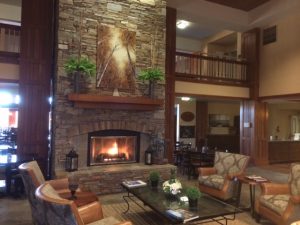 The next day we drove south to State Line Road to check out the dating scene that unfolds below Mt. Shasta.
Lower Klamath National Wildlife Refuge is America's first public refuge for waterfowl and was set aside during the Roosevelt Administration in 1908.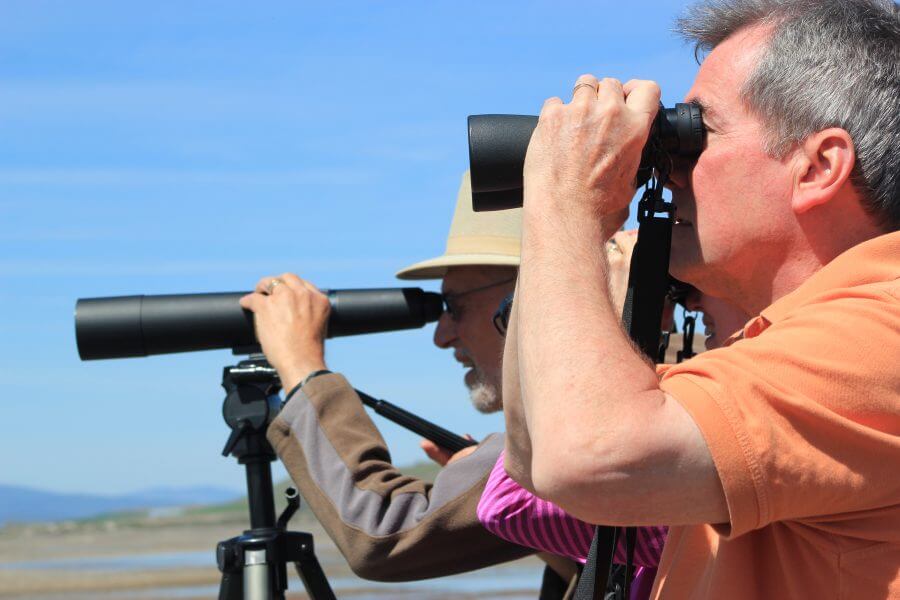 Here is our group in the serious birder ready position.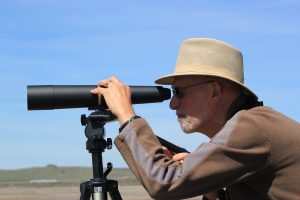 Here is Hank Henry with the equipment every serious birder should own.
The Lovesick Blues
Let's say you're having a drink at your neighborhood pond and suddenly a ruddy duck paddles in your direction. Wouldn't you like to know his intentions up front? He looks familiar, but something's new. Oh yes, it's the blue beak. And that's the giveaway—he now longs to be more than just a fair-feathered friend.I kept hearing a meow, and I feared a cat was on the prowl. Turns out, that was the ruddy drake's mating call. Go figure.
But you didn't know because you're not a ruddy duck.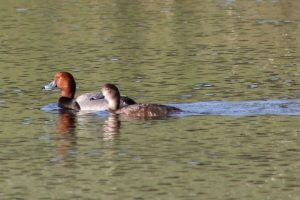 And so you're just not that into him, birds of a feather and so forth. In another corner of the pond, you spot your ideal mate: a redhead, and he has a blue bill, too. Timing is everything.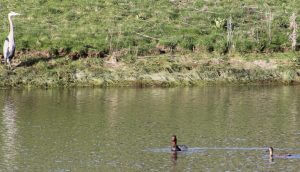 A heron arrives just in time to watch the redhead meet-up.
An American widgeon swims by. His bill is also blue. You know what he's up to. And why not? Last year's chicks are gone and there's an empty nest.
Orange or Red Is the New Gray.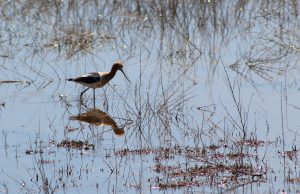 Off in the shallow water on the edge of the pond, American avocets mill around. Poking their long beaks into the mud for crustaceans or aquatic insects, they look so nonchalant. But the orangey neck tells the female he's also looking for something else.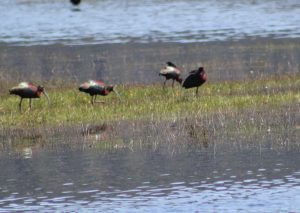 The white faced ibis turns a brilliant red during breeding season. Should be an attraction to any female.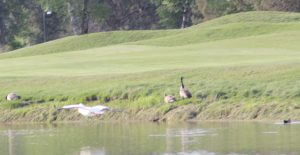 The American white pelican began arriving in Klamath on our second day. Soaring in from Southern California on a wing span up to twelve feet makes the bird resemble a seaplane landing on a watery runway.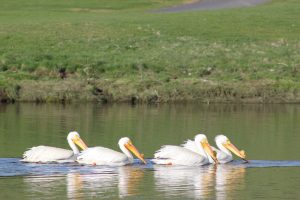 Though white with a yellow-orange beak all year, during mating season the males grow an unusual projection, called a horn, three-quarters of the way down their beaks.
White Birds Can Dance
Oh to be a Western Grebe and participate in the joyful dance of love. On Klamath Lake near the resort, we walked out to a point where we spotted grebes in their beautiful mating duet, skipping on top of the water for sometimes up to sixty feet. Click on the previous link and then scroll down to watch how BBC captured this beautiful dance.
If you cannot make it to Klamath Falls this spring, consider next May or the Winter Wings Festival in February.
More photos on the facebook link below.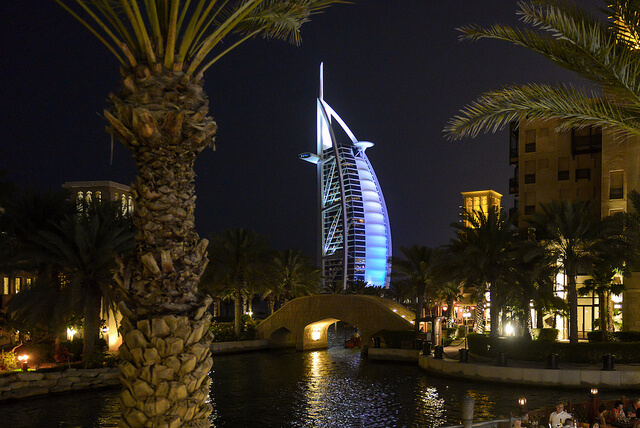 Modern Dubai was designed on a grand scale with ultramodern high-rises and genius development concepts. But among the wonders and innovations, among the millions of tourists who marvel at them every year, there is a grand life on the small scale in expat communities.
Who would move to the Middle East?
Professionals in search of challenging and rewarding careers plus fun. When I stayed with my friends on The Palm six weeks ago, I found out how much there is to do in Dubai. I could have been content just sitting on their patio next to the pool and looking at the Gulf, but they have so much more, with the possibility of a social calendar to rival with the Windsor's.
Who do the expats hang out with?
The most important life-abroad asset is friends. Since few expatriates have extended families around, they create their own families. They find people with similar interests—co-workers, neighbors, sports club members, or parents of their kids' school friends. (Dubai has excellent American-curriculum schools.) My friends connected with lovers of music, food, tennis, and golf. My kind of people.
What's Dubai's music scene like?
While I was in Dubai, the Jazz Festival was on with Santana as the headliner. Big acts come through Dubai. When I was teaching in the Middle East, I found my class empty one day because a bunch of students had gone to see Shakira when her Hips Didn't Lie. For those who prefer classical music, Placido Domingo is coming later this year.
Dubai's exotic clubs attract the glitterati. My daughter-in-law ran into Chris Pratt (Parks and Rec) at a club the week before I arrived. Mind you, I've not had such encounters. Once on a girls' night out, my friends and I wandered into a cool jazz club that was empty. Maybe 9pm was too early. We danced with each other, which was kind of weird, and as we returned to our table, the band played the theme song from Desperate Housewives. We kept walking.
You can find good food everywhere.
The feature photo above is Madinat Jumeirah (the Jumeirah neighborhood). The souq offers several options for outdoor dining on the water, or you could go to one of the hotels for fine (finer) dining.
What's the sports scene like?
Tennis has always been the sport that draws me to Dubai. My first visit was ten years ago when I accompanied my high school tennis team to a tournament at the American School of Dubai. In the evening, I was thrilled to get tickets for the Dubai Duty Free Tennis Championships.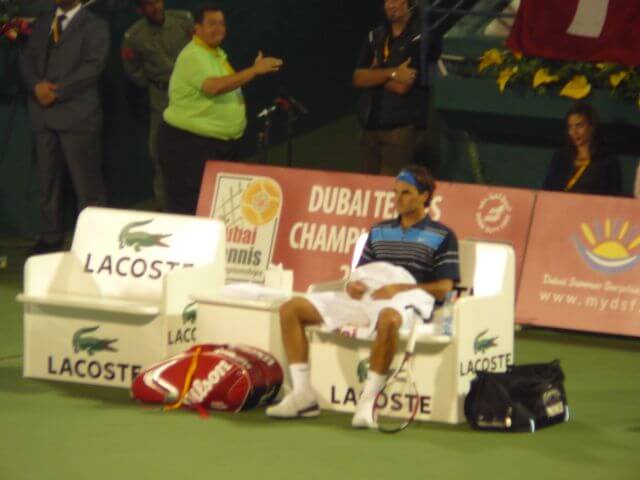 At that time, Roger Federer was at the top of his game. Unbeatable.
He has always been a gentleman. Above, patiently signing autographs.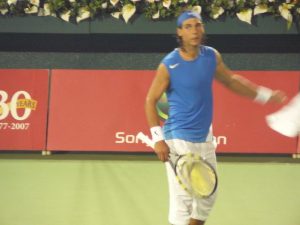 Raphael Nadal was Federer's big contender. Always surrounded by family, his uncle was his coach with a rigorous workout routine. Our seats were close enough to see the results. Rafa was one of the few pros who didn't look asymmetrical. He didn't have the usual strong, thick serving arm, and thin tossing arm.
That year was Novak Djokovic's Dubai debut. He'd made it to the quarter- finals, but didn't have the clay court footing to contend. He'd rush to a shot but instead of stopping to hit, he'd glide along the surface like a water skier. A few times he fell and someone behind me shouted, "You all right?" or "Can I help you?" Novak joked back. It's a friendly tournament.
That's possibly when the media shortened the name Djokovic to "The Joker." Now he's known for his outstanding tennis and his humorous imitations of other players, especially Maria Sharapova.
Big names at Dubai Tennis 2016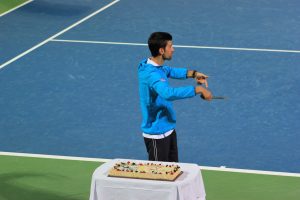 This year Dubai celebrated Novak Djokovic's 700th tour-level win, and he humorously invited the audience to come down to the court for cake.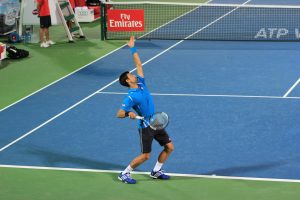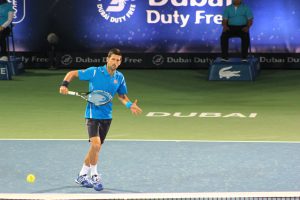 His play this year was spectacular—worthy of his Number One status—until an eye infection knocked him out in the quarter-finals.
But that left center court open to up-and-comers.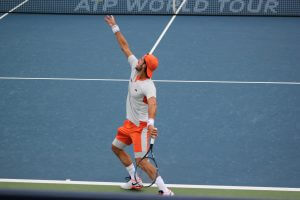 Feliciano Lopez (how's that for a romantic name?) is the new tennis heartthrob. Here he is, up close and winning.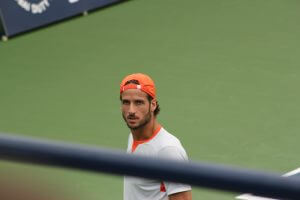 I thought Lopez was looking at me the whole game—until I realized his coach was sitting in front of me. Darn.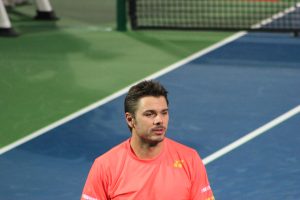 I also saw Swiss player, Stan Wawrinka, who won the tournament after No. 1 seed Djokovic had to forfeit.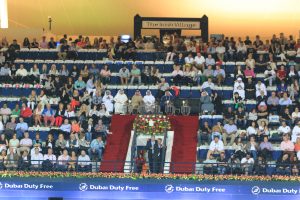 Though the Dubai Tennis Stadium is small and intimate, there's plenty of room for the VIPs.
The fans are tennis-polite. You can just leave a sweater on your seat, and no one will take the seat or the sweater. Under the stadium are several restaurants and pubs.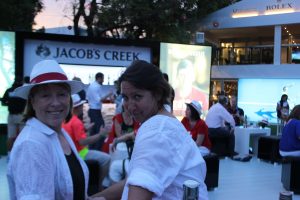 On the grassy area, the South African winery, Jacobs Creek, sets out tables and offers snacks, wine, and free hats.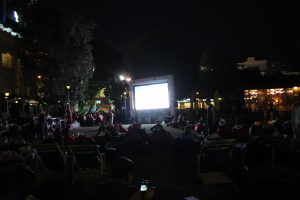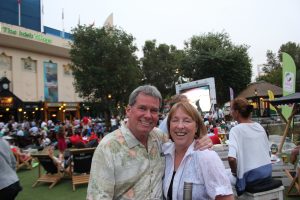 You can enjoy conversation with your friends and keep track of matches on the big screen.
With so much happening, is Dubai safe?
Street crime is low. You can walk alone at midnight or use the metro or Uber to get around. Of course, you have to follow the laws. There is zero tolerance for driving under the influence or for heavy-duty PDA.
Neither terrorism nor gun violence has been a problem even though Dubai is in the center of a hot triangle, with Yemen, Saudi Arabia, and Iran at the corners. One afternoon this February, I turned on CNN. The screen lit up with stories about shootings and other violence in the US. There I was in the Middle East, having the time of my life, feeling completely safe and unafraid. Go figure.
The Urgency
I am truly grateful for having had the opportunity to live in another country. I know a lot of people don't have the situation where they can pick up and move overseas. But if you do, consider it carefully. As my son says, you learn something new everyday.
---
Feature photo from Gilles Messian, "Souq at Madinat Jumeirah" posted at Flickr in Creative Commons
For more photos from my trip, follow the Facebook link below.