Utah should be on every nature lover's bucket list. The rock formations, the colors, the weather, the hiking. Nothing like it anywhere else in the United States.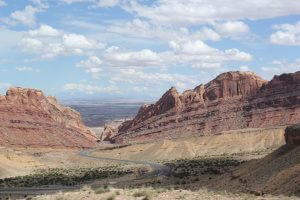 And there's more than the national parks to enjoy. Just driving along I 70 is magnificent. We spent hours pulling off the road on our way to the actual National Parks near Moab.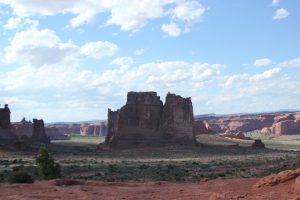 When people are asked why they seek out the National Parks, many say they like the solitude. National parks are huge. Usually you can separate yourself from the masses to quietly ponder the wonders of nature. But not right now. That's why I advise you to wait until the crowds dissipate. Until you can experience the true feel of the place and know what attracted the pioneers 100 years ago. Until you can see features like Old Faithful (not in Utah but on our trip) without viewing them through a forest of selfie sticks.
Around the tenth of May, Arches and Canyonlands were starting to get crowded. It was hard to get a photo free of tourists. Okay, I admit that these tourists didn't ruin too much of my photo, but if I'd gone this week, I wouldn't have gotten a good photo at all.
If you must see Utah now, plan your viewing and hiking for dawn or dusk.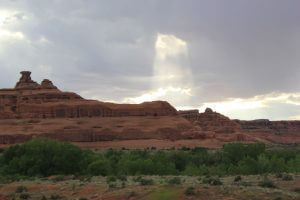 Even in early May it was getting hard to drive along Arches' narrow road without suffering the whims of the RV driver four vehicles ahead. So on day two we decided to combat this and visit from five o'clock to sunset. The red rocks are stunning at in the evening.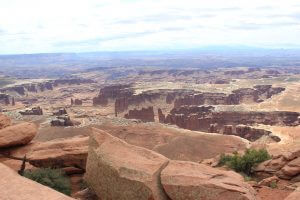 On day three, we arose very early and drove to Canyonlands, not that far from Moab. We were able to get a good feel for the park before the first ranger talk at 10:30.
Closer to Memorial Day, the crowds were beyond my toleration, and they're just going to get worse now that Memorial Day has kicked off the summer travel season.
Between the lower gas prices and the recently booming economy of China, which sends plane-loads of new tourists every day, summer travel routes in Utah will be jammed. Plus the hotel costs have already skyrocketed. On May 22 we easily found a hotel for $101. On Memorial Day, Trip Advisor sent us a blurb about hotels in the same town, and they're all booked right now at inflated prices.
If you must see Utah in the summer, book attractions early.
Certain special events book up early. If you're going to the Grand Staircase-Escalante area on the Utah/Arizona border, and you've always dreamed of walking The Wave (photo above), too bad. It's booked through September. One thing you can do is go to the Tourist Office in Kanab, Utah. Enter the drawing for cancellations and hope to be one of the six or seven lucky people out of 60 who show up at 9:00 a.m.
Even Spring Break time in Utah can better than summer.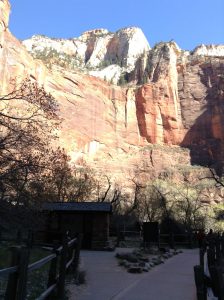 Two years ago I visited the southern Utah parks in March. The timing was perfect. We could still find parking at the trail heads, like this one in Zion.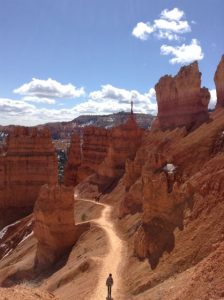 The paths were clear, like this one in Bryce.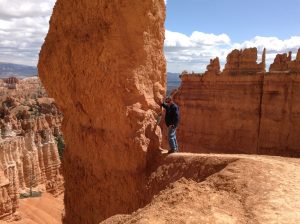 If you were crazy, you could walk out on a cliff without fear of being pushed off.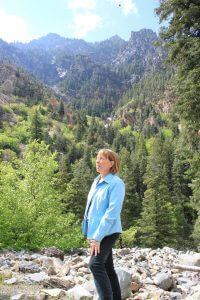 You could stop and listen.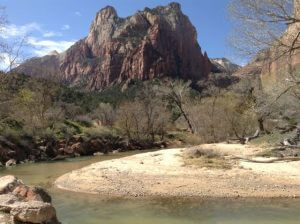 You could hear the water running in the canyons.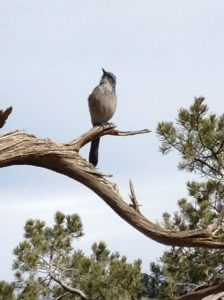 You could hear the birds chirping in the trees. Jays were everywhere.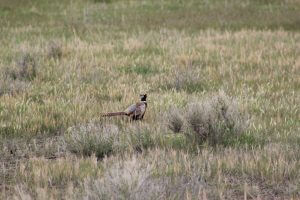 You could stop and watch the wildlife without some unsuspecting and noisy person scaring it away.
Mind you, it wasn't all perfect. The upper reaches of Bryce were rather cold and windy, but the beauty was still wide open.
The Urgency
Today I urge you to be patient. To plan a visit that gives you the optimum Utah Park experience.