What paints a more idyllic picture of America than summer, brass bands, and free outdoor concerts? Below, Guest Blogger, Dave Hermetet, will have you running to mark your calendar.
Great American Brass Band Festival
If it's the first weekend of June, it must be the Great American Brass Band Festival in Danville, Kentucky.  2016 marks the 27th running of this free four-day festival celebrating brass band music in all its many forms. This year's theme was Harry James, and the Headliners included four trumpeters–Phil Smith, Vince DiMartino, Gabriel DiMartino, and Rodney Marsalis–plus trombone player, Wycliffe Gordon.
Thursday at the GABBF: Brass, Bourbon, and Tea
Because Danville is situated near the end of the famous Bourbon Trail, the festival begins with a Bourbon and Brass Distillery tour running all day Thursday. This is your chance to pick up a rare $250 bottle of Pappy Van Winkle Bourbon, prized by many but consumed by few.
Abstainers can find  a Chautauqua Tea Party held at a local church in late afternoon.
The first evening features a brass band concert during the gallery hop and a swing dance at the library if you're "In the Mood."
Friday at the GABBF: Jammin' on the Square
Another distillery tour starts on Friday morning before music begins at noon on Constitution Square.  Mid afternoon opens the jam session, a blast for any brass instrument player, amateur or professional.  This year, a New Orleans Jazz band led the session and invited other musicians to take turns soloing on famous Dixieland tunes, such as "Basin Street Blues."
At 5:00 a New Orleans band leads the audience in a traditional New Orleans "second line" parade from Constitution Square to Weisinger Park.  The band starts with a slow, somber, dirge, "Just a Closer Walk with Thee" (first line), before breaking into a rollicking "second line" Dixieland tune with the audience dancing behind the band. The parade ends at the courthouse, which served as the Union Headquarters and field hospital for the Battle of Perryville in October of 1862.
Friday evening ends with performances at Weisinger Park, the Shaker Village (8 miles north of Danville), and the Beaumont Inn in Harrodsburg, the oldest city in Kentucky.  From the airport south of town, hot air balloons launch in the evening, weather permitting.
You won't go hungry. Food and drink vendors line Main St. and Constitution Square.  They move to The Centre College campus for Saturday and Sunday.  Food includes BBQ and many Cajun staples.
Saturday at the GABBF: The Great Parade and More Brass
Saturday begins bright and early with concerts and then an 11:00 AM parade. Past parade grand marshals have included John Phillip Sousa III, Doc Severinsen, and Vincent DiMartino.  Every year the parade includes the Circle City Sidewalk Stompers  clown band, as well as other bands, old cars, Shriners, horses, and dancers.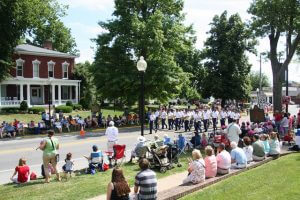 After the parade, music continues until 11 PM, first at Weisinger Park and then on the main stage of Centre College.
Sunday at the GABBF: Battle of the Bands and the Grand Finale
Sunday begins with a brass music church service followed by concerts until 4:00 PM. This year a "Battle of the Bands" pitted a Confederate reenactment band, Saxton's Coronets from Kentucky, against the Union's Wildcat Regiment Band from Home, Pennsylvania.  Both bands played authentic period instruments and wore full Civil War uniforms, Confederates in Red, Union in Blue. Spoiler alert: The battle ended in a draw.

This year's finale featured one the of the best bands on the planet, the US Army Band, Pershing's Own,  from Washington, DC.  They played every style of music from classical and patriotic to opera and show tunes. The band included two outstanding vocal soloists. They ended the festival with "Stars and Stripes Forever," complete with a four-piccolo solo.
Here are some tips if you plan to attend next year:
June weather is iffy. Be prepared for anything.
Most venues require that you bring your own chair.  
Book your hotel early if you want to stay within a 30 mile radius.
If one of the bands plays "My Old Kentucky Home," it is customary to stand.
If someone asks you if the correct pronunciation of Kentucky's capital  is "Louie-ville" or "Lewis-ville," the correct answer is "Frankfort."
Danville went wet only 8 years ago after nearly 80 years of being a dry city.  After all, Carrie Nation did grow up just outside Danville.
Even though this unbelievable festival is free, I don't mind selling you tickets if you prefer to pay.
The Urgency
As Dave says, hotel rooms go fast, so book early.
---
The feature photo was taken by Jennifer Lafayette and is available on creativecommons.com/flickr