How many of your friends come home from Italy and rave about Matera? It wouldn't have been on Guest Blogger Helen Henry's itinerary if a friend hadn't suggested it. And now she and husband, Hank, are telling everyone, "You have to see Matera."
Matera is a fascinating ancient stone city.
Aside from Petra in Jordan, Matera is the oldest continuously inhabited settlement in history.  Known as "la Città Sotterranea" (the Subterranean City), Matera has an historical center called "Sassi," a word, like Petra, which translates as stone.
During the Paleolithic period (@15,000 BC) people of Matera used Iron and Bronze-Age tools to dig homes from the sand-colored volcanic limestone, called tufa. The construction technique is described as "architecture in negative," i.e. the process not of building, but of removing matter from the rock.
Matera's living conditions were harsh for centuries. Life was compact, tough, and unhealthy. Until the 1950s, families lived in cave homes without running water and electricity. Malaria was a huge problem, as was the 50 % infant mortality rate. Worse yet, large families shared small cave dwellings with their donkeys and chickens. It wasn't until 1952 that Italy passed a law forcing Matera's dwellers out of the Sassi, resulting in the resettlement of 15,000 people.
What remains are layers of rustic, monochromatic dwellings that climb the hillsides of Matera.
Miles of narrow stairways, and grooved cobblestones wind through the historic area of dwellings and "rupestrian" (cave art) churches. Frescoes at various levels of restoration decorate the walls of some 150 churches.
With its slippery stone stairs, Matera is not for people with weak knees or hips.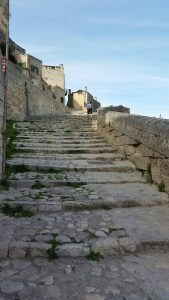 In 1993 the area was declared a UNESCO World Heritage site. Its popularity has led to the conversion of old dwellings into new restaurants and boutique hotels. We stayed at the Caveoso Hotel, which features a few "cave" rooms but most with windows and even a few outdoor terraces.
The breakfast room gave me the feel of cave living, but being claustrophobic, I preferred my room with the view from its narrow terrace, looking out at the rupestrian church of Madonna di Idris.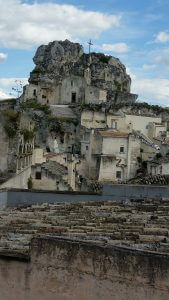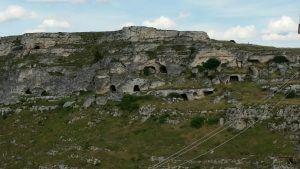 We also had views of the paths and caves in a small ravine called La Gravina, which is part of the 7000-hectare Murgia Materana Nature Reserve, where flocks of swallows and swifts dart through the air.
One three-hour hike took us down to the stream, across the suspension bridge, and up the other side with views of the old city and peeks into caves where we could see carved niches and mangers.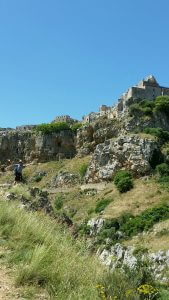 The return trip was followed by a lovely rustic lunch of beer, local soup of potatoes, beans, lentils and "grass peas," something like black-eyed peas without the black eyes. And the best bruschetta of our trip!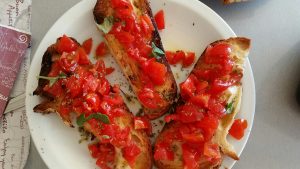 Getting to Matera
From the Naples train station, we boarded a comfortable "Flix Bus" and for four and a half hours rode through acres of wheat, olive trees, and wind farms. Finding out if Matera had more than one stop required some Italian, which we didn't have. Because we were not able to question the driver, we ended up dragging our bags for an hour to get to the Caveoso Hotel. But at least we can say we saw modern Matera on our quest for the Sassi.
If you want a preview of Matera's Sassi, watch Mel Gibson's 2004 film, The Passion of Christ, which was shot in Matera. But then put the old city on your travel list. It's hard to find such a unique blend of man's relationship with history and nature.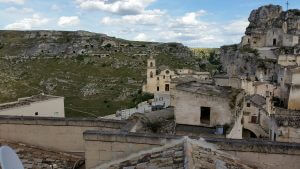 ---
Feature photo from Flickr, by Ben K. The old Mountain Town of Matera