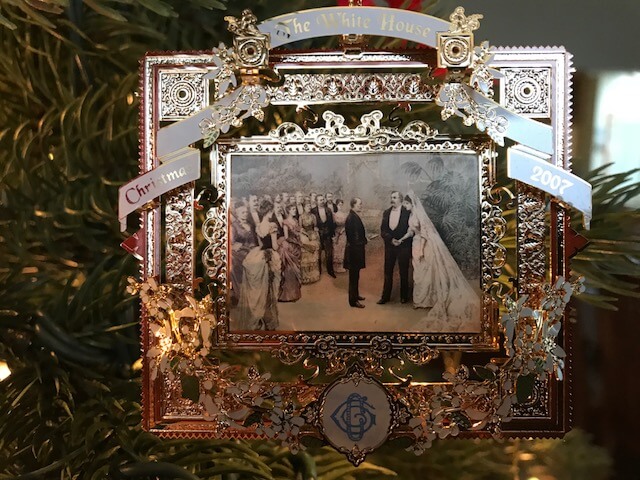 A Post-Script on Ornaments
If you saw CBS Sunday Morning, you saw some of the ornaments I posted last week. (Click on ornaments for the link)
So, Nancy Reagan had the idea to sell the White House ornaments to fund the White House Christmas tree. Now that's a responsible First Lady.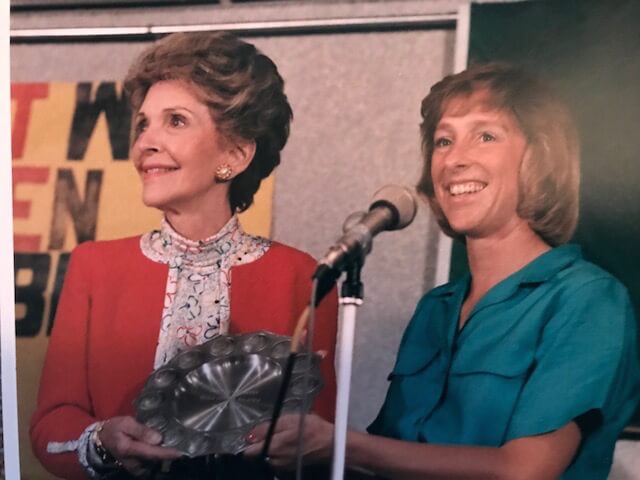 Merry Christmas, Happy Holidays, Happy New Year.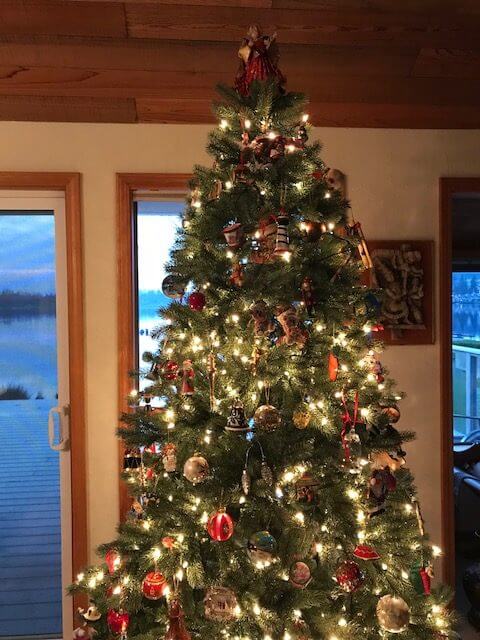 Now that our careers in the Foreign Service are over, we relive Christmas memories through our decorations. Unable to fly home at Christmas, we enjoyed Christmas around the world.
Turns out, Santa Claus has several different names. In the Czech Republic, St. Nicholaus is the traditional gift bearer and arrives on his own day, December 5. I found this carving in Prague,1982, while the regime was under communist rule. My friend, Dottie, and I shopped under the careful watch of a government tail.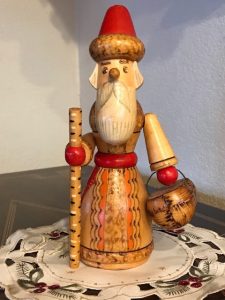 In the Netherlands, Sinterklaas travels the country with Zwarte Piet (Black Peter) trying to learn who's been naughty or nice. He treats good little boys and girls on December 6. This ornament is from Delft. Blue and white, of course.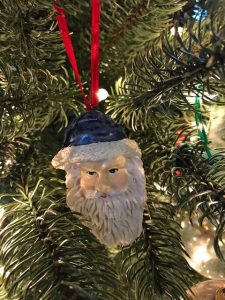 My favorite Christmas store in Europe is Käthe Wohlfahrt, an ever-expanding shop in Rothenburg ob der Tauber (northern Bavaria). The business began by making music boxes and became popular when discovered by U.S. troops stationed in Europe after WWII. They expanded to wooden ornaments. My sons liked nutcrackers and trains, so, voilà.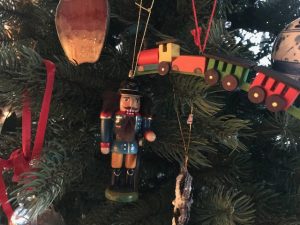 Soon enough, Käthe Wohlfahrt began to sell the ever-popular nutcracker—in every genre you can imagine. When the mines were failing, nutcrackers were carved by miners as the only gift they could afford to give. They were first sold at the famous Nürnburg Christkindlmarkt in 1699. When we lived in Germany, our first nutcrackers were traditional. But when we returned to Rothenburg on holiday many years later, my sons wanted to recognize my love of Shakespeare with this piece.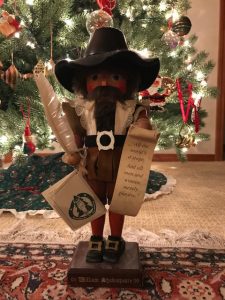 Brass ornaments are also popular throughout Europe so we bought one of the historically restored downtown Frankfurt Rathaus to remind us of our hometown.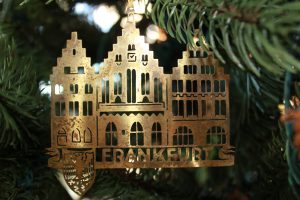 The mother of all German Christmas markets is in Nürnburg, where we had to buy a famous Nürnburg Angel in 1980.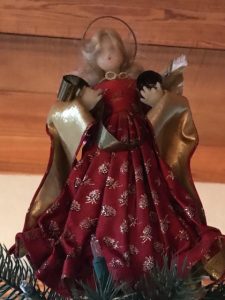 Christmas in Denmark was another delight. The most unusual tradition is the business Christmas lunch where if a man wears a tie, it will be cut off. Georg Jensen makes the most fantastic brass ornaments, which I have collected since 1991.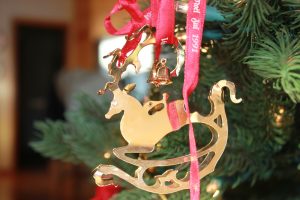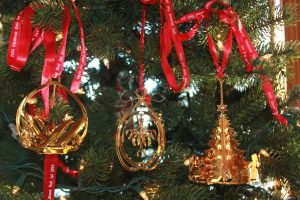 Danish ornaments include a lot of cut paper, some of which they hang in windows. My window decorations have all disintegrated, but I still have a small replica tree ornament.
Nao is a brand of the Lladro made in the City of Porcelain in Spain. I prefer it to the traditional Lladro because of its simplicity and sleek lines. I have had this lovely creche since 1981.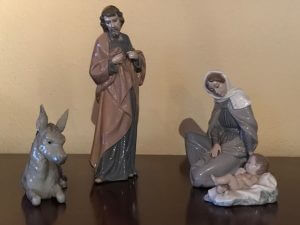 Poland, a very Catholic country, is well known for their painted Easter eggs. (I have a whole Easter tree full.) I found their wooden Christmas ornaments to resemble those eggs. 2012.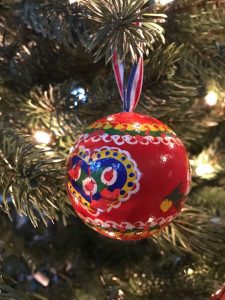 I tried to get to Iceland weeks before the frigid winter set in. There I was reminded of their pride in the Vikings as strong as in other parts of Scandinavia.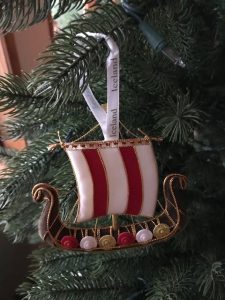 We spent many a Christmas in Africa, where there was no shortage of Christmas treasures. This baobab tree from Johannesburg, South Africa is a delight strewn with African beads and hung with safari-animal ornaments.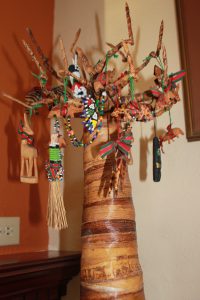 Ghana is famous for Kente cloth, large tribal robes made of strips of woven textile. I asked a Kente weaver to make me a single strip with Merry Christmas woven into it. On either side of the words is an Ashanti stool, a famous symbol of royalty. According to legend, the stool descended from the sky and landed on the lap of the first Asante king.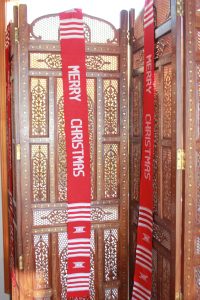 Indians are famous for their lacquerware, so I bought several Indian bells.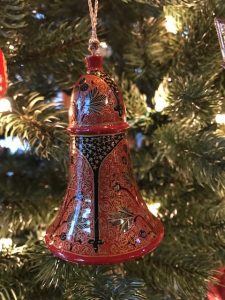 Two of the most beautiful places to be at Christmastime are Singapore and Hong Kong. The Chinese go all out for the holidays and leave the building decorations up through Chinese New Year in February. Singapore features lights and Hong Kong hangs huge paper cuttings from tall buildings, with the pieces (cut like row after row of bangs) fluttering in the breeze. I bought these sequined ornaments in 1988.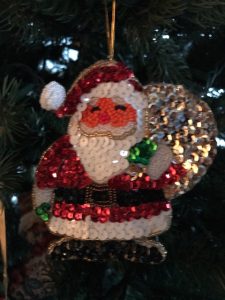 Back in the US, we have special ornaments, too. Since we first went to Washington, D.C. in the 80's I have collected the State Department, White House, and Kennedy Center Ornaments. The Kennedy Center is beautiful during the holidays.
Hope your holidays are full of wonderful memories, too.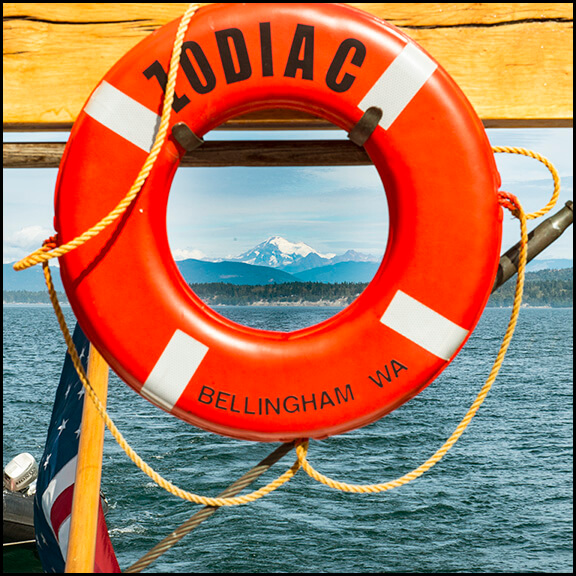 If you're a book lover intrigued by sailing or a sailor intrigued by books, check out Books A' Sail. Each September, Schooner Zodiac and Village Books team up for a three-day adventure, which casts off from Fairhaven in Bellingham, Washington and sails through the San Juan Islands National Monument. Only the wind knows in advance where the schooner is headed.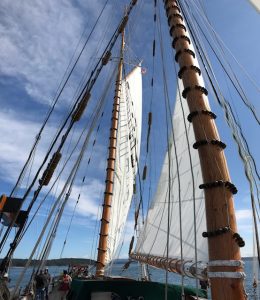 Paul Hanson and Kelly Evert of Village Books guide the literary journey. They bring a famous author to discuss the writing life by night and perhaps join passengers learning the ropes of schooner sailing by day. This year's author, Jim Lynch, came with his lovely wife, Denise, and shared insights into his thought-provoking new novel, Before the Wind.
Having already read the book, passengers dove into a number of stimulating topics. One was the novel's Johannssen family. Like them, some of us passengers grew up in sailing families and recognize the highly-motivated father, struggling to keep his boat business afloat and his "total mess of a family" together to crew one last great race, the Seattle to Victoria Swiftsure.
Of course, since we saw our families in the book, we asked if Jim's family was there, too. He admitted to one member, the kindly old grandfather, anchor of the clan. But I suspect the well-intentioned Josh Johannssen is endowed with Lynch-family genes as well.
Another discussion focused on Einstein, who was himself a sailor. Through Before the Wind as well as the companion book, Einstein's Dreams, the second evening saw passengers delve into the concepts of time and space, as well as the physics of sailing.
On day three, Zodiac first mate, Sam—the most charming Scottsman you'll ever meet—led a discussion on the book, Tides, a topic increasingly important to us student sailors as we tried to navigate the Salish Sea.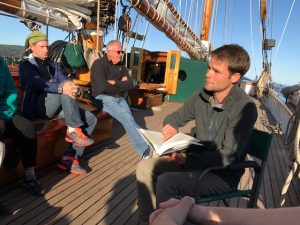 While aboard the Schooner Zodiac, you are sailing on a piece of history, commissioned by the Johnson and Johnson family in 1924.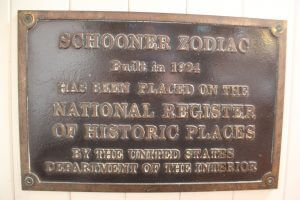 As such, the schooner requires a crew much larger than the eight or nine regulars. Therefore, Captain Tim offers a "gentle invitation" to participate in as much or as little sailing as you want.
Our fellow passengers were not only interesting but, for the most part, a willing, hardy lot and accepted Tim's challenge. Everyone participated in the rotation assignments.
Step One: Go to the chart room and learn about the tides and currents in the Salish Sea.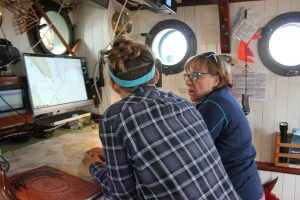 Step Two: Go to the helm and learn how to wrestle with the winds, tides, and currents.
Step Three: Go to the bow and be on the lookout for logs, other boats, whales, and porpoises (or were those dolphins?) Check, check, check, and check.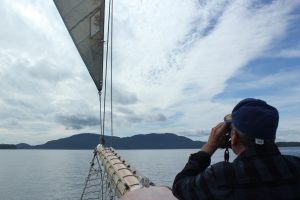 Step Four: Relax in front of the helm, enjoy the view, and relay messages to the captain.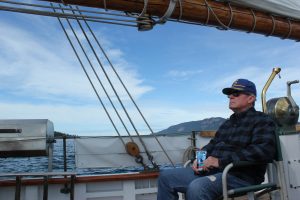 If you really want to stretch yourself, you can join a team to be in charge of one of the four sails. This is my team, assigned to the mainsail.
Hoisting the sail.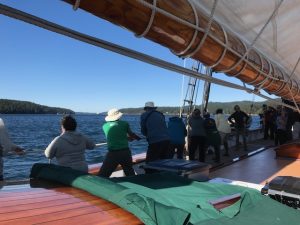 Finishing off the hoist.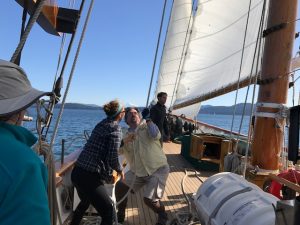 Striking and flaking the sails.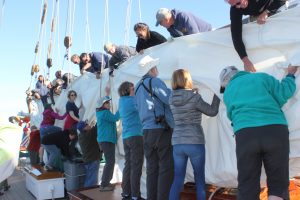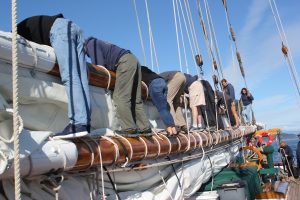 While our ports of call were Lopez Island and Friday Harbor, those may not be yours. So much depends on the wind. While you are moored or on break, however,
you can kayak,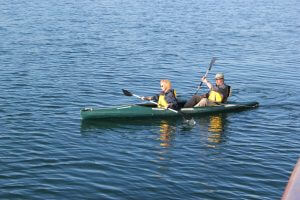 Make new friends with some fascinating characters,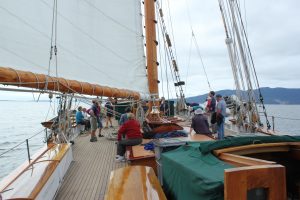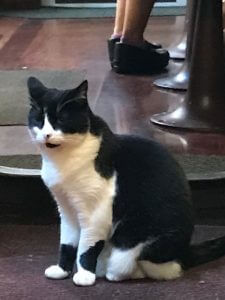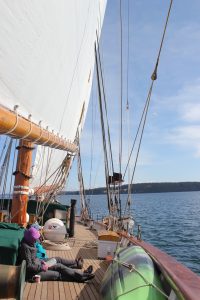 or relax.
The only guarantee on this trip is that wherever the Schooner Zodiac goes, your surroundings will be stunning. In spring, summer, or fall, few places on earth are as beautiful as Puget Sound.
_______________________________________________________________
Feature image courtesy of Jack McBride@ McBride PhotoGraphics