Haven't been to the Southeast for twenty-five years. This April/May it was time to go back.
When you think about the Southeast your mind conjures up beautiful beaches: Ft. Lauderdale, Daytona, "Where the Boys Are." You've been there. I'll get to the beaches in Part Two. First I want to talk about the surprises we found driving south from Savannah to Key West and beyond, then cutting across the Everglades to drive north along the Gulf Coast.
Birds
Harris Neck Wildlife Refuge
Birders are always on a quest for firsts. Harris Neck Wildlife Refuge did not disappoint. Just south of Savannah we made an unplanned stop at this small reserve. Lucky, too. The wood stork rookery was in full production with hundreds of couples raising their newborn chicks.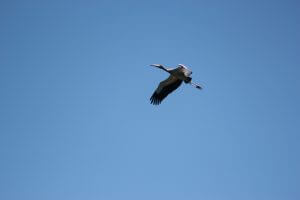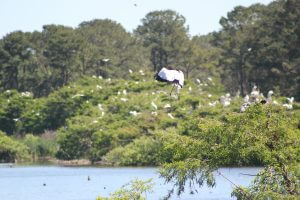 But the best first was the painted bunting. An incredibly beautiful songbird, endangered because of illegal trade and habitat loss.
Canaveral National Seashore
Cape Canaveral is not just for space travel. Along the road look for roseated spoonbills, egrets, herons, and alligators. And along the water, look for Grills Seafood Restaurant. Sit and watch the pelicans diving for fish while you dive into yours.
The Dry Tortugas National Park
This set of islands, dry with no fresh water available, is a seventy-mile boat trip west of Key West, and was the goal and highlight of our trip. Transportation to this The National Park is available through a contractor and includes two meals.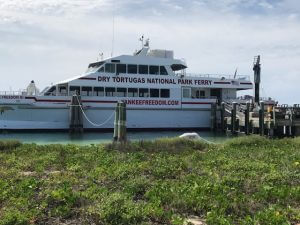 The snorkeling was incredible—especially for me in my new, one-piece snorkel mask. Unfortunately, my underwater camera case didn't work.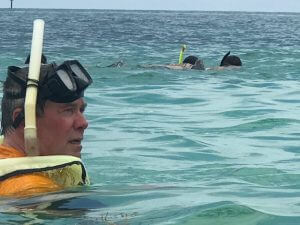 The island is also a bird sanctuary for frigates, sooty terns, noddy terns, and blue-footed boobies. Bush Key was so crowded with birds, it needed air traffic control.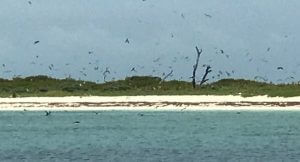 Sanibel Island
On the way north we stopped at J.N. "Ding" Darling Wildlife Refuge, where I saw my first reddish egret.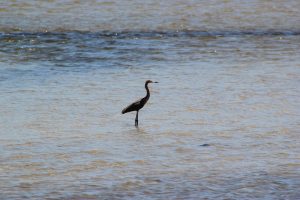 Water Ways
On the first night of our trip, we visited friends east of Savannah and did a sunset cruise through the marshes near Tybee Island. With hors d'oeuvres and wine, we watched dolphins leap, herons wade, and pelicans swoop, as we putted past beautiful homes and rows of docks.
The Intercoastal Waterway only gets more beautiful, the homes more exclusive as you approach Miami. If you're not visiting friends with a yacht, take a water taxi ride from Ft. Lauderdale or Hollywood.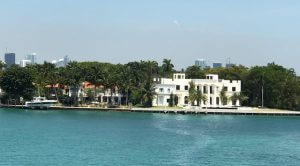 Stop at a restaurant on the water's edge, like Billy's Stone Crab in Hollywood. Go in the spring for Stone Crab season—your taste buds will thank you. And if you're lucky, you'll also see a manatee flap his huge tail as he cruises by. (Too quickly for a photo.)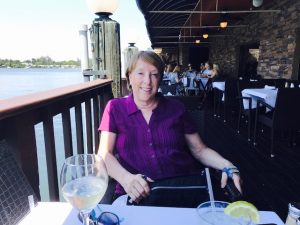 If you're up for strolling the beach in the evening, stop outside Jimmy Buffet's Margaritaville Hotel in Hollywood for live and lively entertainment in the band shell. (Check out the lobby, too. It's a blast.)
History Surprises
Dry Tortugas
Fort Jefferson, a sturdy outpost built on the Dry Tortugas during the War of 1812, ended up holding the Lincoln conspirators. You can see Dr. Mudd's cell. (Did your mother every say to you, "Your name is Mudd"?)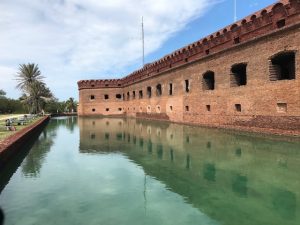 Georgia
In Plains, the Jimmy Carter Museum in his old schoolhouse features a quote from his teacher, Miss Julia Coleman, that inspired him his whole life.
"We must adjust to changing times and still hold to unchanging principles." 
The closest big city to Plains, Americus, Georgia, is charming. We went to the vintage Windsor Hotel, circa 1892.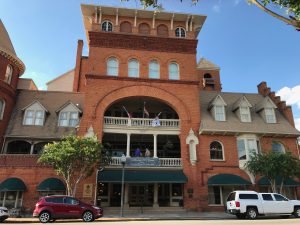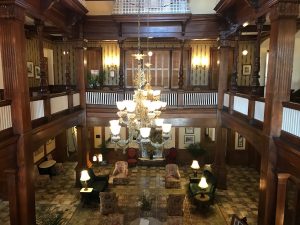 Not only was the meal great with a pork chop stuffed with cream cheese and cherries, but we walked through the historical Lindbergh dining room. Named because in 1923 Charles Lindbergh flew his first solo flight from Americus.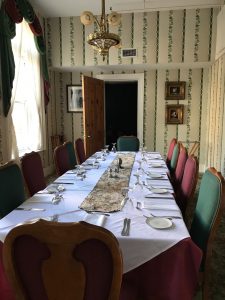 Before flying out of Atlanta, we visited the Martin Luther King sites.
If you have mind to attend the Ebenezer Baptist Church, make sure you dress for it. These parishioners give a new, elevated, meaning to "Sunday Best."