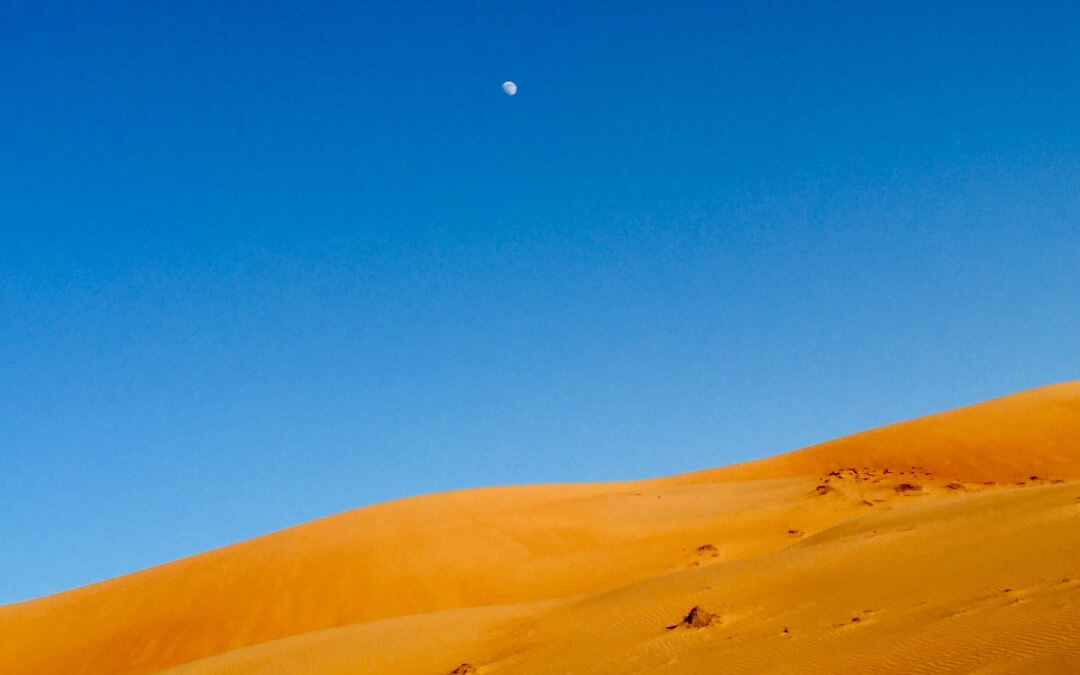 In the past, Oman has been my weekend jaunt, tacked on the back of a Dubai trip. This February, I extended for a fabulous ten days. And I'm now convinced that Oman is the best place for a gentle introduction to the Middle East. Why?
1. Because you are welcome.
The wise leadership of Sultan Qaboos bin Said has created the Arabian Success Story. He manages Oman's prosperity with a generous heart toward the welfare of his people. He models the virtues of openness and respect for all. And when you visit this oasis of tranquility, you will see why the Omanis love their Sultan.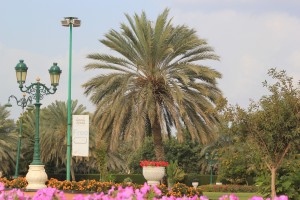 When you enter Qurm Park, you immediately see a large sign that says FREE, which reminds you that you didn't pay to enter. The Sultan wants everyone to have access to Muscat's amenities.
2. Because you meet friendly people.
Unlike Dubai, where the only Emirati you see has just blown past you in his Maserati, the Omani people are everywhere. They speak English, smile and greet you, and answer your touristy questions.
Go to the beach at five o'clock, and you will see friendly soccer games and family gatherings. This father, dressed in traditional dishdasha, leads his hoverboard-propelled son in search of the perfect  spot to enjoy a balmy evening on the beach near the Hyatt Hotel.
3. Because desert camping is epic.

The Arabian Oryx Desert Camp offers family cabins with three air-conditioned bedrooms.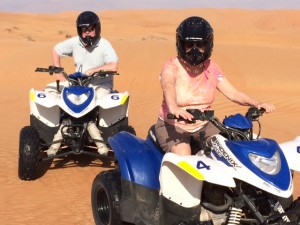 Four Wheeling takes you deeper into the the beautiful, barren desert. What color is sand, really?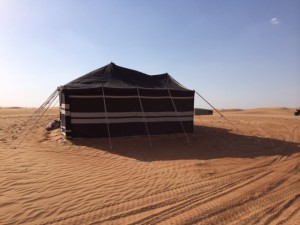 Isolated on the top of the a dune, people drive four wheelers or camels up here to watch the sunrise.

Sand dune sledding at sunset is incredible, even though it was no small trek to race the sun to the top of the dune in order to get these shots.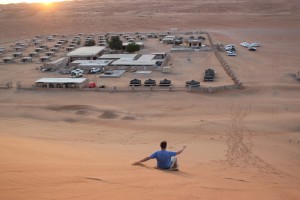 4. Because the hiking leads you through breath-taking canyons and mountains.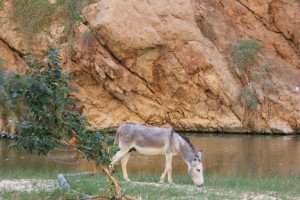 Every Oman travel site recommends Wadi Shab. Yet it's still free, after a 1 Rial boat trip to the trail head. A leisurely stroll beside a lazy stream with grey herons, great egrets and cute donkeys is just a tease. Within minutes, hiking Wadi Shab gets serious. The rust and gold rock walls narrow into a slot canyon and challenge you to climb and scramble over rocks and between boulders for almost an hour till you finally earn a much needed dip in the emerald pools.
As much as you need to watch your step, you must stop and admire the stunning, unspoiled nature along the way, your up-close-and-personal introduction to Oman's rugged geography.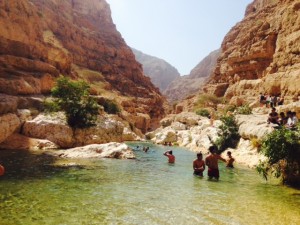 When you arrive at the pools, you shed your hiking clothes on the bank, put your iPhone in a waterproof cover, and swim the rest of the route. Along the way, you pause to watch brave souls jump from cliffs.
Finally you arrive at the cave, where awesome beauty is a well-deserved payoff for your long trek.
If crawling over rocks is not your thing, travel a few more miles down the road to  Wadi Tiwi, where you can drive through a beautiful deep canyon almost all the way to the pools.
But even a leisurely stroll along the Corniche can be very entertaining.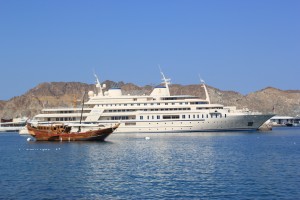 In the harbor sits one of the yachts belonging to Sultan Qaboos. The Al Said is the world's third largest private yacht, able to accommodate 70 guests and 154 crew. In front of the yacht is the royal dhow.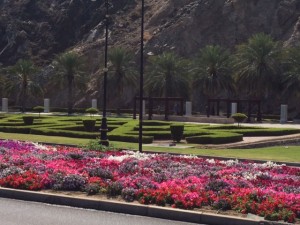 Meticulously landscaped gardens, designed hedges, and topiaries line the other side of the Corniche, which technically is a winding walkway between a waterfront and a steep hill.
5. Because bike tourism is growing.

An Adventure Tourism company brought mountain bikers to overnight at our desert campsite.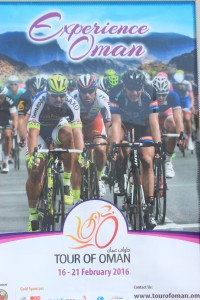 The annual Tour of Oman featured two teams from the United States, as well as the 2014 Tour de France winner, Vincenzo Nibali. It's a grueling course with warm weather and steep hills, and Nibali won again.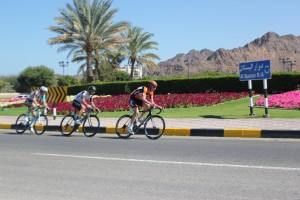 Here we are cheering on the leaders of stage five on the course between the Marina and the Al Bustan Palace Hotel.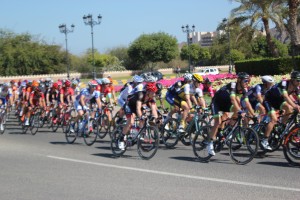 And then watch the rest of the pack whiz by about six minutes later.
6. Because the birding introduces you to species you won't see in the West.
Especially if you come in late summer, and particularly if you fly south to Salalah. Oman has about 525 species of birds, many of which are common only in the vicinity of  West Asia and Africa. We enjoyed watching the the sea eagles, red wattled lapwings and grey herons at the beach, but someday we may fly south to add four other species of heron to our life bird list.
7. Because the culture is interesting yet not overwhelming for the foreigner.
Once made of straw and mud, the Muttrah Souq is Muscat's original market. Today it is a rabbit warren of tourist shops, only crowded when cruise ships are in port. Unlike other markets around the world, the vendors at Muttrah are not aggressive. Most of the products are Indian or are knock-offs. But some traditions live on.
You can still find frankincense as well as frankincense burners and Omani-style gold.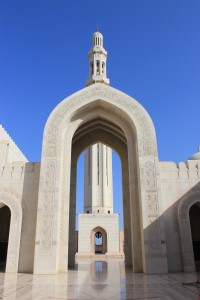 Non-Muslims can visit the huge Sultan Qaboos Grand Mosque (at no cost) on Thursday mornings between 9:00 and 11:00. Less than ten-years-old, it's modern and beautiful. And you'll especially appreciate the fourteen-foot Tiffany crystal chandelier. (See this blog site in March for more information.)
8. Because the beaches are beautiful and entertaining.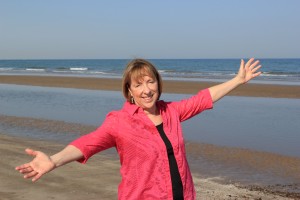 As a matter of fact, there is so much to do at the beach—swimming, snorkeling, diving, cruising, camping, people-watching, birdwatching, dolphin and whale watching, five-star-hotel living—that I'm going to turn that topic into its own blog. For the best part of Oman, you gotta come back here next week.
The Urgency:
Even wonderful leaders like Sultan Qaboos don't live forever. And since he has no heir, it's hard to say what will result when he eventually passes. In addition, the Omanis know that their oil reserve is limited, so they are scrambling to build their tourism industry as an alternate economy when the time comes. At present the oil/tourism partnership is flourishing. So visit Oman now while it enjoys this golden age of peace and stability.
---
For more photos and videos, go to my Facebook page, Nancy Adair Writer.
For a fun video with two young Seattle guys in Oman, link to youtube.
Feature image is from Monica Adair.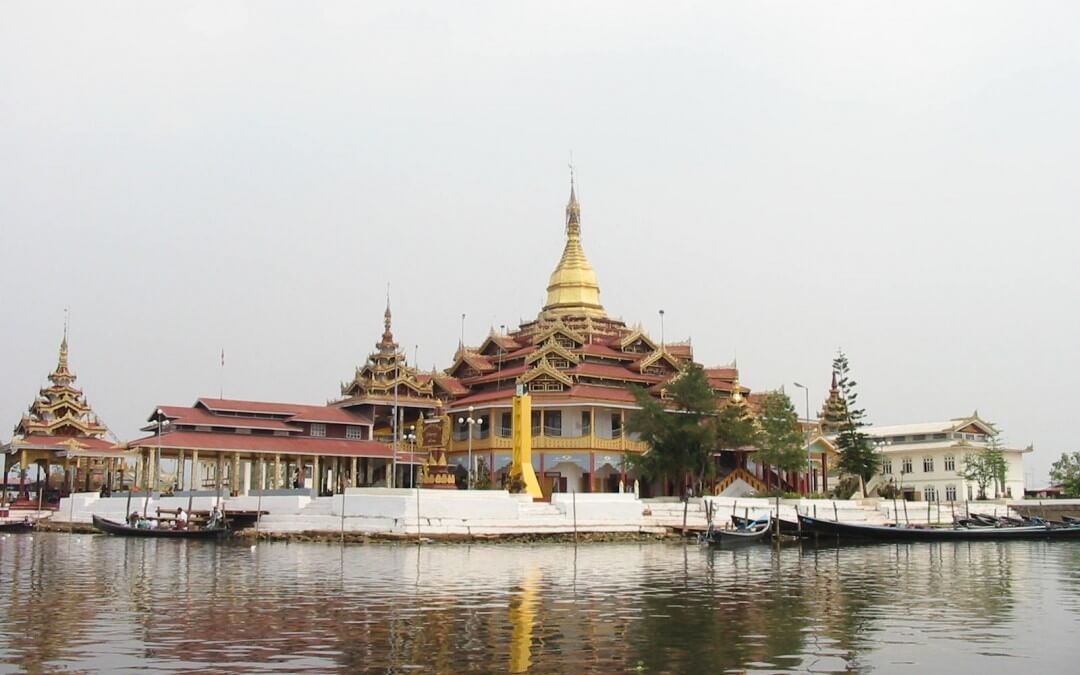 Visit Myanmar while traditional beliefs sustain the peaceful culture
From the moment I landed in Yangon, Myanmar's peace and serenity cuddled me like a babe in loving arms. It's a pervasive spirituality created by the Theravada Buddhist belief in merit. Good deeds and good will increase the amount of merit one earns toward rebirth into a better life. And when 90 percent of a population practices intentional good deeds, a peaceful, nonviolent society results.
Pagodas survive because of merit
On a swelteringly humid evening in April, Southeast Asia's hottest month, our EXO Travel guide met my husband and me at the airport in Yangon (formerly Rangoon). While riding to the hotel we were suddenly mesmerized by the gleam of gold glistening against the night sky. Though tired to the bone, we had to stop.
The Shwedagon Pagoda, Myanmar's holiest shrine, is covered in eight tons of gold and studded with around 2,000 diamonds. And why aren't they stolen? Because dishonesty decreases one's merit.
We entered to join the throng of Buddhists in the midst of a good deed: paying homage to the Buddha by circumambulating the bell-shaped stupa in the ritual clockwise direction. The Buddha did not want anyone to worship his image. But humans need the tangibles, so stupas were erected instead.
Ancient holy sites like Shwedagon survive because people are eager to donate money to gain merit.
Bagan, the Ancient Temple Town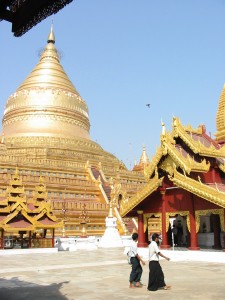 While Yangon has several pagodas, Bagan (formerly Pagan) has thousands. Schwezigon Pagoda was completed in 1086 and contained Buddha's collar bone and tooth. Though many think the relics are gone, people still worship there believing in the sanctity of those holy relics.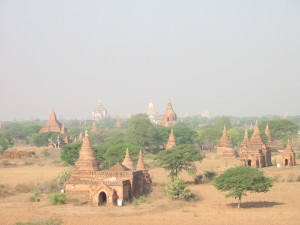 Take a horse-drawn carriage at sunset to view the sixteen square miles of Burmese history or view the landscape from the top of the Shwe San Daw Pagoda. You can see small family pagodas as far as the horizon. Most are made of baked clay bricks; the white ones are covered in stucco. To earn merit according to Theravada, which means "The Doctrine of Elders," people erect and care for pagodas dedicated to ancestors.
Mandalay, the Center of Buddhist Culture and Learning

Another way Burmese love to earn merit is by feeding the monks, who wander through the streets of Mandalay in the morning.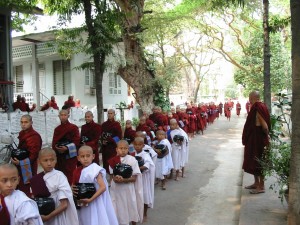 Adult monks are the great activists of Myanmar. They led the 2007 Saffron Rebellion, a peaceful protest against the military junta. Another tool of peaceful protest is to refuse food donations from government officials, which denies (and possibly decreases) their merit.
Inle Lake, the Farm on Water
Buddhists believe in persistence over laziness, and their creative solution to farming, using hydroponic gardens, produces the planet's best tomatoes.
Our boat tour took us through the gardens and then down canals to little villages and markets on stilts. The boat pilot stood on one leg and rowed with the other. His skill earned him a big tip, even though a storm blew up, and he couldn't find the way back to our hotel until he and the guide rowed together.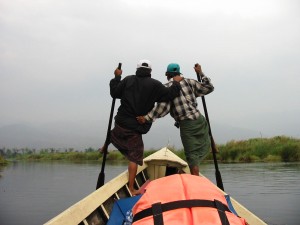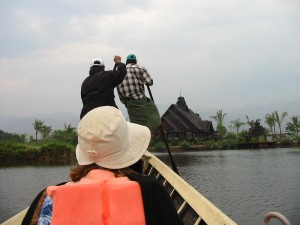 Soaked to the bone, we finally located the Inle Princess Resort, where we wrapped up in blankets, uncorked a bottle of wine, and sat on our deck cantilevered over the water. Suddenly the trees across from us burst into a cloud of white as hundreds of egrets landed, while rick rick ricking to each other until the pink sky succumbed to the darkness.
The new 2011civilian government, Hillary Clinton's landmark visit, and the recent peaceful elections have cranked the wheels of progress. As Aung San Suu Kyi assumes power, the country still feels like old-world Asia, yet my friends who live there have already observed some inevitable changes.
The lifting of Western sanctions has increased business and tourism, which has increased traffic. Progress is bringing prosperity to a formerly anti-materialistic society. New values will arise. Old ones may fade away. Suu Kyi has always been about merit. Will the tradition survive in a new economic reality?
Prosperity tends to bring greed, and greed brings crime. Thefts and attacks on women, unheard of even a year ago, have occurred in Yangon.
The Urgency
At this time all of Myanmar remains incredibly safe. Visit now if you want to see how Buddhism has worked for centuries. Visit now to experience the most spiritual country on earth, just in case progress tries to turn it into something else.
For more up-to-the-minute photo news from Americans living in Myanmar, checkout Cascade Lineback's blog: cassybeetravel.blogspot.com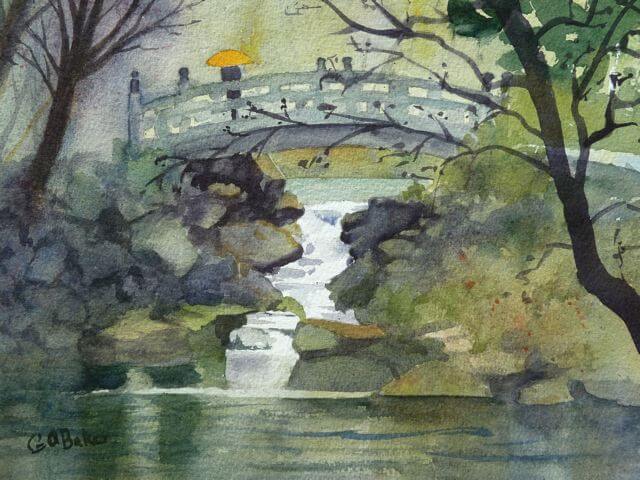 There's something about a bridge that stirs our imagination and sense of awe. There's a history and a connection of two entities. There's a union of masculinity in the iron and stone with a femininity in the curves of arches and filigree. There's pure romance, inviting lovers and children alike to give into fantasy or longing as they watch flowing water rush toward unknown possibilities.
Covered Bridges
I'm drawn to covered bridges, aka "kissing bridges." A stroll inside conjures romantic images of American history, of wagons and buggies rattling along wooden planks, of young men in homespun trousers flirting with young ladies in long gingham dresses, of early pioneers and church socials, of politicians and voter rallies.  The first oil painting my husband and I ever bought was of this covered bridge in Parke County, Indiana.
Train and Boat Bridges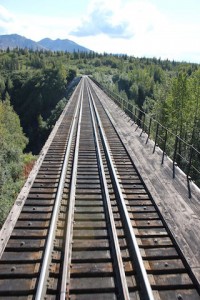 Awhile back my friends and I took the Denali Star north out of Anchorage. Every time we approached a bridge, we rushed like little kids to the back of the caboose to witness the crossing. 
My bucket list includes climbing the catwalks of the Bridge in Sidney Harbour.
European Bridges
If you google "romantic bridges," Venice comes up first. The world paparazzi came out in force and waited along the canals for newlyweds, George and Amal Clooney, to travel beneath the Bridge of Sighs, where a kiss at sunset is supposed to bring lovers eternal bliss.

Another Venetian bridge is in a romantic crisis. Mimicking a scene from Frederico Moccia's 2006 novel, I WANT YOU, couples flock to the Rialto Bridge to lock inscribed padlocks on stanchions, vow eternal love, and throw away the keys. It's romantic, but the rust from the locks is damaging the 400-year-old stonework. The city now fines love lockers €3,000. And the craze is not limited to Italy.

I first saw it three years ago on a bridge connecting downtown Frankfurt with
Sachsenhausen, where love locks have to be removed monthly.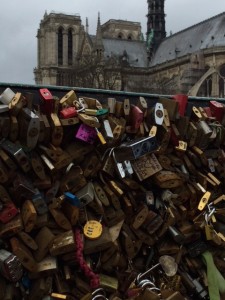 But the disasters are in Paris. Several months ago I took this photo of the l'Archeveche Bridge by Notre Dame. How romantic is this?
Down the Seine, the Pont des Artes suffers. Almost 8 feet of railing has collapsed under the weight. Last spring I saw other bridges with segments replaced by boards, now covered with graffiti. Ugly.
The Pont Neuf is one of my favorite bridges, not only because of the lampposts and sculptures but because of the history:  commemorating a diplomatic alliance between France and Russia. Today it, too, tolerates love locks, barely. 
Locks are so ubiquitous that you may be surprised by the extreme outrage the French expressed to finding only a single love lock on Pont Alexander III.
As you can see, its works make locking impossible, so one clever couple put their lock on a statue at the end. I didn't get a photo, but I can guarantee you the French screamed, "Vandalisme!" How dare someone deface art!
Bridges are built to be strong and permanent. They are meant to last— longer than the relationships locked to their rails— so we can't let love bring them down. Bridges are works of art in themselves and are innately romantic. Cheap metal padlocks diminish both attributes.
To all the lovers out there, travel the world, pledge your love on a romantic bridge, but seal it with a kiss, not a lock. Save the romance of the bridge for future lovers.