There's something about a bridge that stirs our imagination and sense of awe. There's a history and a connection of two entities. There's a union of masculinity in the iron and stone with a femininity in the curves of arches and filigree. There's pure romance, inviting lovers and children alike to give into fantasy or longing as they watch flowing water rush toward unknown possibilities.
Covered Bridges
I'm drawn to covered bridges, aka "kissing bridges." A stroll inside conjures romantic images of American history, of wagons and buggies rattling along wooden planks, of young men in homespun trousers flirting with young ladies in long gingham dresses, of early pioneers and church socials, of politicians and voter rallies.  The first oil painting my husband and I ever bought was of this covered bridge in Parke County, Indiana.
Train and Boat Bridges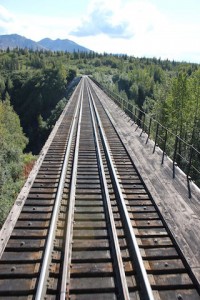 Awhile back my friends and I took the Denali Star north out of Anchorage. Every time we approached a bridge, we rushed like little kids to the back of the caboose to witness the crossing. 
My bucket list includes climbing the catwalks of the Bridge in Sidney Harbour.
European Bridges
If you google "romantic bridges," Venice comes up first. The world paparazzi came out in force and waited along the canals for newlyweds, George and Amal Clooney, to travel beneath the Bridge of Sighs, where a kiss at sunset is supposed to bring lovers eternal bliss.

Another Venetian bridge is in a romantic crisis. Mimicking a scene from Frederico Moccia's 2006 novel, I WANT YOU, couples flock to the Rialto Bridge to lock inscribed padlocks on stanchions, vow eternal love, and throw away the keys. It's romantic, but the rust from the locks is damaging the 400-year-old stonework. The city now fines love lockers €3,000. And the craze is not limited to Italy.

I first saw it three years ago on a bridge connecting downtown Frankfurt with
Sachsenhausen, where love locks have to be removed monthly.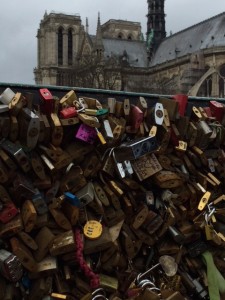 But the disasters are in Paris. Several months ago I took this photo of the l'Archeveche Bridge by Notre Dame. How romantic is this?
Down the Seine, the Pont des Artes suffers. Almost 8 feet of railing has collapsed under the weight. Last spring I saw other bridges with segments replaced by boards, now covered with graffiti. Ugly.
The Pont Neuf is one of my favorite bridges, not only because of the lampposts and sculptures but because of the history:  commemorating a diplomatic alliance between France and Russia. Today it, too, tolerates love locks, barely. 
Locks are so ubiquitous that you may be surprised by the extreme outrage the French expressed to finding only a single love lock on Pont Alexander III.
As you can see, its works make locking impossible, so one clever couple put their lock on a statue at the end. I didn't get a photo, but I can guarantee you the French screamed, "Vandalisme!" How dare someone deface art!
Bridges are built to be strong and permanent. They are meant to last— longer than the relationships locked to their rails— so we can't let love bring them down. Bridges are works of art in themselves and are innately romantic. Cheap metal padlocks diminish both attributes.
To all the lovers out there, travel the world, pledge your love on a romantic bridge, but seal it with a kiss, not a lock. Save the romance of the bridge for future lovers.