All Are Welcome
As the country celebrates the life of President George H.W. Bush, I am down in Texas learning about the life of  President Lynden B. Johnson.
My impression of George Bush, 41, was set years ago by knowing people who loved working for him. My impression of LBJ, however, did not gel until this week while visiting the LBJ National Park near Fredericksburg, Texas, and the LBJ Presidential Library in Austin.
As I drive between LBJ venues, the car radio plays interviews of President Bush's friends extolling his virtues. The superlatives are so similar to those once heaped upon LBJ, I am starting to confuse these men. Yes, yes, I know LBJ was liberal and GHWB was conservative; LBJ was gruff and earthy while GHWB was genteel. At the same time, they were both Texas statesmen, giants of American politics, competitive yet humble, successful yet unpretentious. Most importantly, they both risked their political careers for the needs of the country.
"All are welcome" is a mantra for both men. This family value went into planning the Bush funeral, where eulogizers shared stories of warm welcomes at the Bush home. It was also the Johnson family code in Washington and at the Texas White House, which was expanded to the side and back to accommodate all the guests.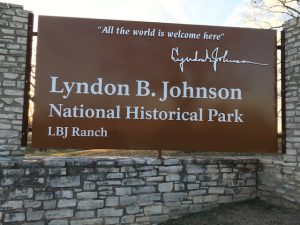 Instead of a guest book, President Johnson had people engrave their names in Friendship Stones, which he placed about the property.
The Great Society
Guess a lot of presidents like to use the word, great. With help from Lady Bird, LBJ focused on the environment and the arts.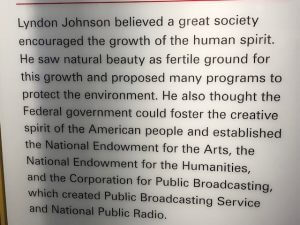 Civil rights
After college, LBJ taught at an integrated school, which was an eye-opener. Raised by a college-educated mother who promoted reading and in a home with a telephone, radio, and car, LBJ soon realized how difficult it is for poor students to succeed when their lives are in turmoil.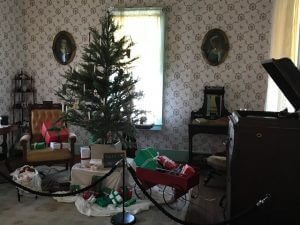 Early on, LBJ dedicated his political career to erasing poverty through equalizing education opportunities and through other social programs. The Presidential Library in Austin exhibits long lists of goals and accomplishments.
Soon after President Johnson introduced the Civil Rights Act of 1964, Citizen Bush launched his political career and came out against the 1964 Act. USA Today Reporter Monica Rhor writes that Bush's position was surprising because his father, Senator Prescott Bush, "worked to desegregate schools and protect voting rights" (Dec./2018). President Bush eventually changed his stand and apologized to those he may have offended. He, like LBJ, did not like to put his personal politics above country.
As stated at Bush's funeral, he was a man of courage. So was Johnson. As a matter of fact, his library gives you the opportunity to tell him what you think.
Two great men have now passed on, but the National Parks and the Presidential Libraries keep their accomplishments alive. God bless the United States of America. God save the National Parks.
Next time we visit Texas, we look forward to visiting  the Bush sites.