I have just returned from Peru, a country with a surprise around every bend. I'll tell you about Machu Picchu later. First, let's check out Lima, where you will land. It's a foodie paradise, where world-class restaurants introduce diners to the superfoods of the Amazon rainforest. Book months ahead.
Maido (See #1, Latin America's 50 Best Restaurants)
On our first night in Peru, we went to Maido in Mira Flores. Maido is Japanese for welcome. It's a quaint little place, open to the kitchen with a lovely staff.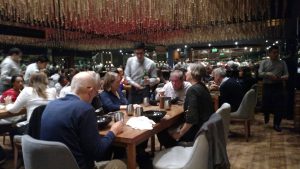 Fusion is my favorite cuisine. Here, the chefs blend Japanese and Peruvian delicacies into an 11-course tasting menu. Only the men in our group ordered the two-hour tasting. Though it offers small bites, it is still a lot of food.
The house specialty is an incredible Beef Short Rib, cooked 50 hours, served with potato cream and cushuro (blue-green alga), but first you must try their Pisco cocktails mixed with various juices.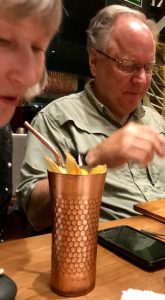 Each beautifully-presented course is a taste-bud surprise, like this appetizer of tomatoes in mirin, roasted banana, sachatomate emulsion.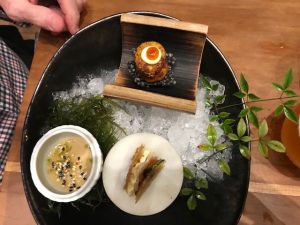 Or this cauliflower cream with torikara sauce.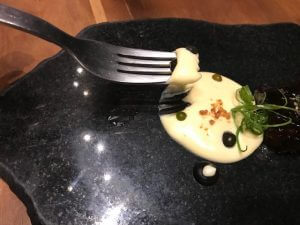 I don't have enough science to know all the ingredients, but everything tasted fresh and healthy.
My single course was this beautiful, unforgettable ceviche.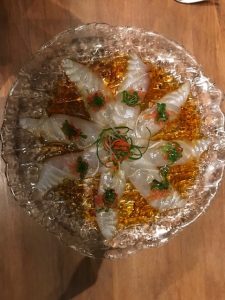 Dessert was to-die-for. First came the Theobroma Cacao: a black sugar volcano holding mandarin sorbet, mucilage foam (from flaxseeds, chia seeds or kelp), cacao nibs, and ice cream made from lucuma, a sweet, Peruvian superfruit, known as the Gold of the Incas.)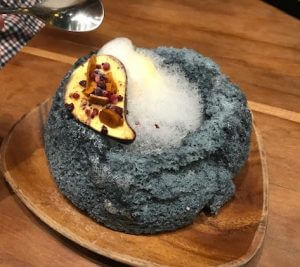 We finished with Theodroma Bicolor: featuring ice cream from macambo (a chocolate-like superfood), camu camu (antioxidant superberries), goldenberry, and mucilage.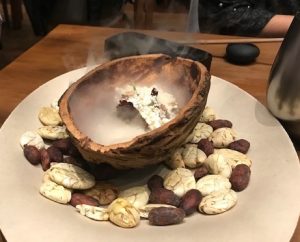 Museo Larco
Enter the museum property and descend into a garden that flows into a restaurant with excellent food. I had ravioli followed by Mousse de Lucuma.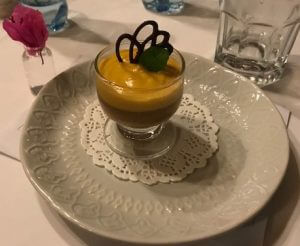 Then tour the museum and learn pre-Incan history through its 42,000 pieces of pottery.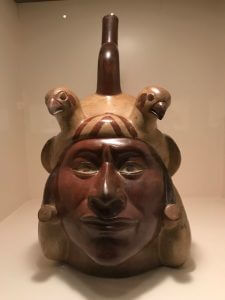 Gastón Acurio is "the architect of the Peruvian culinary movement" and serves dinner in this 300-year-old San Isidro hacienda.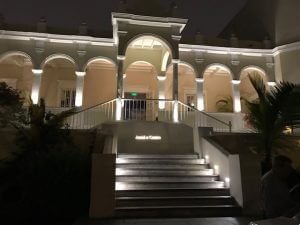 Astrid & Gastón offers a 14-course tasting menu. The food again was delicious, but too much.
I was enthusiastic at the appetizer named "The Indecent Bed, The Forbidden Love," fish empanada, stuffed blue potato with lamb, sea urchin toast.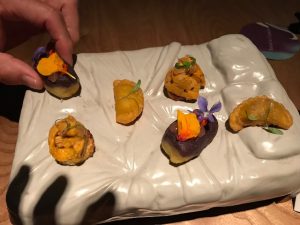 To pace myself, I skipped the Cuy (guinea pig), which everyone else loved.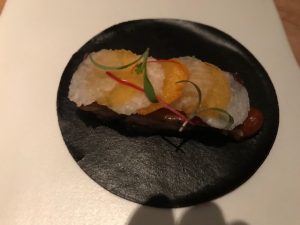 I slowed down at the rabbit in Lima curry and quinua jasmine. And bailed at the beef tongue skewer, but made a comeback for the three desserts.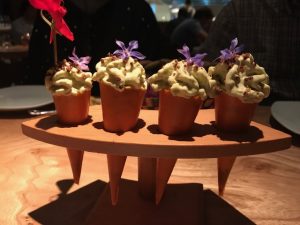 Chicherito: Fermented corn beer sorbet, coca, quinoa and tamarillo (a kiwi-like superfruit).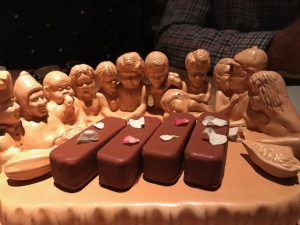 El Cajacho: Cajamarca chocolate mousse, nougat, cacao nibs, yuzu and lemon. The platter, a study in Peruvian expressions, belongs in the Museo Larco.
Elsewhere in Peru, I loved the quinoa, prepared in every which way: salads, soup, porridge, main course side, and more.
When we picked up our tour, the guide taught us a very handy word: yapa, which means "More please."
________________________________________________
Thanks to Jeff Hart for donating restaurant and bread basket photos.