Like the famous Walmart Greeter, Kauai also has its own ubiquitous greeter. Meet him:
You hear the Rooster before you see him.
On the first morning, the greeters welcomed us to their resort. We were surprised and intrigued. I ran outside to see what was the matter. And found the wake-up alarm, just as he escaped into the flowers. Was he shy? Not really, it turns out.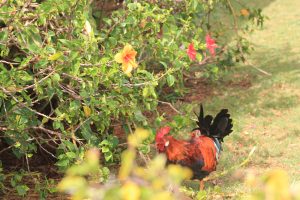 When I boarded the plane in Seattle, I was eager for some awesome birding in Kauai. I never suspected the majority of my time would involve rooster-watching. But what is it that we birders love: the colors and the behaviors.
Just like my favorite Eurasian kingfisher, the junglefowl here has that same iridescent blue on its wings. Contrast that with the reds and oranges, and you are looking at some magnificent feathers.
Kilauea Point Nature Preserve is where birders go first
Here we spent a good deal of time looking up at the white-tailed tropic birds (a lifer, for us),
plus at the frigate birds, red-footed boobies, and Laysan albatross, all drafting on the considerable wind current. (So strong one of my earrings blew out of my ear and took flight.)
We caught a glimpse of the endangered Hawaiian goose—the Nene we missed on the Big Island. But they were soon run off.
And we  found ourselves giving the Roosters on the ground equal time as they wanted us to look at their lighthouse.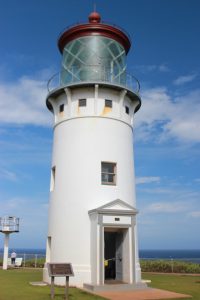 Here, there, and everywhere
Birders consider it a bonus to find a flock instead of a one-off, so we relished the hundreds of boobies and albatross. We saw masses of roosters, too. Although, on Kauai the junglefowl were more of an organized syndicate than a flock.
At the Wailua River Lookout, they were waiting for us, or rather, for our lunch.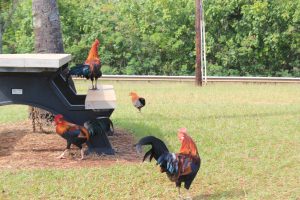 Agitated and pacing, they acted like we had arrived way too late for their liking.
And when our kayaks took us down the Wailau River  the next day,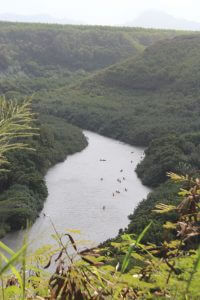 the ever-present curators of Kauai met us at Uluwehi Falls—again at lunchtime.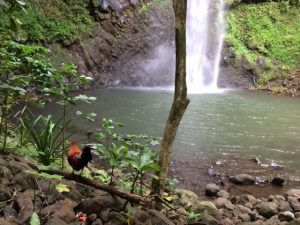 This serene place is also known as Secret Falls—well, secret to almost everyone except … guess who.
The location was closely guarded by the original Kauai royalty, who hid this freshwater source and its massive gardens because they meant survival in case of an invasion by other islanders.Tactics like this are why Kauai retains its pride in never having been conquered.
Roosters welcomed us to their Waimea Canyon. Though only fourteen miles long and one mile wide, Waimea Canyon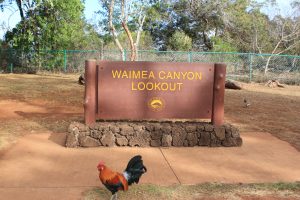 offers breathtaking views that rival the Grand Canyon. Each layer of color represents an era of lava flow.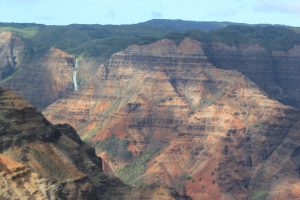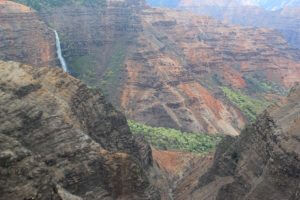 We hoped to spot some lifers in the Arboretum at the end of the Wailua River. On my cell phone, we listened over and over to the call of the laughing thrush. And when we got out of the car, we heard it. Unmistakable. We tried to follow its call, but then the cock-a-doodle-dooing began and threw us off track. Opportunity lost.
After four days in Kauai, were we falling out of love with our hosts.
Kauai's Expanding Population
We actually began to fear a take-over of this island. Roosters have roosted here for over a thousand years, but when they began to breed with domestic chickens, freed from coops after a 1992 hurricane, the population of feral fowl took off.  We secretly began to contemplate their demise. With no natural predator, how could their lot be controlled? 
The original Polynesians brought the red junglefowl to Kauai as game, yet no one eats them anymore considering their diet of bugs, roaches, and scraps. They are tough and stringy. Some compare them to pigeons. 
What about blood sports? We happened to arrive in Hawaii during cockfighting season, which starts the week after Thanksgiving. While we are not annoyed enough to wish that fate on any creature, we got a sneak preview of their tempers while visiting The Spouting Horn. 
Two roosters got into a fight and took it into the bushes, where the screaming was like something out of a horror movie. There were more eyes on the bush than on the Spout.
Though many people evidently get into the action and the betting, cockfighting is a misdemeanor in Hawaii. Yet, according to the local paper, The Garden Island, the laws are lax. However, the authorities are watching, and so the sport will not get out of control enough to curb the expanding population. 
So why does the chicken cross the road?
Because after a thousand years on this island, he thinks he owns it.