Don't let the title fool you. Cascadia, the region including Oregon, Washington, and British Columbia, offers plenty of extreme activities, but there's also no better place to chill and enjoy the simple pleasures of life. This week, my husband and I chose Salt Spring Island for a three-day getaway.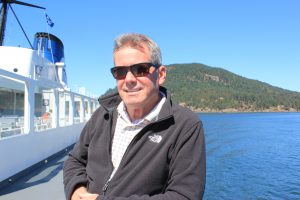 Under bright blue skies and near eighty-degree temperatures, we sailed to Canada's Gulf Islands between Vancouver city and Vancouver Island. As the car ferry wove between the islands, we sat on deck, ever on the lookout for orcas. Not this time.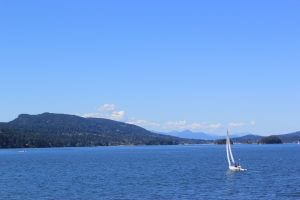 Seems like every boater was out enjoying the calm waters, and the otters were backstroking right along side them.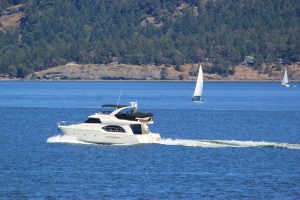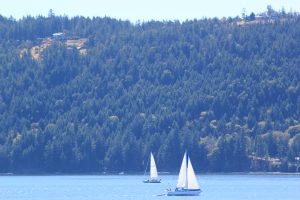 As we pulled into each port, we looked at the spectacular homes and fantasized about what it would be like to live so remotely.
Salt Spring's Subdued Accommodations
Salt Spring Island is busy in August. If travelers stay on the water, especially near the main town of Ganges, it is special and expensive—hotels could be $200 and up per night. If you were to love it there and buy a waterfront home, you'd be looking at something well over a million. A mile or so outside of Ganges, life settles down, and the interior of the island is reminiscent of San Juan Island in Snow Falling on Cedars, a quiet life in a rural setting of agriculture or forest, with school buses and pickup trucks sharing your road.
We joined our friends at the Wetherly Inn, which invites travelers to unwind in its stunning English garden.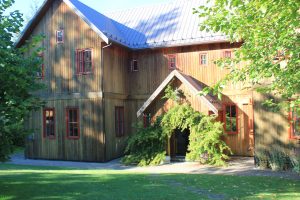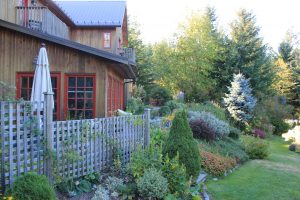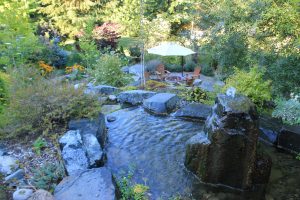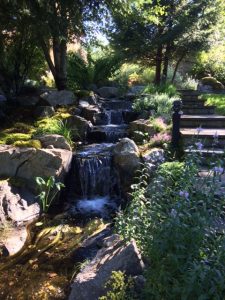 Salt Spring Food: Farm-to-Table Fresh
One lovely discovery was how the restaurants pride themselves on fresh local food. We didn't encounter any three-star chefs, but the quality of the food still takes you by surprise. Our first dinner of Red Snapper at the Salt Spring Inn inspired us to seek out the local food artisans.
My salad had the best goat cheese I've ever tasted, so the next morning we drove south to the Salt Spring Creamery.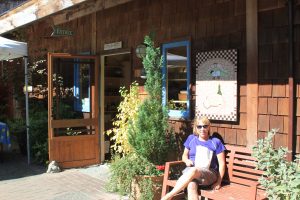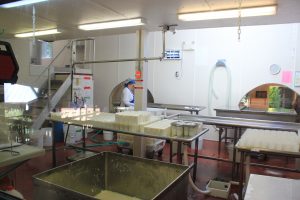 There we found a tasting of about ten amazing goat cheeses, both soft and hard.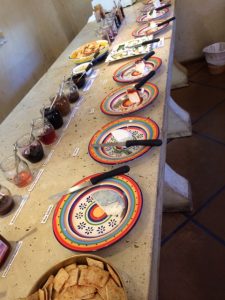 Sadly, the U.S. won't let people import goat products, so whatever we bought had to be consumed during our trip. I could have bought one of each but settled for the lemon goat cheese and the herbal goat cheese. My husband really wanted the garlic and the one topped with tapenade, but we settled on buying the toppings separately, which can be imported.
The Creamery is also a working farm, so we had fun looking around.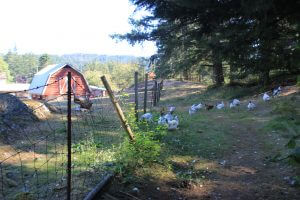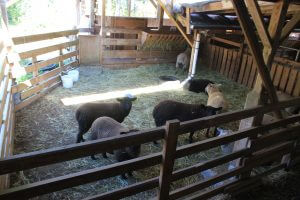 The next day we went wine tasting. The award-winning Salt Spring whites are light and dry, perfect for summer.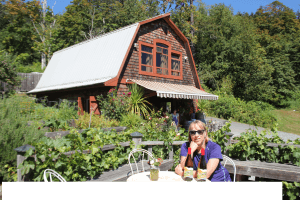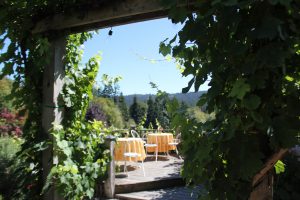 We bought two from Salt Spring Winery, and then went next door to Garry Oaks and bought a delicious and dry chardonnay and a red we haven't tried yet.
On the last day, we drove into the forest to buy bread from the brick-fired bakery. The Bread Lady is only open to the public Wednesday to Friday because she sells most of her product at the Saturday morning market.
Hiking Off the Food on Salt Spring's Prepared Trails
We did more than appreciate food during our subdued vacation. One evening we drove to the top of Mount Maxwell for sunset. Hiking along the ridge was spectacular and shows you just how close Salt Spring is to Vancouver Island.
Here is one thing that disappointed me about Mt. Maxwell. If you've been reading this post, you know that I loathe love locks. Tell me how this rusty lock increases the hiker's enjoyment of the rim.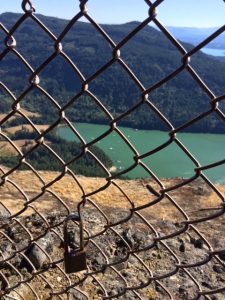 One morning we went to the tip of the Island to the Ruckles Provincial Park. Hiking along the water is always spectacular in a quiet, unspoken sort of way.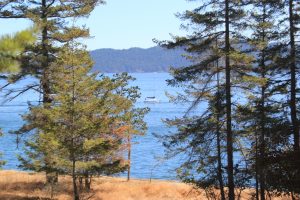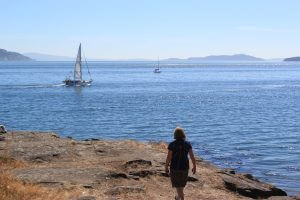 While hiking, look for the beautiful madrona tree, native to the West Coast from northern California through Cascadia. Its species name is arbutus menziesii, named after the Scotsman, Archibald Menzies, who found it.
I love to see it at its peel stage, where orange-red bark peels away to reveal a silvery greenish bark beneath.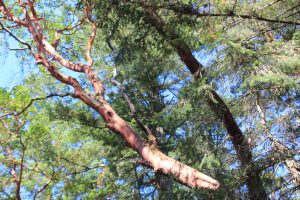 We have been told that Salt Spring Island has lovely art galleries. We drove past a lot of glass, pottery, and painting studios on the way to food tasting and hiking. But this week we just wanted to be outside. I'm sure you can see why.