Let's keep them alive by protecting Mount Rainier National Park from being loved to death.
Mt. Rainier was America's fifth National Park, and the first one so conserved because of its forests. In 1888 John Muir climbed to the summit of Mt. Rainier and fell in love with the place. But he was not so impressed with the mountain top as with its base and particularly the wildflowers in late summer.
"Gardens of Eden filled knee-deep with fresh, lovely flowers of every hue, the most luxuriant and the most extravagantly beautiful of all the alpine gardens I ever beheld in all my mountain-top wanderings." Muir wanted Mount Rainier to get park status (1899) to preserve its over 900 species of plants, including over 100 species considered exotic.
"They paved Paradise to put up a parking lot."
When World War I limited overseas travel, Stephen Mather, the first director of the National Park Service, saw an opportunity to showcase the National Parks, and the draw was luxury accommodations. Since Paradise is the most popular area of the Mount Rainier National Park, he organized the construction of the Paradise Inn. In 1931 a golf course was added as well as a ski tow rope in 1936. Other activities such as horseback riding and boating on the lakes became available. Guess he didn't realize that Mt. Rainier was lovable for itself and didn't need the man-made extras to attract attention.
According to Park Ranger Gwen, who led our wildflower tour last week, those activities had to be discontinued in order to protect the land and the water.
In 1907, Mt. Rainier was the first National Park to admit vehicles for a fee. This would not have been good news for Ansel Adams, who had always been anti-roads. "If I had my way about national parks, I would create one without a road in it. I would have it impenetrable forever to automobiles."
Adams spoke out against the expansion of the Paradise Inn, explaining that its increased popularity would necessitate a larger parking lot and more roads.
He was right about one thing: parking is a nightmare at Paradise. The area expanded to three paved parking lots, which is still inadequate. After all, 1,858,763 visitors came to Mount Rainier last year.  But also, think of the gas one spends in the long search for a space.
How can you help sustain Mount Rainier National Park?
Today's efforts to preserve Mt. Rainier have gone high tech. Global warming is the new issue, and your photos of Mt. Rainier can help researchers at the University of Washington. The Meadow Watch project will use your wildflower photos from Mount Rainier to track various species year after year. They can show where certain wildflowers bloom and how they bloom after a late snowmelt or an early snowmelt.  Your photos need to be date-stamped and geo-tagged by your cell phone. Then go to www.meadowatch.org for instructions on how to submit.
The Park Rangers on site work hard to preserve the wildflowers, which are so crucial to ecological sustainability. The hiking paths are marked for a reason, and don't be surprised if you get called out if even your big toe leaves the trail. Trampling flowers activates the Butterfly Effect,  which I blogged about last month. A decrease in flowers leads to a decrease in animals, which continues to upset the balance of nature. At the end of our wildflower hike, Ranger Gwen handed out these badges to make us official guardians of the park.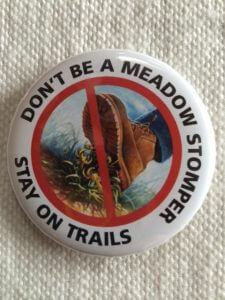 And I'll be darned if a violator didn't trample into our midst within thirty seconds of our being deputized. Thank goodness for the kids on our hike, who loved having license to tell adult stompers how to behave–how to love our parks with respect and with an eye to our collective future.
For more information, see last week's blog on Five Reasons to visit Mt. Rainier.
---
Comments are welcome at the link below.