When most people go on vacation, they head south for warm temperatures and sunny skies. But last week guest blogger Dave Hermetet wanted some different scenery, so he and wife, Sarah, headed north to Seattle for a seven-day cruise to Alaska. See what Dave has to say about it.
Need a break from the summer heat? Join an Alaska cruise.
The Norwegian Jewel, small as cruise ships go, sails out of downtown Seattle on Saturdays at about 5:00pm. While cruising, we enjoyed the deck activities.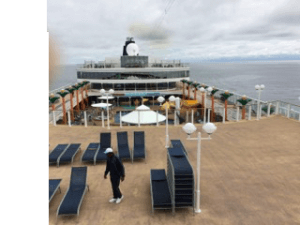 By night we took in the performances and motivational speakers on board. By day we toured the rugged natural wonders of Alaska and Canada. Our itinerary included Ketchikan, Juneau, Skagway, and Victoria, B.C., each one unique in its own way.
Ketchikan offers the perfect introduction to Alaska.
We spent all of Sunday at sea, heading north to Ketchikan, the "salmon capital of the world." And, yes, the title is accurate. You can actually walk down to the end of Creek St. and watch the salmon struggle up the stream which runs down to the harbor. Your heart breaks when you see how hard they work and how often they fail to make the jump.
Norwegian offers a large number of shore excursions. Whale watching was one of the most popular activities in Ketchikan.
We took the option to board the powerful inflatable boats to speed out to the Tongass National Forest, the largest rain forest in North America. And we got much more than we bargained for.
At Tongass we found an archipelago, encompassing islands, fjords, glaciers, and mountains, our first glimpse into wild Alaska.
After-hike snacks included freshly smoked wild salmon.
While sailing back to the marina, we lucked out. Seeing one whale is thrilling enough, but seeing a whole pod of humpbacks breach the surface, dive back down, and flip their tales at you is amazing.
They were bubble feeding. It's a unique humpback fishing technique, where a group of whales creates a circle of bubbles as they swim around a school of fish. As the bubbles move closer together, the trapped fish are forced inward and upward for easier feeding.
Juneau, Alaska is the only US capital not accessible by road.
Our next port of call was Juneau, named after gold miner, Joe Juneau. Since the rugged mountains cut it off from all road travel, the harbor is filled with boats and sea planes.
The Mt. Roberts Tramway, run by the indigenous Tlingit people, took us 1,800 feet up to the visitor's center. A clear day offers a spectacular view of Juneau and the Gastineau Channel.
Hikers can choose from a series of trails all over the mountain top. Some take 90 minutes, and others take several hours. You can also visit the Juneau Raptor Center, which rehabilitates injured raptors like this eagle.
And now, the glacier, the main reason for any Alaska cruise.
From Juneau, the ship sailed to the Sawyer Glacier. Smaller ships are allowed to sail up a stunning, narrow fjord, the Tracy Arm passage, with sheer rock walls and beautiful waterfalls.
We approached to within 1/2 mile of the base of a deep blue glacier just as it broke off and splashed into the ocean.
The cruise lines are dedicated to protecting and respecting Alaskan wildlife. This is as close as ships go in June because of cute little seal pups nestling on the ice floes.  The ship spun in a slow circle so everyone on board got a good view of the glacier and the incredible blue ice.
Skagway was a nearly defunct gold-rush port until revived by the Alaska tour industry.
After steaming north, we arrived at Skagway, a small wild west town of board sidewalks and colorful gold rush history. Its most famous establishments were the many brothels, like the notorious Red Onion, which "mined the miners." Several ladies still work upstairs, but only as museum interpreters.
The original gold rush routes of the late 1890s went from  one of two places, Skagway through the White Pass or from the now-abandoned town of Dyea and over the Chilkoot Trail. Many cruise line excursions take the narrow gage railroad up to the White Pass for a glacier hike.  Others take a bus tour paralleling the railroad and going on through British Columbia to Carcross into the Yukon.
In Emerald Lake, the light green water is knee deep, and the dark blue water is 200 feet deep.
It's obvious why so many people retire in Victoria.
On Friday our ship arrived in Victoria, BC, where we enjoyed the "banana climate" that attracts retirees from around the world. While it was sixty degrees in Seattle across Puget Sound, it was eighty in Victoria, a pleasant climate for touring the very-British provincial capital of British Columbia.
The best part of Vancouver Island is the spectacular Butchart Gardens.
In the early 1900s, Jenny Butchart converted the family's ugly and spent limestone quarry into one of the most beautiful gardens in North America.

Strolling among the lush greenery and red roses was a spectacular way to end an amazing vacation.
Tips for taking a cruise to Alaska:
Bring warm clothes that can be worn in layers including gloves and a warm hat.
Bring good hiking boots/shoes if you plan to do much hiking.
Bring Bug spray because the mosquitoes are huge.
Bring you binoculars and cameras. There are so many things to see from majestic eagles to whales.
Canadians seem to be glad to accept US dollars so there is no need to get Canadian currency.