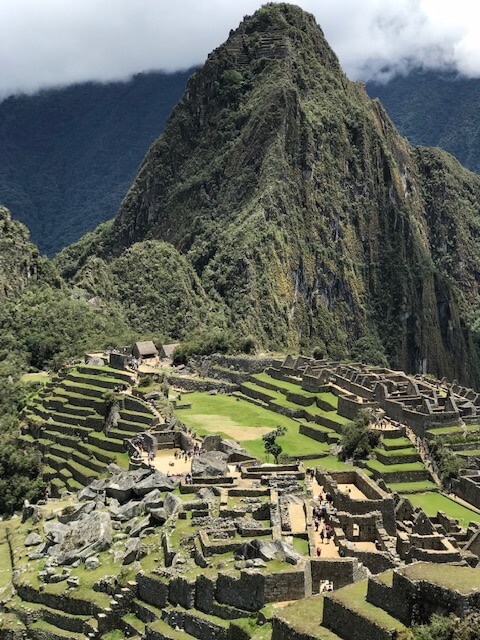 Machu Picchu is spectacular—more stunning than any poster, more alive than any ruin—and the highlight of The Sacred Valley. The drive from Cusco educates travelers about the incredible Incas and their sophisticated history, architecture, science and engineering. Hard to believe they only ruled 100 years.
1. Moray: How do you grow crops in high altitude?
Circular terraces reveal the Incan talent for farming and experimentation. Perfect drainage and scientific savvy have developed 3,800 types of potatoes and 1,500 types of corn.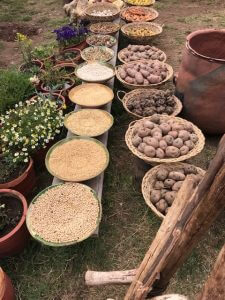 2. Maras: How do you find salt at high altitude?
In salt evaporation ponds.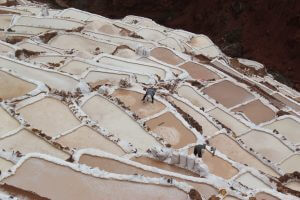 Today families tend up to 40 plots and earn about $10 per plot per month. Too bad the warehouse is way up where I am shooting this photo. We saw both men and women carrying these bags—one at a time.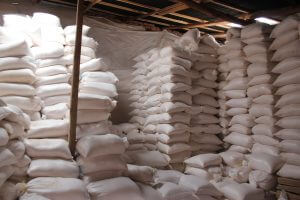 3. The Incan Fortress at Ollantaytambo: How do you protect yourself from the Conquistadores?
Climb to the top and flood the valley below.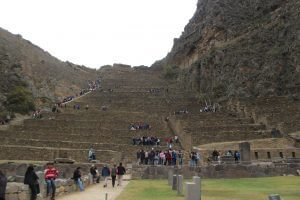 Some advice: If your 21st-century knees aren't at 100 percent, save them for Machu Picchu.
4. Machu Picchu: Why didn't our schools teach Incan culture?
Guess you had to be at Yale and sign up for a class with Professor and explorer Hiram Bingham, the inspiration for Indiana Jones. Bingham re-discovered Machu Picchu during his 1911 quest to find the last capital of the Incas before the Conquistadores overran them in the 1500s.
After several days acclimating to the altitude, you're ready for Machu Picchu, reached by the Inca Trail (3-5 days) or by train from Ollantaytambo and then a bus. Either route offers great views.

Translated, Machu Picchu means old or ancient peak. Before you set foot on sacred ground, your guide will shame you into pronouncing it correctly: machu, like it looks, and pik-chu, a pronunciation new to most tourists.
Climb the ruins and discover a royal city, important for spirituality and agriculture. Discover the secret to why Incan structures survive major earthquakes, while the Conquistadores' "high-tech" European cathedrals crumbled at the first seismic jolt.
Note the intricate terracing to manage water run-off.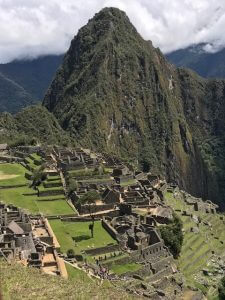 Some advice: Note the lack of handrails while you are looking around.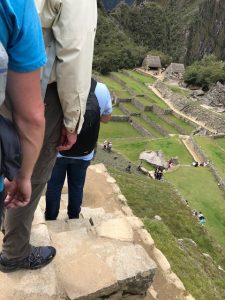 Then observe the earthquake-proof buildings with trapezoid-shaped doors and windows, walls of interlocking blocks that slant in, and uneven rock shapes that create stability.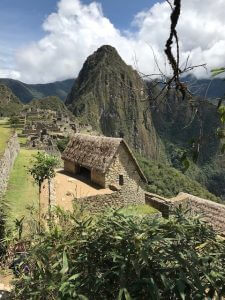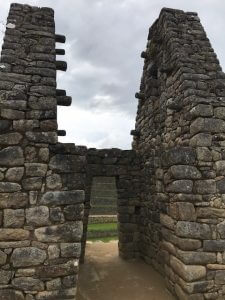 Therein lies the magic of Machu Picchu (did you pronounce that right?). It is preserved like Ephesus in Turkey so you can still get a good feel for the life and times.
The Temple of the Sun, the most spiritual site, still stands near the king's residence, and the June solstice sun still shines through a trapezoid window to illuminate the altar rock.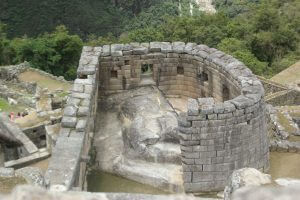 The first of those royal residents, Emperor Pachacuti (or Pachacutec), transformed the Cusco region into the Incan Empire and initiated the building of Machu Picchu as a summer residence. Excavations have unearthed elongated skulls, which lead archaeologists to believe that royal family members had cranial alterations as a sign of superiority.
We spent five hours among the ruins and on the way out met these cuties:
5. Cusco: Where do you need more than 1 day?
In this Incan capital at the classy Palacio del Inca Hotel.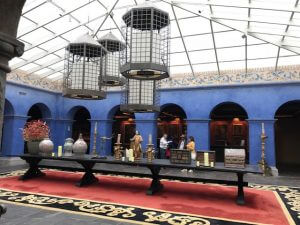 Meet a friendly Pachacuti at the front door.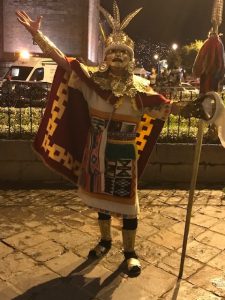 The hotel is not far from, what Conde Nast calls, "the most charming plaza in South America."
My only regret: I needed more than 36 hours to explore Cusco, enjoy the fun restaurants, where you'll learn the Pachacuti song, and shop for alpaca products.
_________________
Next blog: Spiritual Peru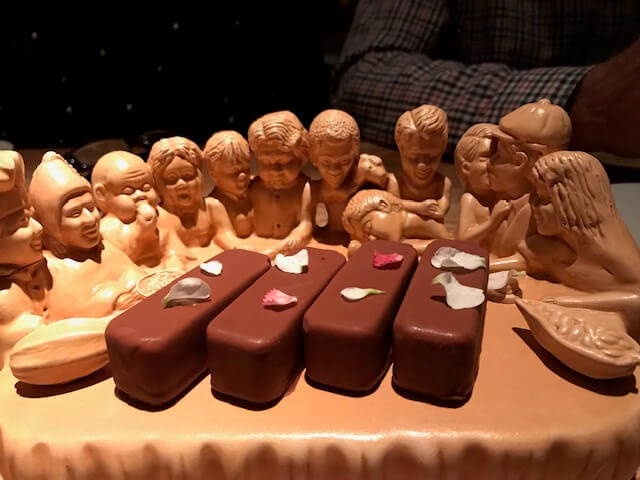 I have just returned from Peru, a country with a surprise around every bend. I'll tell you about Machu Picchu later. First, let's check out Lima, where you will land. It's a foodie paradise, where world-class restaurants introduce diners to the superfoods of the Amazon rainforest. Book months ahead.
Maido (See #1, Latin America's 50 Best Restaurants)
On our first night in Peru, we went to Maido in Mira Flores. Maido is Japanese for welcome. It's a quaint little place, open to the kitchen with a lovely staff.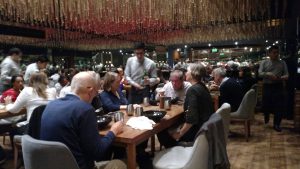 Fusion is my favorite cuisine. Here, the chefs blend Japanese and Peruvian delicacies into an 11-course tasting menu. Only the men in our group ordered the two-hour tasting. Though it offers small bites, it is still a lot of food.
The house specialty is an incredible Beef Short Rib, cooked 50 hours, served with potato cream and cushuro (blue-green alga), but first you must try their Pisco cocktails mixed with various juices.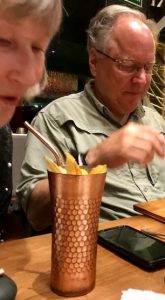 Each beautifully-presented course is a taste-bud surprise, like this appetizer of tomatoes in mirin, roasted banana, sachatomate emulsion.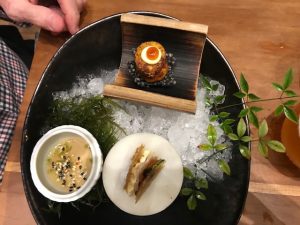 Or this cauliflower cream with torikara sauce.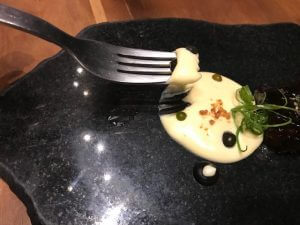 I don't have enough science to know all the ingredients, but everything tasted fresh and healthy.
My single course was this beautiful, unforgettable ceviche.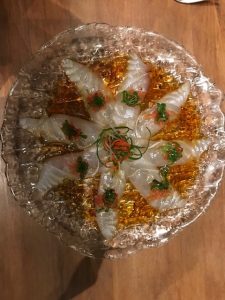 Dessert was to-die-for. First came the Theobroma Cacao: a black sugar volcano holding mandarin sorbet, mucilage foam (from flaxseeds, chia seeds or kelp), cacao nibs, and ice cream made from lucuma, a sweet, Peruvian superfruit, known as the Gold of the Incas.)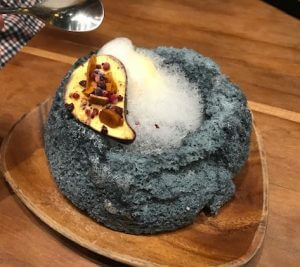 We finished with Theodroma Bicolor: featuring ice cream from macambo (a chocolate-like superfood), camu camu (antioxidant superberries), goldenberry, and mucilage.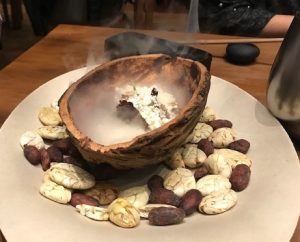 Museo Larco
Enter the museum property and descend into a garden that flows into a restaurant with excellent food. I had ravioli followed by Mousse de Lucuma.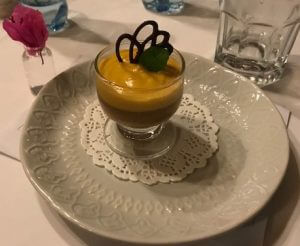 Then tour the museum and learn pre-Incan history through its 42,000 pieces of pottery.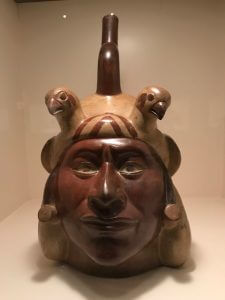 Gastón Acurio is "the architect of the Peruvian culinary movement" and serves dinner in this 300-year-old San Isidro hacienda.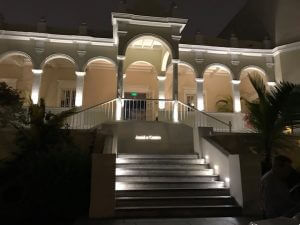 Astrid & Gastón offers a 14-course tasting menu. The food again was delicious, but too much.
I was enthusiastic at the appetizer named "The Indecent Bed, The Forbidden Love," fish empanada, stuffed blue potato with lamb, sea urchin toast.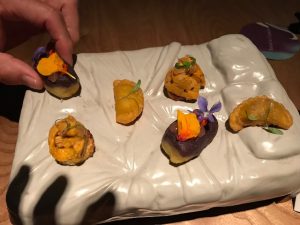 To pace myself, I skipped the Cuy (guinea pig), which everyone else loved.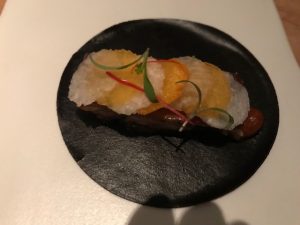 I slowed down at the rabbit in Lima curry and quinua jasmine. And bailed at the beef tongue skewer, but made a comeback for the three desserts.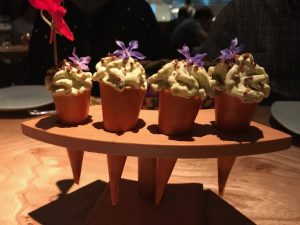 Chicherito: Fermented corn beer sorbet, coca, quinoa and tamarillo (a kiwi-like superfruit).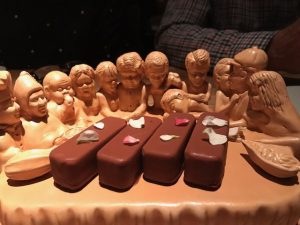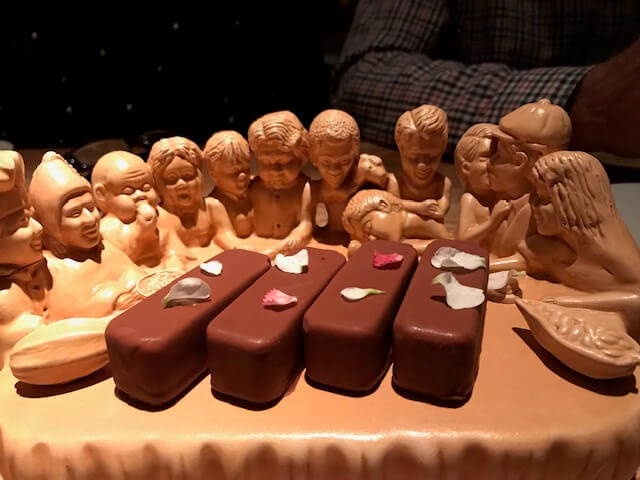 El Cajacho: Cajamarca chocolate mousse, nougat, cacao nibs, yuzu and lemon. The platter, a study in Peruvian expressions, belongs in the Museo Larco.
Elsewhere in Peru, I loved the quinoa, prepared in every which way: salads, soup, porridge, main course side, and more.
When we picked up our tour, the guide taught us a very handy word: yapa, which means "More please."
________________________________________________
Thanks to Jeff Hart for donating restaurant and bread basket photos.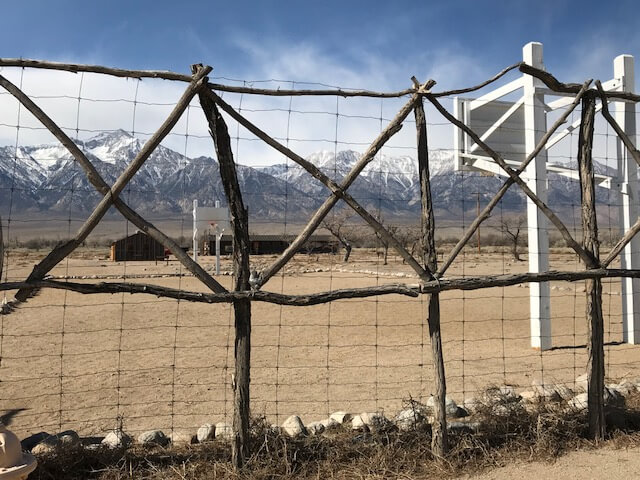 In 2012, I visited Auschwitz. One heart-wrenching day was enough to quell my curiosity about internment camps forever. Then last week, my husband insisted on seeing The War Relocation Center at Manzanar in central California, near Death Valley. It is now part of our wonderful, educational National Park Service.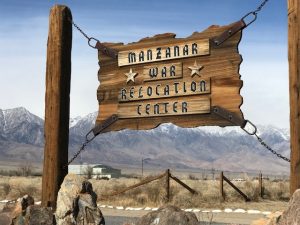 In this one-square-mile internment camp, the American officers were less physically cruel than the Nazis in Poland, but the gross unfairness should disturb everyone. Many Japanese were American citizens (Nissei). Some were Japan-born (Issei). But for all, as Ronald Reagan said, "It was an action taken without trial, without jury. It was based solely on race…"
Today, we must still heed the message of Manzanar, stated in the Visitor Center video:
 "When we violate the Constitution, we [as a country] start to unravel."
Originally, FDR thought internment was unconstitutional, but in 1942, his sentiments lost out to a propaganda war pushing known falsehoods. Imagine, Americans willing to believe what they know is a lie.
Rounded up without warning, Japanese families from all over the West coast left almost everything behind. Worse yet, the government sold their property to pay for the internment. To further finance their own internment, Japanese residents farmed to grow their own food.
Manzanar's location in a mountain valley brings brutal weather, sweltering heat in the summer, blistering cold in the winter and unrelenting winds all year (a march wind blows in the photo below), with everything constantly covered in dust.
The Japanese first lived in 504 crowded barracks with tar paper insulation. Don't know how they survived.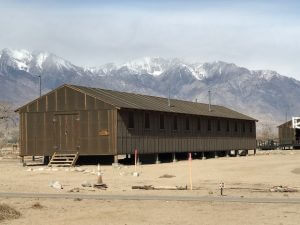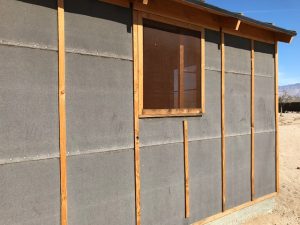 Eventually, they obtained furnaces and sheetrock.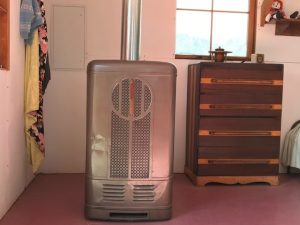 For a modest, humble people, the lack of privacy was humiliating. One woman said her mother waited until the middle of the night to go to the communal shower room.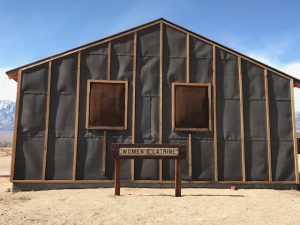 In Auschwitz, the toilet was one long trough. Prisoners straddled it while the guards said, "One, two, three, pee pee." After thirty seconds, guards called, "Next." Here are the toilets in Manzanar. Not a trough, but would you be comfortable with this situation?
Through all the hardship, the Japanese spirit survived, and to my surprise, so many internees remained patient and patriotic. Some men even joined the U.S. Military.
What I most wanted to see was any sign of the triumph of the human spirit. If you saw Life Is Beautiful, you remember the music. So at Manzanar, I searched for art and beauty.
The Japanese men became skilled carpenters and crafted beautiful furniture from fruit crates.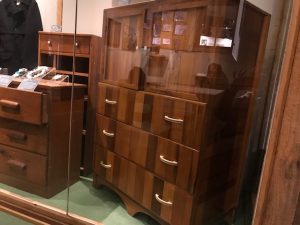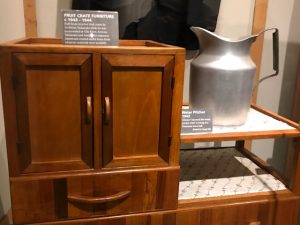 I saw videos of women in lovely Japanese gardens, but when I searched the landscape, this is what I found.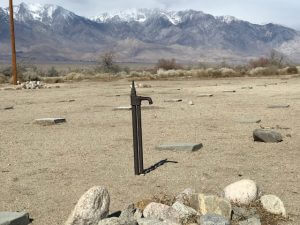 After the war, the U.S. Government razed the structures to sell the wood, and they also buried the Japanese gardens, which made my heart sad.
The American spirit also revived. In 1988 Ronald Reagan signed a bill providing restitution for "this grave mistake." Monuments have been erected as reminders, like the Nidoto Nai Yoni Memorial on Bainbridge Island. Here, on the memorial wall, you will find an ugly history among art, nature, and beauty. You will also find a translation: "Let it not happen again." To appreciate this beauty, follow this link.