If you're a book lover intrigued by sailing or a sailor intrigued by books, check out Books A' Sail. Each September, Schooner Zodiac and Village Books team up for a three-day adventure, which casts off from Fairhaven in Bellingham, Washington and sails through the San Juan Islands National Monument. Only the wind knows in advance where the schooner is headed.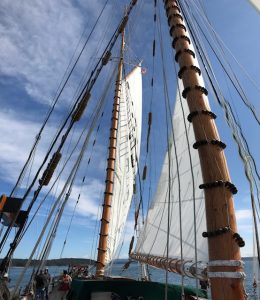 Paul Hanson and Kelly Evert of Village Books guide the literary journey. They bring a famous author to discuss the writing life by night and perhaps join passengers learning the ropes of schooner sailing by day. This year's author, Jim Lynch, came with his lovely wife, Denise, and shared insights into his thought-provoking new novel, Before the Wind.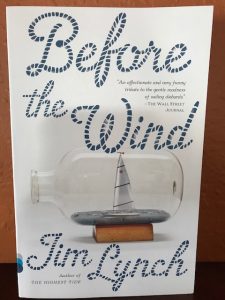 Having already read the book, passengers dove into a number of stimulating topics. One was the novel's Johannssen family. Like them, some of us passengers grew up in sailing families and recognize the highly-motivated father, struggling to keep his boat business afloat and his "total mess of a family" together to crew one last great race, the Seattle to Victoria Swiftsure.
Of course, since we saw our families in the book, we asked if Jim's family was there, too. He admitted to one member, the kindly old grandfather, anchor of the clan. But I suspect the well-intentioned Josh Johannssen is endowed with Lynch-family genes as well.
Another discussion focused on Einstein, who was himself a sailor. Through Before the Wind as well as the companion book, Einstein's Dreams, the second evening saw passengers delve into the concepts of time and space, as well as the physics of sailing.
On day three, Zodiac first mate, Sam—the most charming Scottsman you'll ever meet—led a discussion on the book, Tides, a topic increasingly important to us student sailors as we tried to navigate the Salish Sea.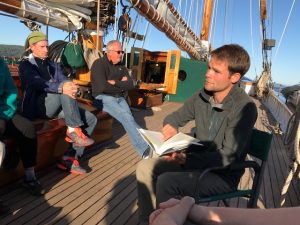 While aboard the Schooner Zodiac, you are sailing on a piece of history, commissioned by the Johnson and Johnson family in 1924.
As such, the schooner requires a crew much larger than the eight or nine regulars. Therefore, Captain Tim offers a "gentle invitation" to participate in as much or as little sailing as you want.
Our fellow passengers were not only interesting but, for the most part, a willing, hardy lot and accepted Tim's challenge. Everyone participated in the rotation assignments.
Step One: Go to the chart room and learn about the tides and currents in the Salish Sea.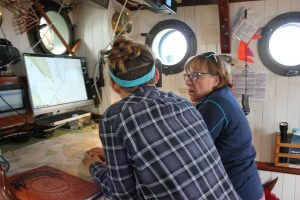 Step Two: Go to the helm and learn how to wrestle with the winds, tides, and currents.
Step Three: Go to the bow and be on the lookout for logs, other boats, whales, and porpoises (or were those dolphins?) Check, check, check, and check.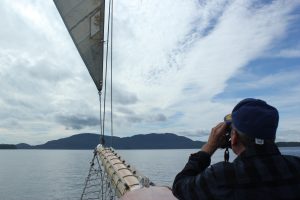 Step Four: Relax in front of the helm, enjoy the view, and relay messages to the captain.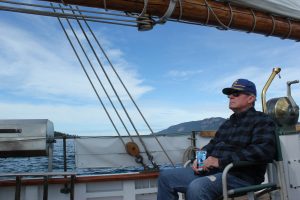 If you really want to stretch yourself, you can join a team to be in charge of one of the four sails. This is my team, assigned to the mainsail.
Hoisting the sail.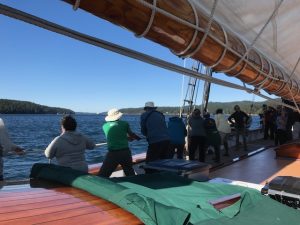 Finishing off the hoist.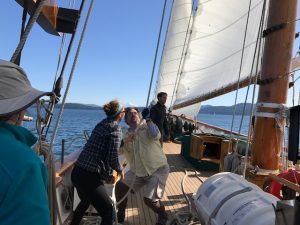 Striking and flaking the sails.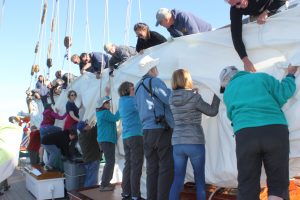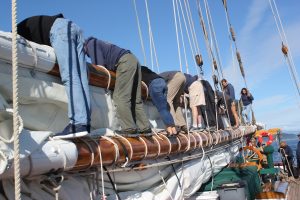 While our ports of call were Lopez Island and Friday Harbor, those may not be yours. So much depends on the wind. While you are moored or on break, however,
you can kayak,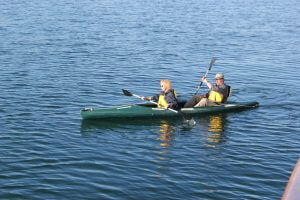 Make new friends with some fascinating characters,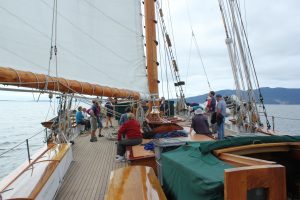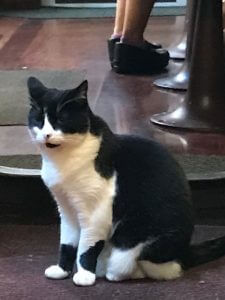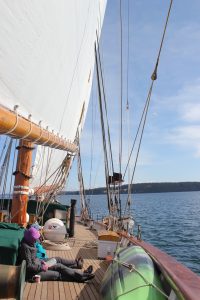 or relax.
The only guarantee on this trip is that wherever the Schooner Zodiac goes, your surroundings will be stunning. In spring, summer, or fall, few places on earth are as beautiful as Puget Sound.
_______________________________________________________________
Feature image courtesy of Jack McBride@ McBride PhotoGraphics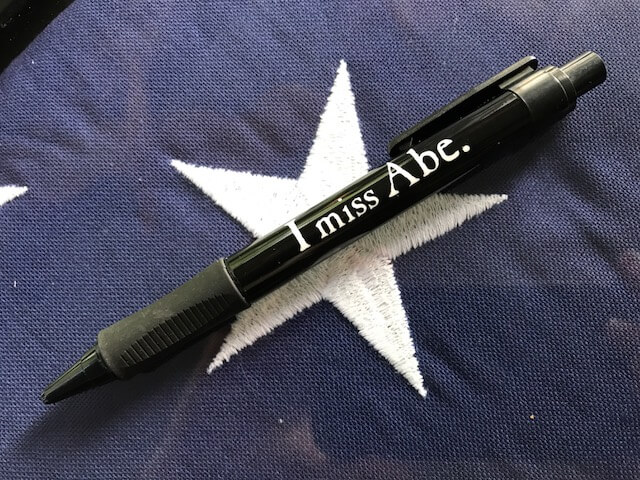 Two weeks ago our current president talked about what it means to "be presidential" and compared himself to the "late, great Abraham Lincoln." "Hmm," I said to myself. "Gotta check this out."
So, here I am on the Lincoln Heritage Trail, where historical sites, tours, and re-enactments reveal what it means to be presidential.
Lincoln was born into humble circumstances. If I had time to visit Kentucky, I could show you how vague property laws caused constant law suits, which forced Thomas Lincoln to move. Instead, I'll skip ahead eight years to when the family of four arrived on the Indiana frontier.
Thomas and eight-year-old Abe had to chop their way to their new 100-acre farm.
In Indiana, hard work forged Abe's personality and character.  In his "spare time," he read voraciously, which allowed him to self-educate when he couldn't attend school.
Industrious, he found several means to make money, including rowing passengers to the middle of the river to meet steam boats. A ferry company sued him at the tender age of 16. He won. Thus began his interest in the law.
He also tried his hand at shop keeping, where he earned the nickname "Honest Abe" because a woman overpaid him by a few cents, and he walked a long way to correct the error.
In the militia during the Black Hawk wars, Lincoln's men voted him to the rank of captain.
Arriving in Illinois at age 21, Lincoln became a lawyer and served in the State House of Representatives when the capital was in Vandalia.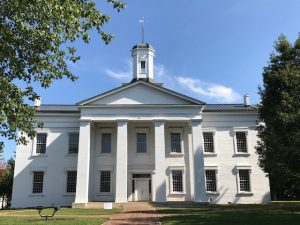 Here he showed his compassion with his first public statement on slavery in 1837. Yes at the young age of 28 he spoke out against racism and bigotry. By this time, he also served on the court.
Lincoln campaigned to move the capital to Springfield.
When considering his candidacy, the Republican Party sent an artist to sketch the house, inside and out, to see if he had enough class to be president.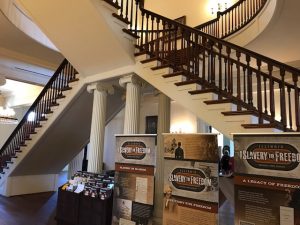 The highlight of the Lincoln Trail is the Presidential Museum. It walks visitors through his incredible life, and highlights his strength of character.
Despite vast legal and political experience, criticism wore him down. No one was ever satisfied. His actions either went too far or not far enough.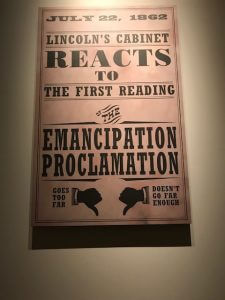 This is portrayed most painfully in the exhibit on the Emancipation Proclamation. As you walk down a hall of hanging glass panels, special effects cast ghostly faces, which hurl a barrage of complaints and insults at you as if you were Lincoln. Makes you want to turn and run. Glad he had the courage and fortitude to stand firm.
In private, he grew morose. In public, he took the high road, often responding with self-deprecation or humor.
Mary did not have such survival skills, and suffered even more. In Springfield, she was quite popular, throwing parties for 100 in her living room. Yet in Washington, she had rivals, particularly Mrs. Seward.
In public she was showy and elegant.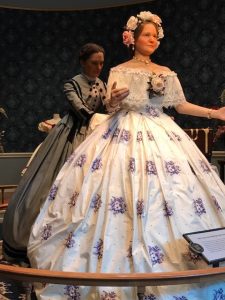 In private, she remained in bed for days.
Despite the hardships, Lincoln's integrity kept him true to his core values.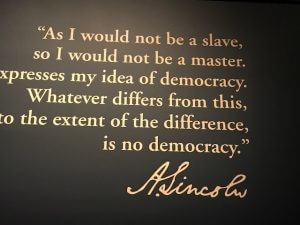 Frederick Douglass, often disagreed with Lincoln, yet still appreciated the burden of his mission. On the whole, he believed, no one else could have done what Lincoln did.
He was a great humanitarian.
Even after the Civil War, hatred continued.
With Lincoln's body laid to rest at the Old Capitol, Edwin Stanton, the Secretary of War, pronounced him "A man for the ages."
So that's what I learned this week. Now I ask you: will our current president become a man for the ages?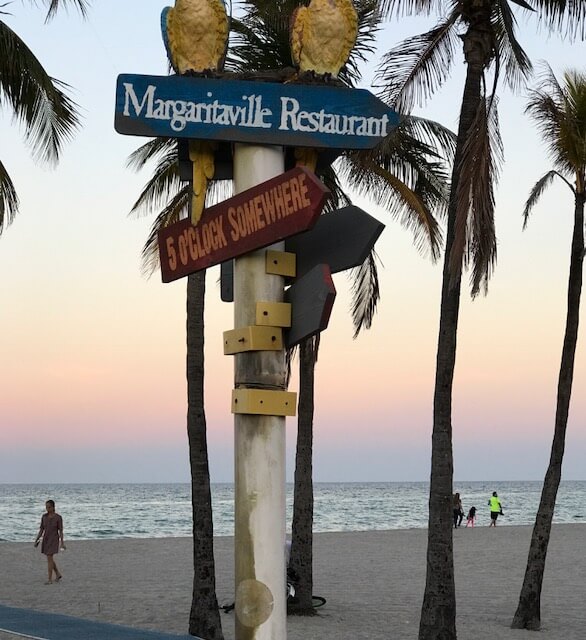 Haven't been to the Southeast for twenty-five years. This April/May it was time to go back.
When you think about the Southeast your mind conjures up beautiful beaches: Ft. Lauderdale, Daytona, "Where the Boys Are." You've been there. I'll get to the beaches in Part Two. First I want to talk about the surprises we found driving south from Savannah to Key West and beyond, then cutting across the Everglades to drive north along the Gulf Coast.
Birds
Harris Neck Wildlife Refuge
Birders are always on a quest for firsts. Harris Neck Wildlife Refuge did not disappoint. Just south of Savannah we made an unplanned stop at this small reserve. Lucky, too. The wood stork rookery was in full production with hundreds of couples raising their newborn chicks.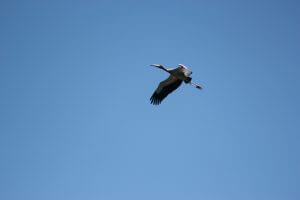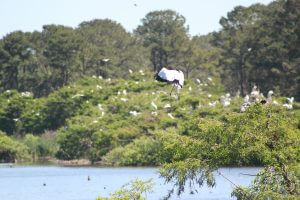 But the best first was the painted bunting. An incredibly beautiful songbird, endangered because of illegal trade and habitat loss.
Canaveral National Seashore
Cape Canaveral is not just for space travel. Along the road look for roseated spoonbills, egrets, herons, and alligators. And along the water, look for Grills Seafood Restaurant. Sit and watch the pelicans diving for fish while you dive into yours.
The Dry Tortugas National Park
This set of islands, dry with no fresh water available, is a seventy-mile boat trip west of Key West, and was the goal and highlight of our trip. Transportation to this The National Park is available through a contractor and includes two meals.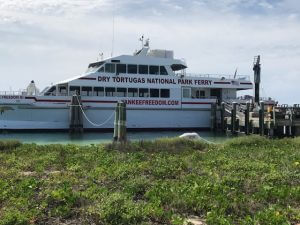 The snorkeling was incredible—especially for me in my new, one-piece snorkel mask. Unfortunately, my underwater camera case didn't work.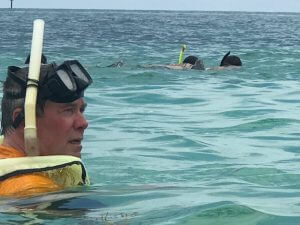 The island is also a bird sanctuary for frigates, sooty terns, noddy terns, and blue-footed boobies. Bush Key was so crowded with birds, it needed air traffic control.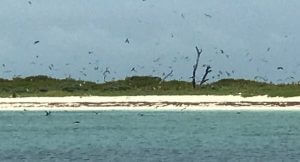 Sanibel Island
On the way north we stopped at J.N. "Ding" Darling Wildlife Refuge, where I saw my first reddish egret.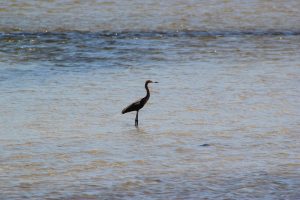 Water Ways
On the first night of our trip, we visited friends east of Savannah and did a sunset cruise through the marshes near Tybee Island. With hors d'oeuvres and wine, we watched dolphins leap, herons wade, and pelicans swoop, as we putted past beautiful homes and rows of docks.
The Intercoastal Waterway only gets more beautiful, the homes more exclusive as you approach Miami. If you're not visiting friends with a yacht, take a water taxi ride from Ft. Lauderdale or Hollywood.
Stop at a restaurant on the water's edge, like Billy's Stone Crab in Hollywood. Go in the spring for Stone Crab season—your taste buds will thank you. And if you're lucky, you'll also see a manatee flap his huge tail as he cruises by. (Too quickly for a photo.)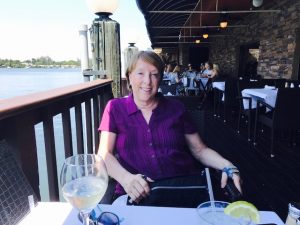 If you're up for strolling the beach in the evening, stop outside Jimmy Buffet's Margaritaville Hotel in Hollywood for live and lively entertainment in the band shell. (Check out the lobby, too. It's a blast.)
History Surprises
Dry Tortugas
Fort Jefferson, a sturdy outpost built on the Dry Tortugas during the War of 1812, ended up holding the Lincoln conspirators. You can see Dr. Mudd's cell. (Did your mother every say to you, "Your name is Mudd"?)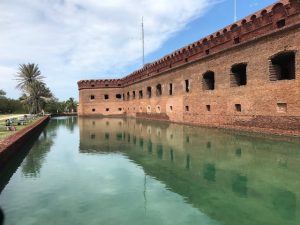 Georgia
In Plains, the Jimmy Carter Museum in his old schoolhouse features a quote from his teacher, Miss Julia Coleman, that inspired him his whole life.
"We must adjust to changing times and still hold to unchanging principles." 
The closest big city to Plains, Americus, Georgia, is charming. We went to the vintage Windsor Hotel, circa 1892.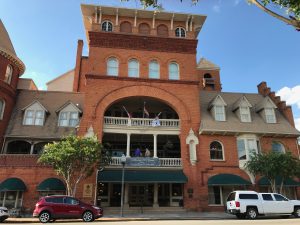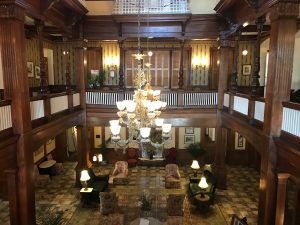 Not only was the meal great with a pork chop stuffed with cream cheese and cherries, but we walked through the historical Lindbergh dining room. Named because in 1923 Charles Lindbergh flew his first solo flight from Americus.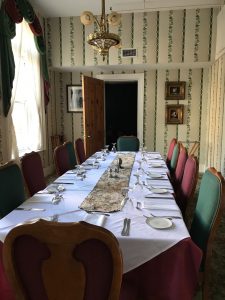 Before flying out of Atlanta, we visited the Martin Luther King sites.
If you have mind to attend the Ebenezer Baptist Church, make sure you dress for it. These parishioners give a new, elevated, meaning to "Sunday Best."