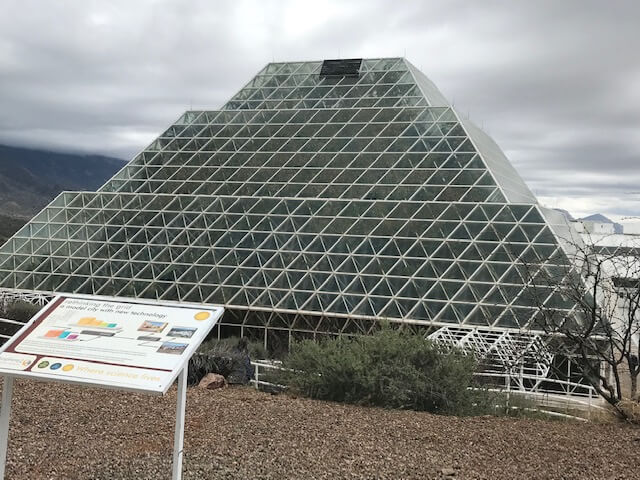 Readers of this blog know that for the last few years my travels have pursued the truth about climate change. I refuse to listen to uninformed politicians. I go where people know things.
Politicians say that climate always trends. Visiting our National Parks has taught me that climate trends have never changed this fast. Some species have no time to adapt. They are going extinct. Rapid warming drives tropical bugs and diseases north, and people have no time to adapt to malaria, dengue fever, chikungunya, and zika.
Visiting Alaska showed me rapid glacial melting, which raises sea levels; and permafrost, a storage sink, which when it melts  releases disease-causing microbes, methane (34 times more destructive than greenhouse gases), and poisonous mercury into the atmosphere.
Biosphere 2 (B2)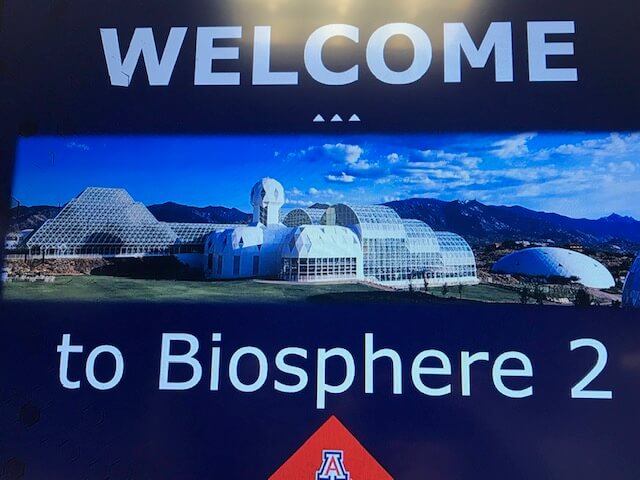 Space exploration motivated the concept of Biosphere 2. In 1991, 8 scientists entered a huge sealed glass structure north of Tucson enclosing 7 ecosystems to observe what it takes to sustain life in a controlled environment which could be theoretically used to colonize Mars. Kind of like in Peter Weir's Martian. Except that B2 agricultural research already knew that when the main character "waters" his potatoes, the salt in his unprocessed urine would kill them.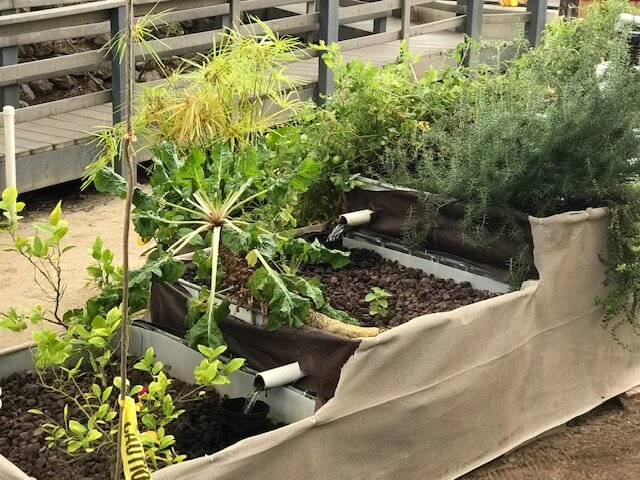 Now directed by the University of Arizona, the B2 complex is unsealed and involved in different groundbreaking discoveries, the most compelling one for me being the research on carbon dioxide.
Rainforest Experiments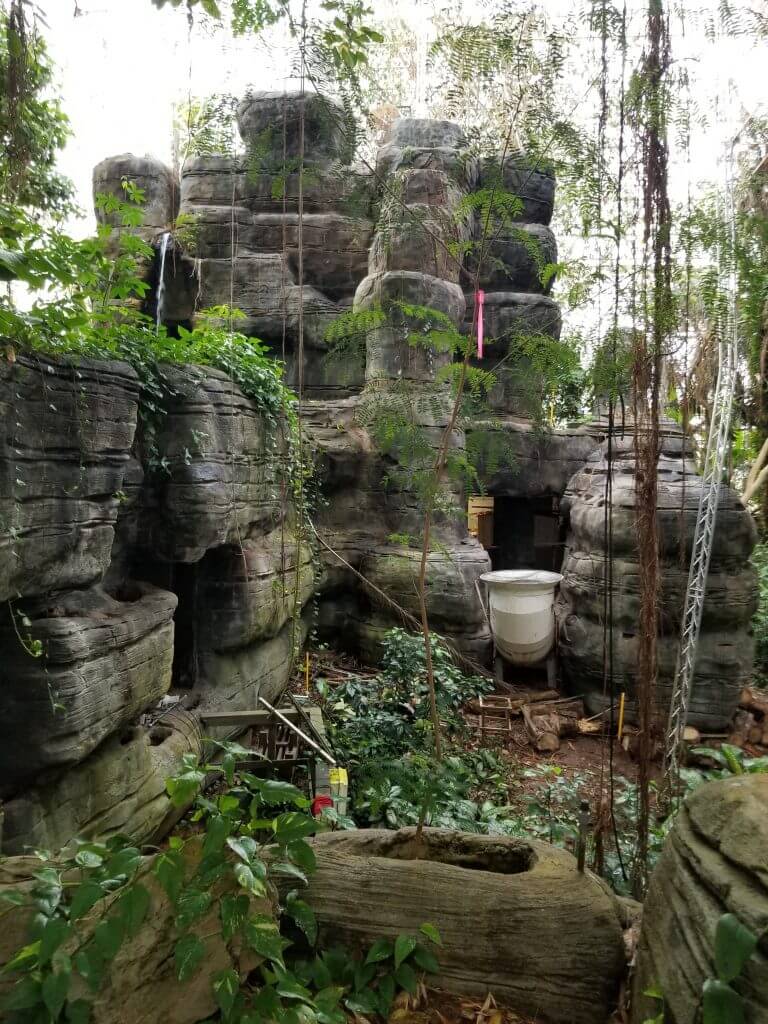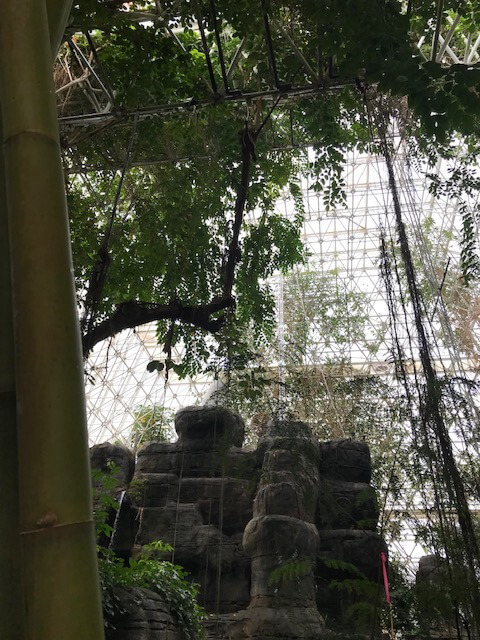 Why is this research important? Because the White House is launching a new climate change study, led by a non-climate scientist who says "carbon dioxide is natural and…[therefore] not harmful."
Hey, one glass of wine is natural, but six glasses…harmful? What does a breathalyzer say?
An experiment in the B2 Rainforest revealed some shocking information about CO2.
Rainforests clean our air by absorbing about 40 percent of manmade carbon dioxide. During the late 1800's, the CO2 in our atmosphere measured 200 parts per million. Today it has risen to 400 parts per million. The B2 experiment discovered that once carbon dioxide rises over 600 parts per million, the rainforest can no longer absorb and reprocess it. That's a problem.
Deforestation also diminishes the amount of cleaning a rainforest can do. We must work harder to protect it.
Coral Reef Experiments
So what happens if too much CO2 remains in the atmosphere? B2 experiments on coral reefs give us answers.
Elevated levels of carbon dioxide in the atmosphere increase the amount that dissolves in the oceans, which raises acidity. Acidity prevents coral from building skeletons and shellfish from building shells. Coral reefs are disappearing faster than rainforests, but statistics vary, so I'll just say: reefs could all go away during your children's lifetime.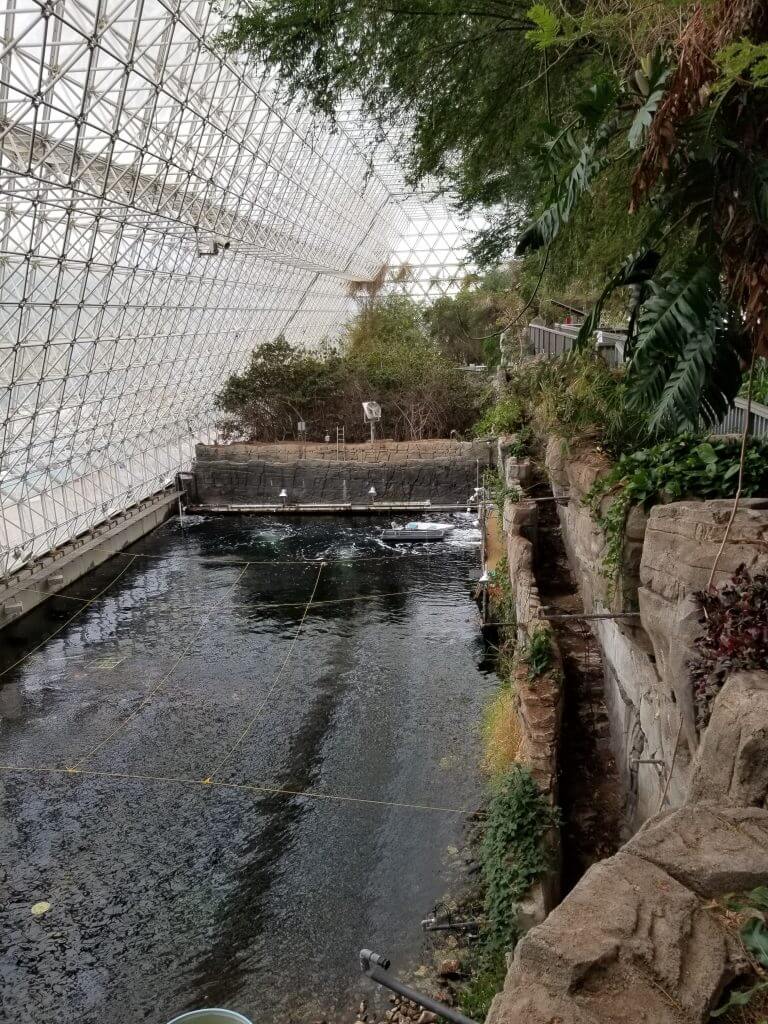 Reefs are important spawning and feeding grounds for fish. To lose fish as a food source would lead to catastrophic food shortages. Couple that with the drought shortages, and it's enough to make a Mother Earth cry.
Hope
The Biosphere 2 Ocean will soon test new types of CO2-resistant coral. If you visit a year from now, scientists may offer new information and hope.
Other Exhibits
These are just a few of the important research studies you'll see, not to mention displays about the human atmosphere created by 8 people locked in a 3.14-acre greenhouse for 2 years.
Entrance is cheap, $22 for adults; kids and seniors are less. Plus, there's a coupon on their website. Check Groupon, too. Then visit and learn for yourself.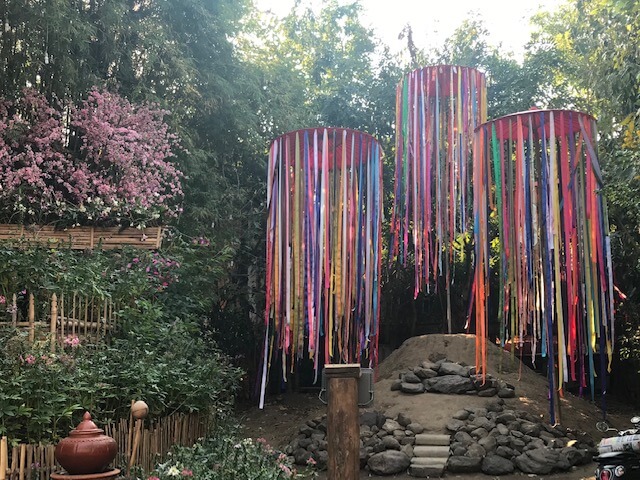 Visiting Bangkok is an adventure, but after a while you just want to escape the smell of garbage and seek out more fragrant lands, like Chiang Mai to the north.
Thailand is known for its fruit (see Monica Adair's blog on local foods). I am known for my love of mangos, and totally by accident our airport taxi pulls up to this restaurant on the front of our hotel in the Old City.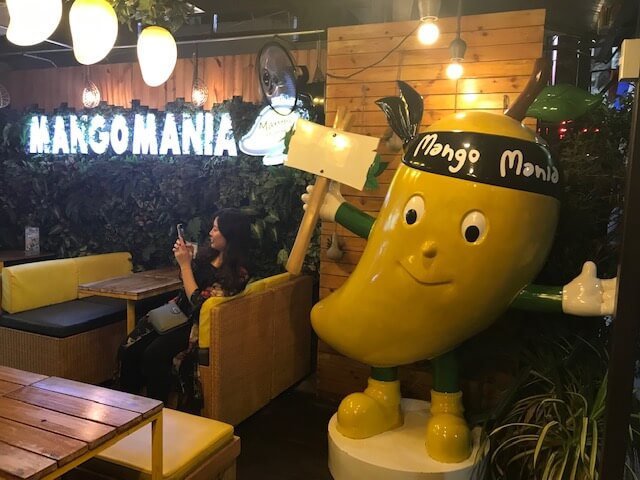 We checked in and went here immediately for tasty sliced mango and sweet sticky rice and cream.
On the corner was another restaurant all decked out for Valentine's Day.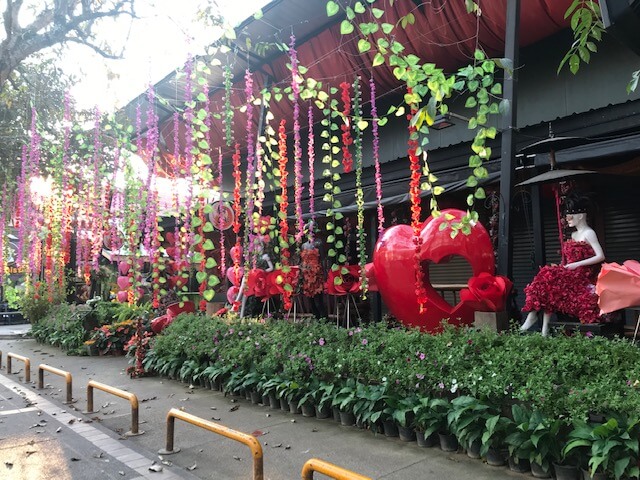 You could almost smell the chocolate, which we found around the corner. Ever have rolled ice cream?  It's great. It starts out with chocolate cream and extras, like almonds, spread flat on a frozen metal plate, then rolled, three inch pieces at a time.. After whipped cream, voila.,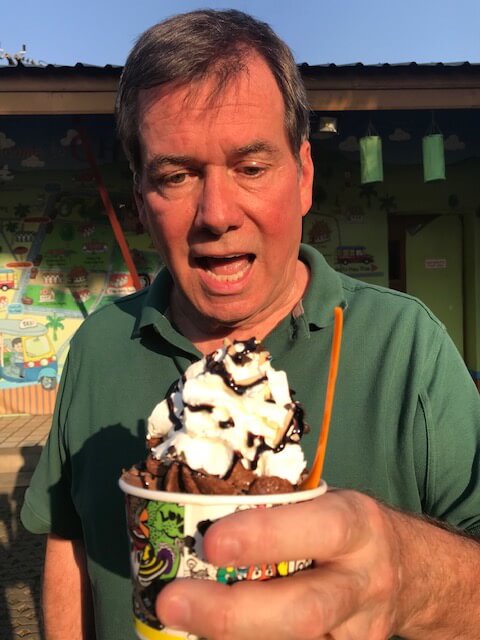 Just behind the ice cream place we went for a massage. Usually massage parlors smell like sandal wood aroma therapy and oil. This one was open air with Thai Massage, where you leave your clothes on and get stretched as far as your muscles will allow. Sometimes painful in progress, but so much relief afterwards.
Around the other corner was a mango colored shrine sparkling in the sun, part of Wat (temple complex) Chedi Luang.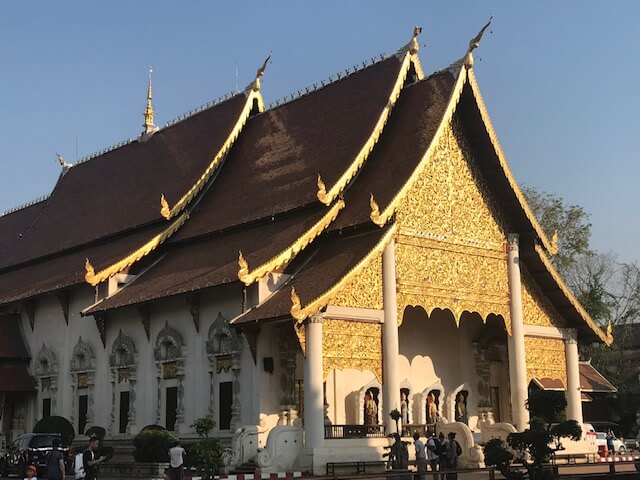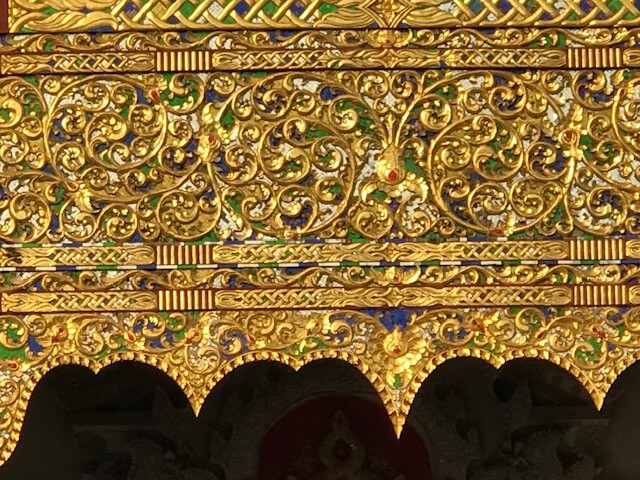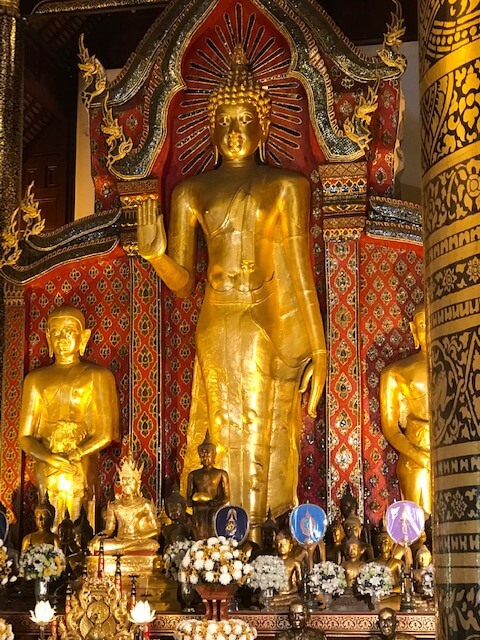 Buddha has the dispelling of fear hand gesture. 
Behind the shrine is the Wat Chedi, temple of the great stupa, built during the late 1300's into the 1400's.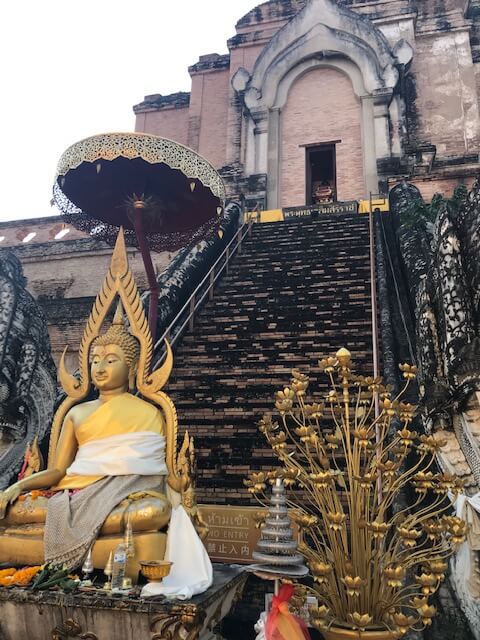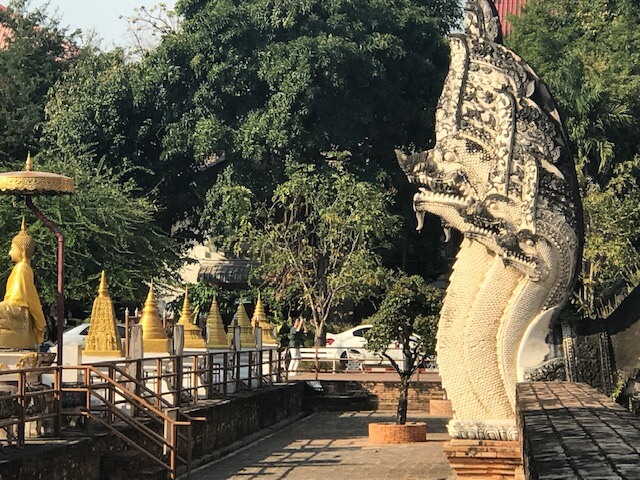 An earthquake destroyed the pagoda in the 1500's. Restoration ensued. In 1992 they restored the naga (water serpent) on each side of the pagoda.
The significance of this Wat complex is that the Emerald Buddha was stored here when the pagoda was built. Now stored at the Grand Palace in Bangkok, we visited it today, but alas, no photos allowed.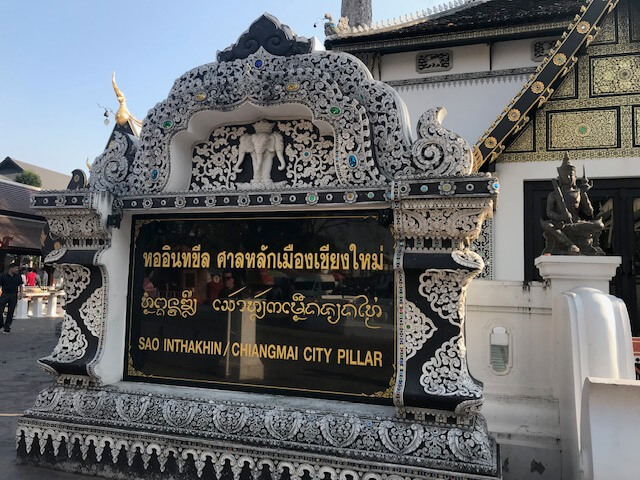 City pillar marks the center of the universe, where at that time, Chiang Mai was the Lanna Kingdom.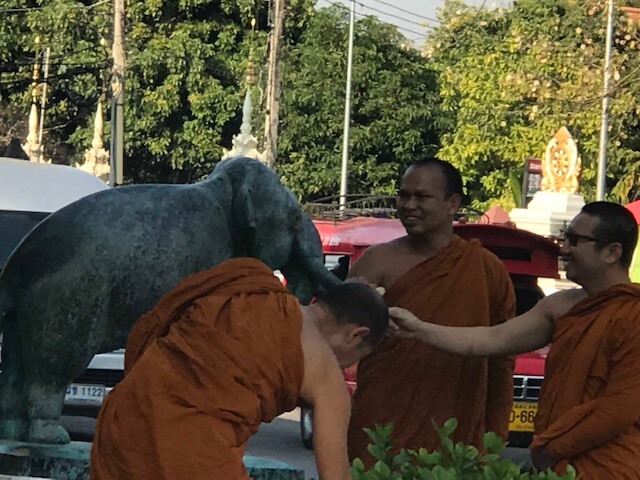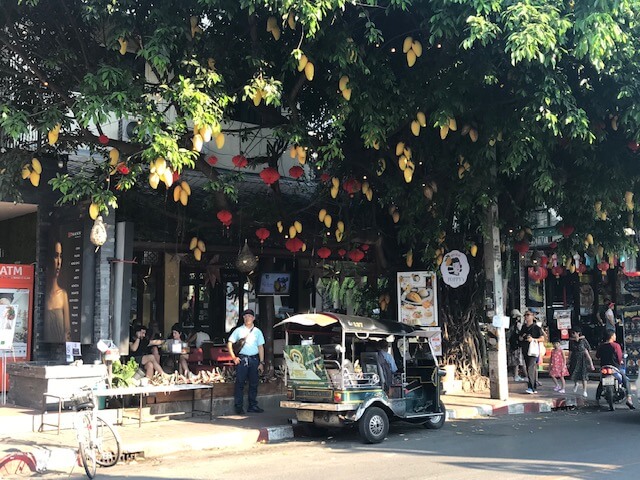 Across the street was another great mango restaurant, Poppy's. Mango smoothies anyone?
In the evening we went off-piste a bit and celebrated through the delicious aromas of French cuisine.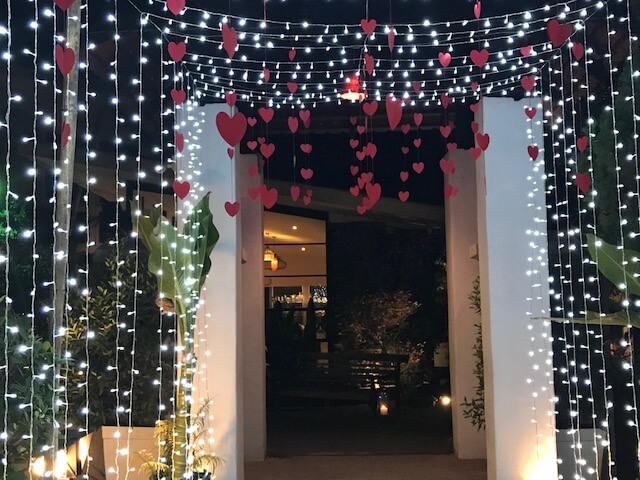 David's Kitchen offers one of the premier dining experiences of Chiang Mai. 
I love the smell of pumpkin—in pie, ravioli or whatever. David's serves it in soup.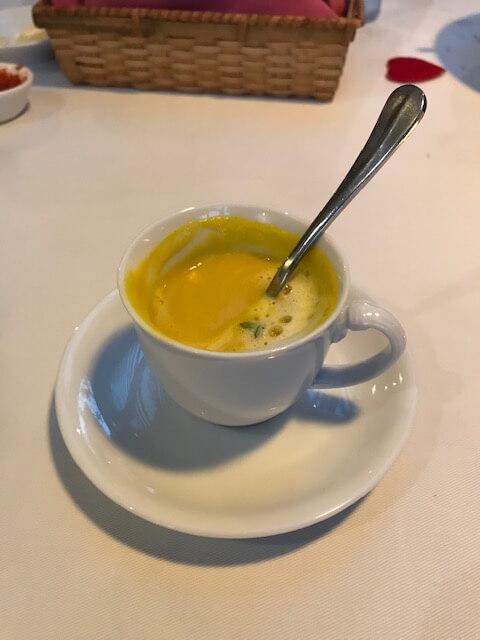 Main courses were tender beef cheeks, lobster ravioli, and a pork chop with cherry sauce, made especially juicy through sous vide cooking.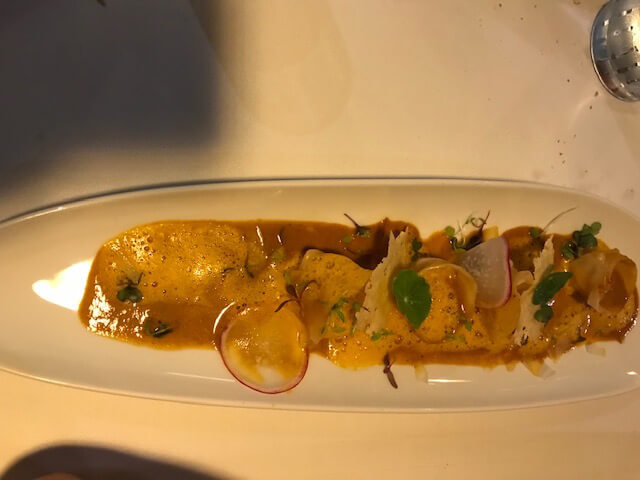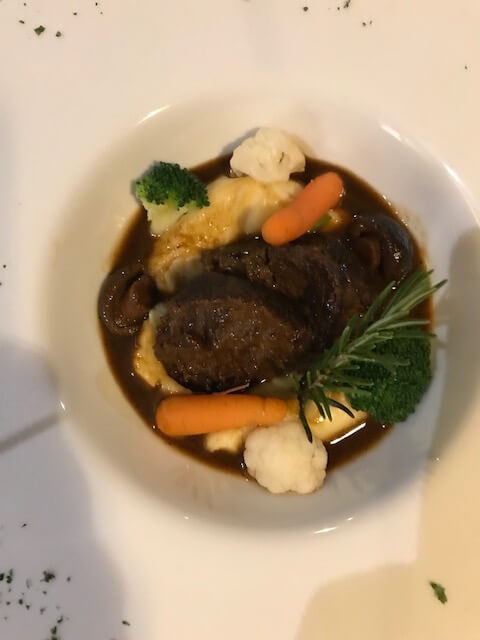 After an almost perfect aromatic day, the tuk tuk ride drove us past the worst smell—rotten onions and sewage.  "OMG," I said. "What is that?"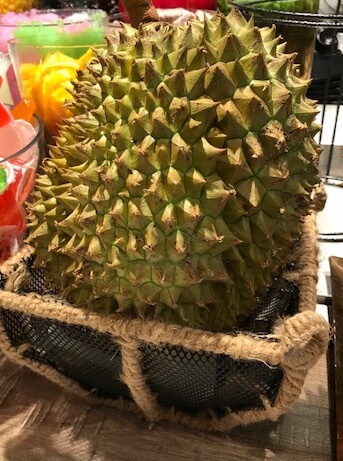 Oh, right. Durian. The Thai people are sensitive to smells, too. Our hotel had a sign that said: NO SMOKING, NO DURIAN ALLOWED. It is the fruit that tastes like heaven but smells like hell.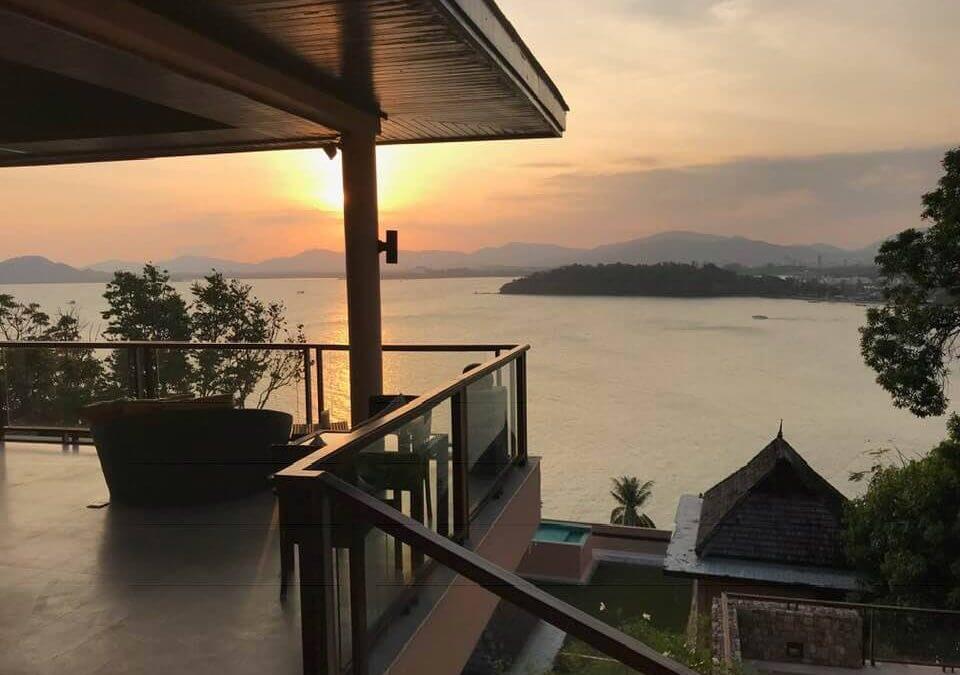 When the polluted air of Bangkok became so gun-metal gray that no sunbeams could shoot though, the government closed schools and offices, and my family and I decided to escape to blue skies. Competing with everyone else in the city, we booked Phuket in a rush. 
While mainly searching for something not seedy—devoid of professional women and their older clients—I checked out resorts from:
a high-end European chain—E
a high-end American chain—A
a well-known American chain—M
Here are the questions I should have asked:
1. Where is the beach?
A cursory glance at beach photos to determine the most serene and inspirational setting was not enough. Why? Because even the best hotels will mislead you.
The European venue—Resort E—not only has the best photo, but also has "Beach Hotel" in its name. Yet, to reach the beach you have to leave the resort property, walk through a one-block shopping area, walk through a one-block construction zone, cross a busy road and finally arrive at a crowded public beach with rental chairs. Moral of the story: Notice what the reviews omit. When reviewers rave about the pool but not the beach, ask why. Also, trust ads only where the hotel and beach appear in the same photo.
2. How do you access the beach?
Ads for the American venue—Resort A—featured a lovely pristine beach.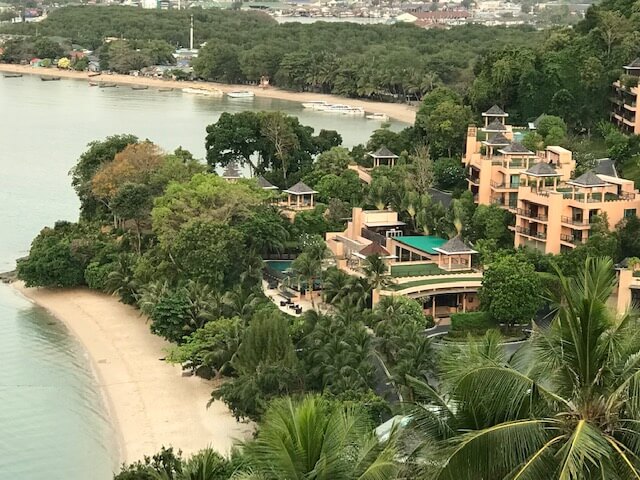 However, the resort runs uphill, and our room was at the very top. Fortunately, golf carts made on-demand trips to the beach. Lucked out.
Unlike a few years ago in Cabo, where, unfortunately, the hillside was too rugged to accommodate vehicles, making beach access difficult. We only went once.
Resort M photos show the perfect white sandy beach against blue-green water. Yet this is what we found:
"What is going on?" I asked the manager.
"The tide is out," he said.
 "When will it be in?"
  "Mid-February if we're lucky. Otherwise, March."
We only made one hike out to the water's edge, stopping at sand bars along the way.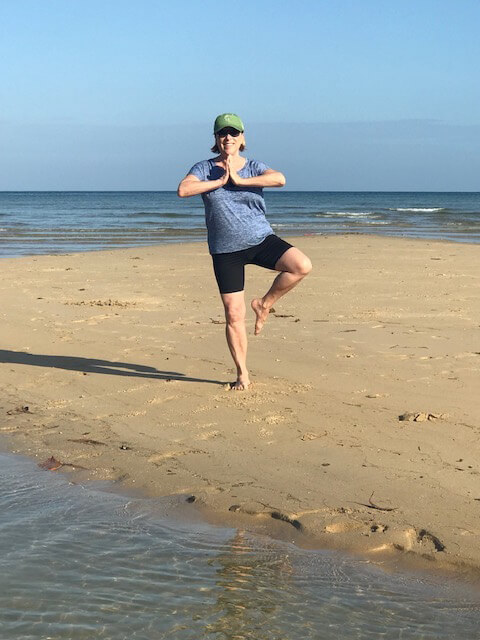 The same thing happened to us in Bali, where we rose early, rushed to the beach, and found mud flats. There, however, the tide arrives in the afternoon.
Moral of the story: pay attention to nuances in the reviews. When a reviewer writes, "the water is shallow for a long way," read between the lines.
3. How many pools are there?
Resort E only had one medium-sized pool, which felt small and crowded because no one went to the far-away public beach.
Resort A had three pools, which dispersed the population—and the kids.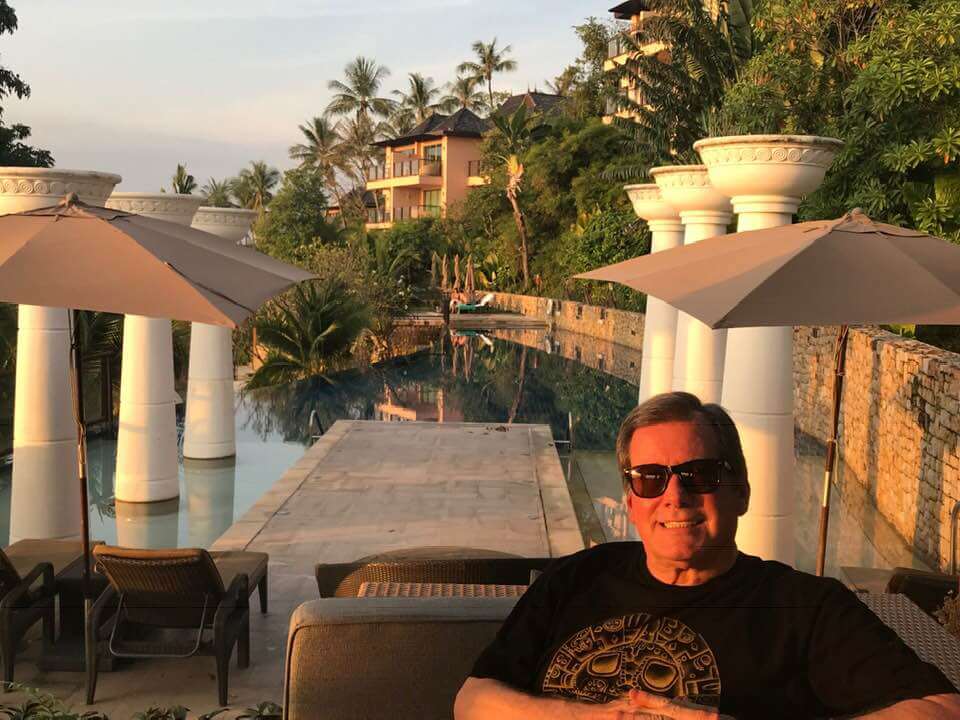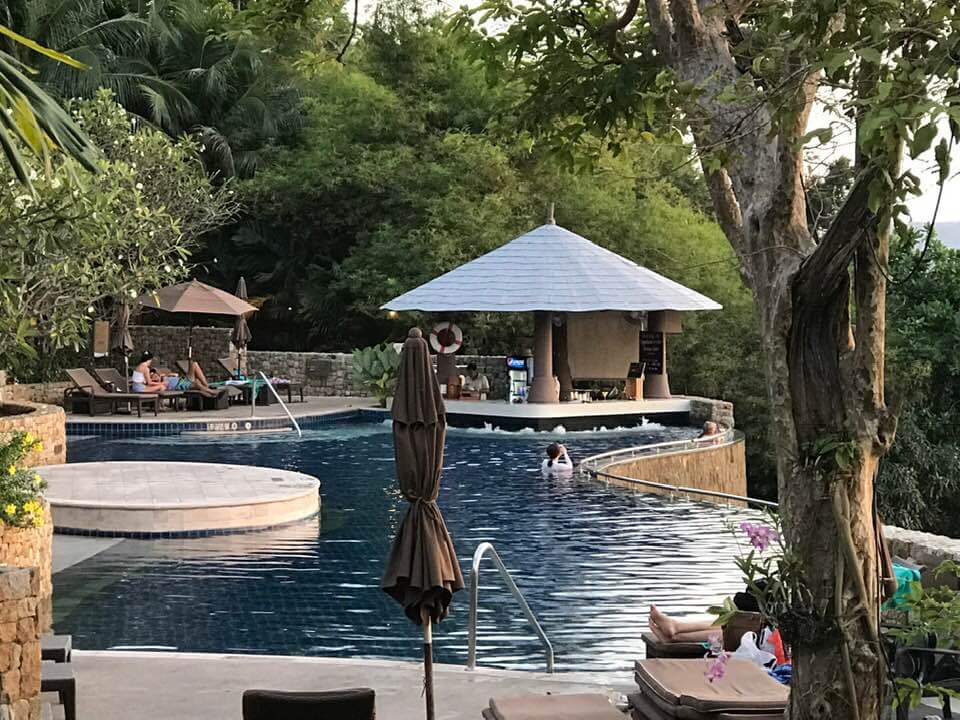 Resort M had a main pool and two lazy-river type extensions.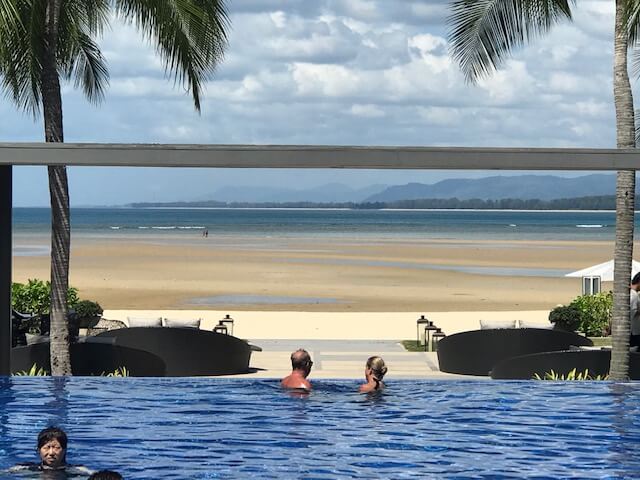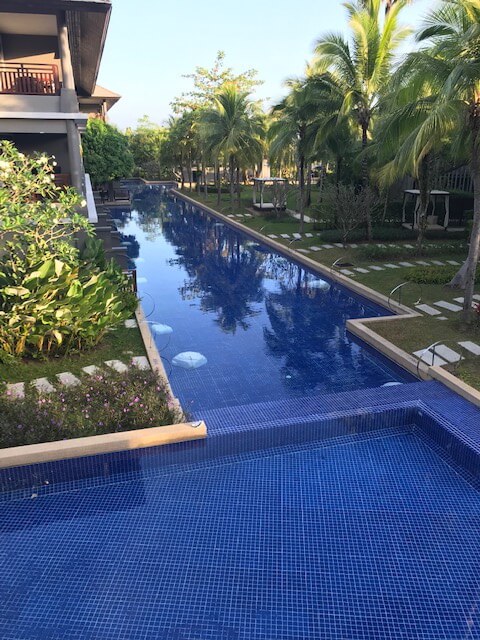 Very pleasant.
4. Who wrote the reviews?
Sometimes resorts cater to a certain group of people, particularly with its menu. At resort E, we found the food inedible. And in a short while, we realized that we were the only non-Russians tourists around. All of those five-star reviews with "Excellent hotel" and "great food," were written by people with a different palate than ours.
Resort A caters to the Chinese tourist and offers every possible type of rice and noodle, which we also love, so their outstanding reviews worked for us.
Vacationers at Resort M came from everywhere, a mixed bag. We loved the American breakfast. I'm sure others loved the lunch and dinner. Resorts can't please everyone every time.
NB: Since Resort E is part of a very exclusive chain, we showed them the photos that misled us, and they kindly refunded our money within an hour of our arrival.
For any resort, study the reviews carefully. Don't just skim the catchy titles and the numbers. A 9/10 for one family, might actually be a 5/10 for yours.